United's Polaris Lounge at San Francisco International Airport is one of SFO's best lounges. Before a recent trip to London, I decided to pay it a visit and thoroughly enjoyed the food, showers, and ambiance of the space. Despite a declining onboard product, the Polaris ground experience remains high quality and made this lounge the highlight of my most recent United Polaris trip.
Access
To use the United Polaris Lounge in Newark, you must meet one of two requirements:
You're flying long-haul business class on United the same day you access the lounge. For example, if you're flying from San Francisco to Newark to London, you can use the Polaris Lounge in San Francisco and Newark.
You're flying long-haul business class on a Star Alliance carrier (other than United) and your flight out of San Francisco is a direct long-haul. For example, if you're flying San Francisco to Los Angeles to Tokyo on ANA (a Star Alliance carrier) you cannot use the Polaris Lounge in San Francisco, but you can use it in Los Angeles. Or, if you flew Polaris from London to San Francisco and then have a connecting flight to your final destination somewhere else, you cannot use the Polaris Lounge
Having status with United (even Global Services) or any other Star Alliance member does not grant you access to Polaris lounges. You can check out all the detailed conditions for entry to the Polaris Lounges here.
Hours & location
The lounge is open from 6:30 AM to 10:30 PM daily. You can find the most up-to-date lounge hours here.
The lounge is located in International Terminal G, across from the security checkpoint for Boarding Area G. To get there, take a right immediately after clearing security. Terminal 3 is connected to the International Terminal after security, so you can also access the Polaris Lounge from there without having to re-clear security.
Below is a map I annotated with the lounge's location within International Terminal G.
Layout & seating
The lounge is spread across two floors and 28,000 square feet. The entrance is behind a set of glass doors on the first floor.
Past the entrance, you'll find seating, nap rooms, and showers. The seating area on the first floor is made up of armchairs and desk pods facing the window, which are excellent to get some work done while enjoying phenomenal apron views.
Further down is a Polaris logo-shaped black marble table with coffee and tea and, just beyond, are the shower suites, which I'll review later in this post.
The majority of the lounge is on the second floor, which can be accessed by escalators or a central staircase near the first-floor entrance.
The second floor is essentially a long room, divided into several areas with large windows facing the runways. Once you get off the elevator, you'll see a marble wall and a bookshelf.
If you walk away from the bookshelf, you'll find several quieter seating areas.
If you get off the escalator and walk straight ahead around the bookshelf, you'll find an armchair with privacy dividers on your left and runway-facing seating on your right.
Walk a bit further and you'll pass the bar on your left and an area with a large number of armchairs and a funky, three-sided couch below a series of hanging lights.
Past the bar are a series of tables on the left and more armchairs on the right.
Beyond this area is the buffet and, at the far end of the room, the a la carte restaurant.
Bar, restaurant, & buffet
I visited the lounge around 1 PM, so the buffet was serving lunch. The cold bar comprised a make-your-own salad area with lettuce and fresh vegetables, as well as sandwiches and a platter of meats and cheeses.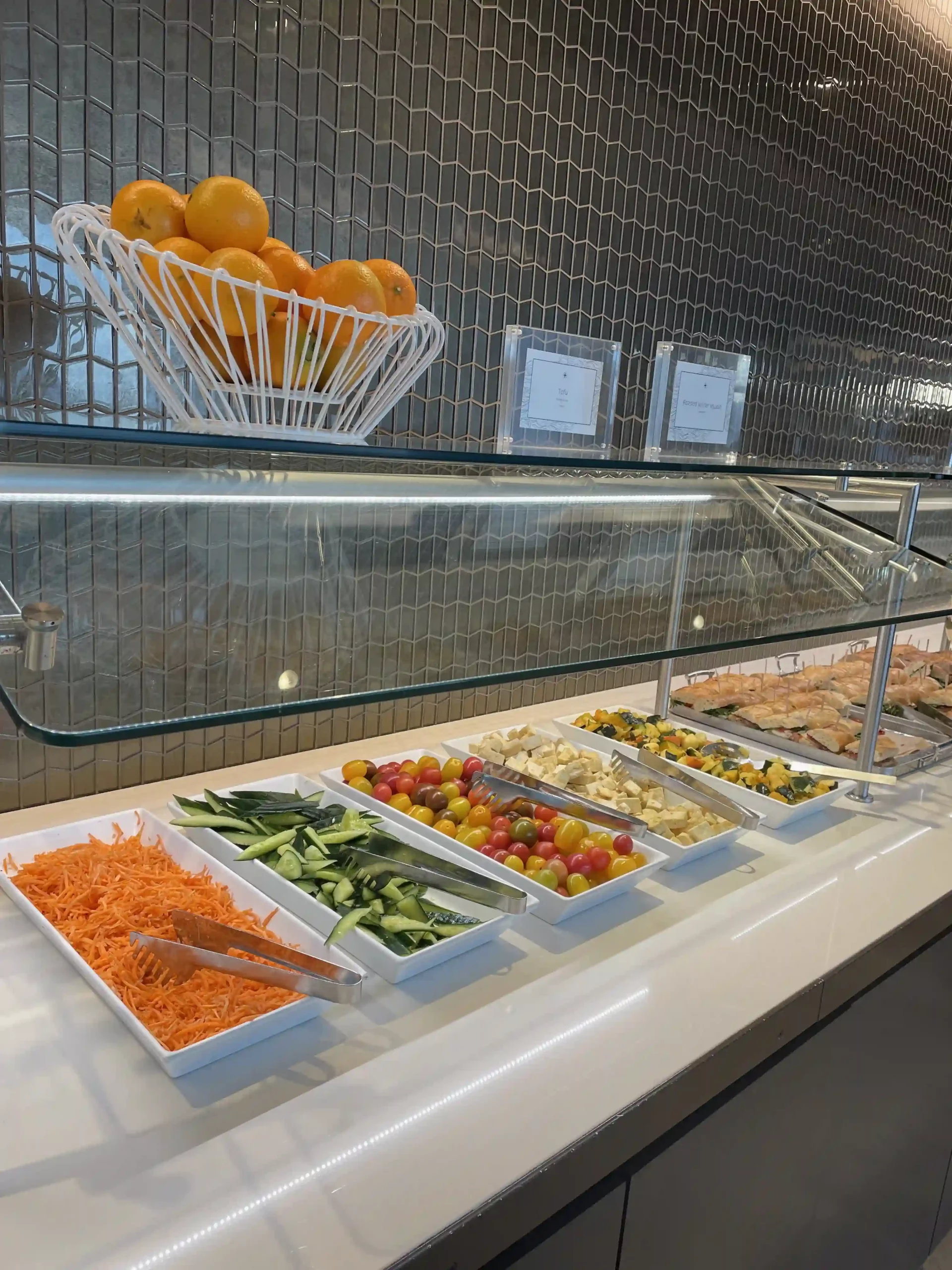 A separate hot bar had two unappetizing-looking soups, a loaded baked potato soup and a coconut red curry soup.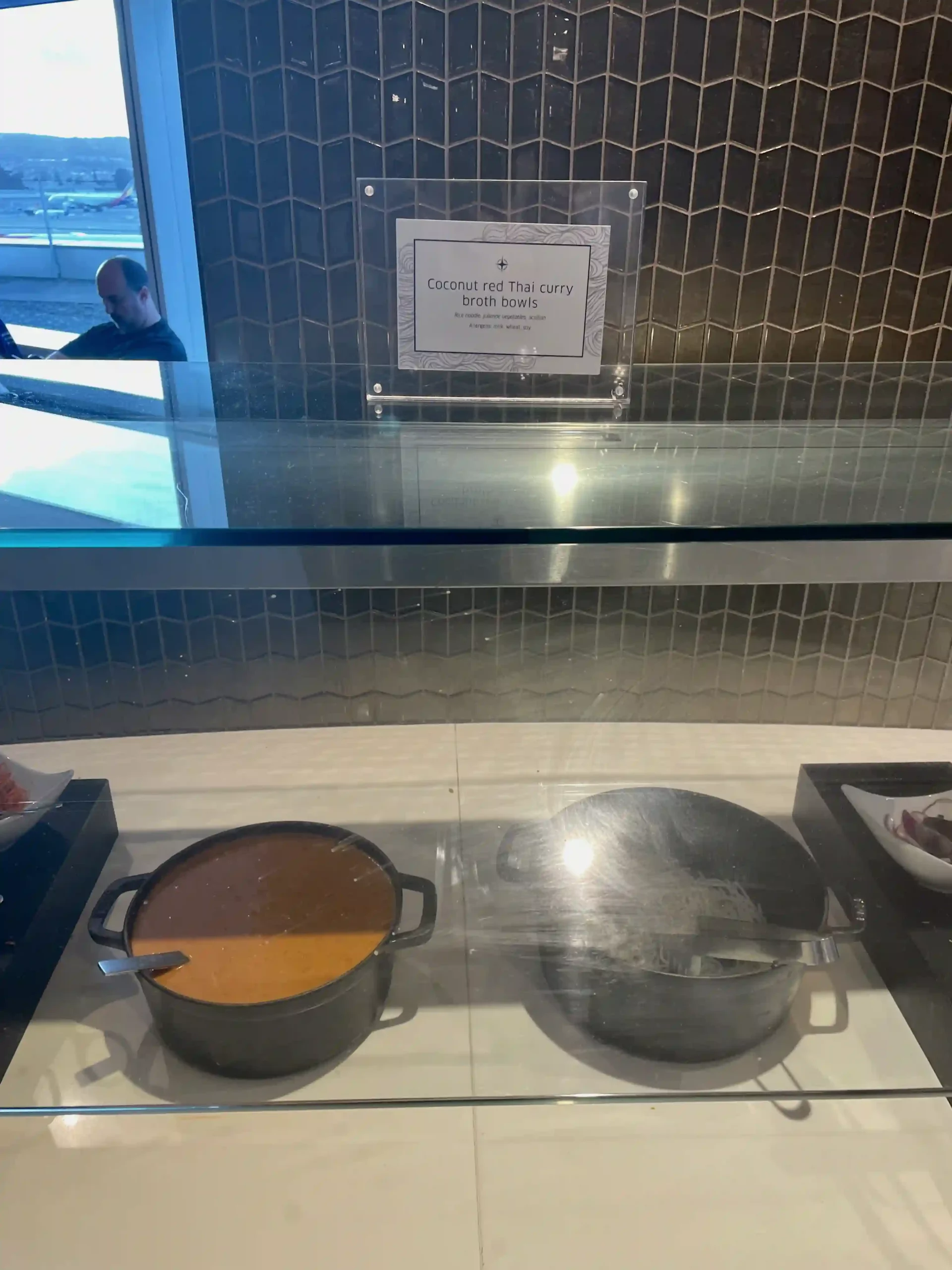 The bar also had a braised chicken dish, pork loin, aloo gobi, and basmati rice. Nothing looked particularly appealing, so I had some of the aloo gobi, which I thought was pretty mediocre, and a salad, which was nice.
There were also some really tasty desserts, including lemon bars, cannoli, and panna cotta.
Next to the buffet was a table with various hot and cold drinks.
Behind that was a small fridge with canned soft drinks.
After a nosh at the buffet, I headed to the lounge's a la carte restaurant, The Dining Room, and ordered the mushroom risotto off the following menu.
For dessert, I ordered the Muhallebi, a rose-flavored custard that most closely resembles a panna cotta. Both dishes were excellent and I spent way too long here, so much so that I had to rush to catch my flight, and forgot to take pictures.
After my meal, I ordered an Old Fashioned from the bar menu.
I'd previously noticed a bit of a decline in food quality at Polaris Lounges since the pandemic, but I'm glad to say the food was up to its pre-pandemic standards on this visit. Nearly everything I ate or drank was delicious.
Showers
At the far end of the first floor, across from reception, are eight shower suites. Conveniently, the large number of showers means that even at the lounge's busiest, you shouldn't have to wait to use one.
To access the showers from the second floor, take the escalators down and walk straight ahead. Behind a glass door and to the right are a reception desk and an attendant, who will reserve a shower suite for you.
I was led down a narrow corridor to shower room one. The room is floored in large gray tiles and is backlit along the shower wall and the sink wall by recessed LED lighting which makes the space feel sleek and modern.
The vanity features a large, backlit mirror and a gorgeous marble countertop.
I was provided a Saks Fifth Avenue-branded hand towel, a larger bath towel, and a bath mat. Sadly, no bathrobes or slippers were available.
Sunday Riley amenities were set next to the sink and the shower, comprising hand wash, hand and body cream, shampoo, conditioner, and body wash.
The shower itself features glass doors, an overhead rainshower, and a wall-mounted shower head. The water pressure on both was excellent.
Bathrooms
The lounge has several individual unisex bathrooms on both floors. They were immaculately clean throughout my visit and I never had to wait for one.
Service
One thing that consistently impresses me about Polaris Lounges is the service. This time was no exception. I found employees friendly and responsive, and the high staff-to-guest ratio meant that orders were taken promptly, drinks were quickly refilled, and the lounge was kept extremely clean. The contrast between the service I received in the air and the service I received on the ground was huge. United cabin crews could learn a few things from the Polaris Lounge staff.
Conclusion
A clean, spacious lounge with ample seating, tasty food, and showers, made for an all-around great visit. I'm glad that Polaris continues to set the standard for US lounges: it offset some of my disappointment with the onboard product and seems to be motivating other US carriers to up their lounge game. I hope United keeps up the quality because Polaris Lounges are the only thing that positively differentiates their premium product from anyone else's.