The food at the Centurion Lounge in International Terminal 1 at Mexico City Airport was superb, one of the best a la carte meals I've ever had in a lounge. And though the space is admittedly small, windowless, and inconveniently located before security, I wouldn't hesitate to come back.
American Express Centurion Lounge MEX entry requirements
Like all Centurion Lounges, the Centurion Lounge in Mexico City International Airport is accessible to cardholders with a Platinum Card or Centurion Card. Unlike Centurion Lounges in the US which began in February charging for guests, this lounge still allows cardholders to bring in two guests for free. Check here for the most up-to-date and detailed rules.
American Express Centurion Lounge MEX location
This lounge is located in the international departures section of Terminal 1, before security. This terminal services Air Canada, ANA, American, Avianca, Viva Aerobus, and United, while Terminal 2, which has another Centurion Lounge, services Copa Airlines, Delta, LATAM, and Aeromexico.
To find the lounge, proceed to the second floor of the terminal and walk towards the security checkpoint in Hall G. If you're facing towards the security checkpoint, the Centurion Lounge will be immediately to its left behind a pair of glass sliding doors.
Once you walk through, you'll see the Centurion Lounges' trademark leafy wall.
On your left will be a check-in desk and a small sitting area, further to the left of which is the main door to the lounge.
A quick aside: the directions to the lounge on American Express' website are pretty unhelpful, describing the lounge as being between "gates 8 and F1" (the lounge is before security, so it's hard to know which gates it's between) and "besides Flap's restaurant" (Flap's restaurant no longer exists). Don't be discouraged if you have trouble finding it at first–I struggled mightily.
American Express Centurion Lounge MEX hours
The lounge is open from 5 AM to 10 PM. You can find the most up-to-date information on hours here.
American Express Centurion Lounge MEX seating & layout
This is a relatively small lounge and, because it's completely inside the airport, lacks windows or natural light. When you walk in, you'll see a path leading to the bar with bench seating on one side and couches on the other.
At the end of the narrow seating area, you'll find a well-stocked bar, with more seating.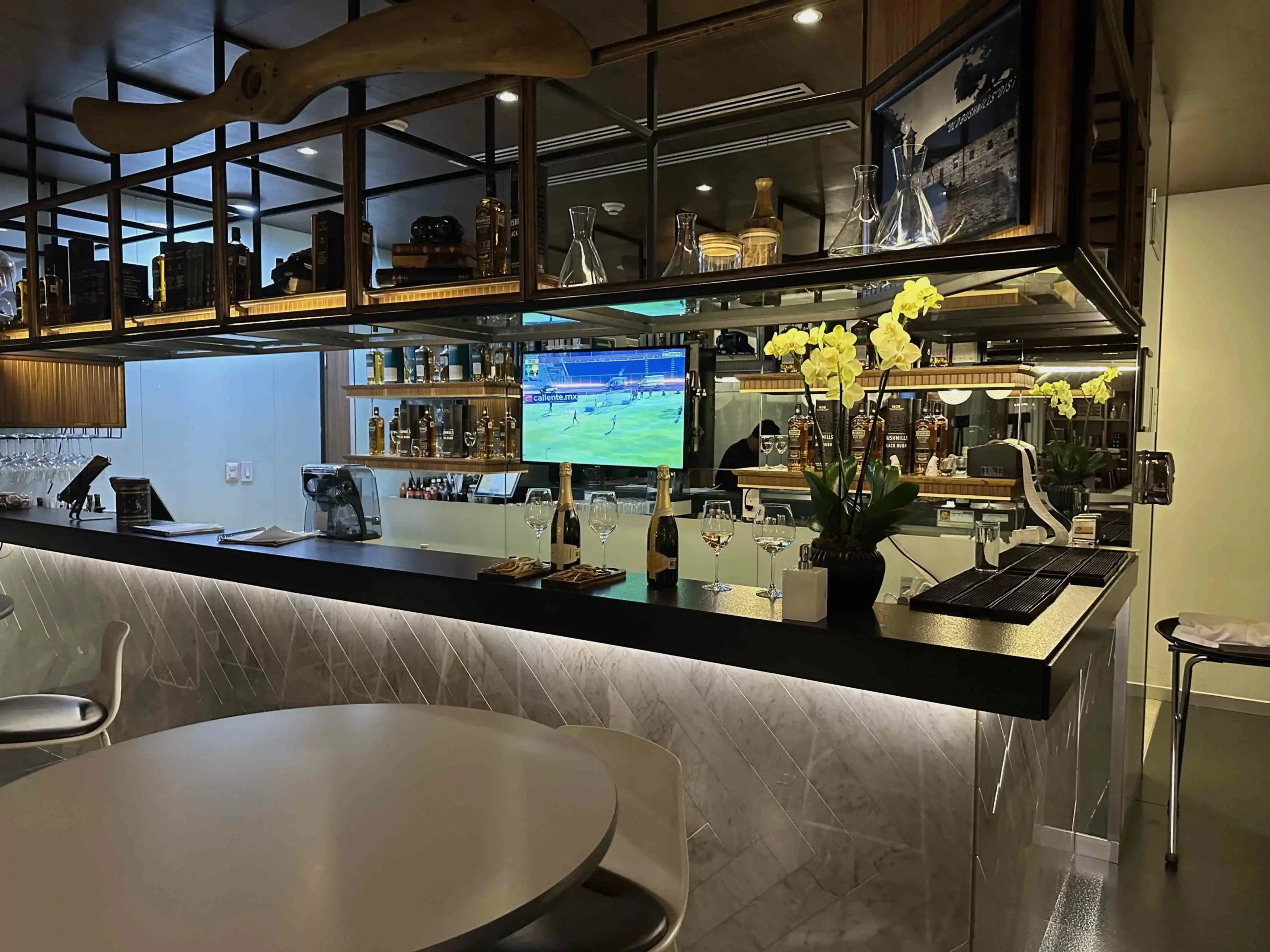 As you turn right at the bar, the lounge opens up into a square space, with a few dining tables, as well as more couches.
Although the lounge is small, there's ample seating. The handful of times I've been through this lounge it's been very quiet, with no more than 10 guests present at a time.
American Express Centurion Lounge MEX food & drink
Unlike most other Centurion Lounges, the food here is a la carte rather than buffet style and costs money. I didn't mind this, because 1) the prices were very reasonable and 2) the food I received was hands down the best I've eaten at any Centurion lounge.
Surprisingly, when the check came, I discovered that all my food was free. Apparently, prices only apply to those holding Aeroméxico co-branded Platinum Card, the Business Platinum Card, and Corporate Platinum Card. For other cards, including the personal Platinum Card, Centurion Card, and the Charles Schwab Platinum Card (which is what I used), all food and drinks are free. You can find the current lounge menu here.
I ordered from the breakfast menu, which is served until 11:45 AM.
I ordered the chilaquiles. I couldn't choose between green sauce and morita chile sauce, so the waiter recommended I get half and half.
This dish was absolutely delicious, one of the tastiest breakfasts I've ever had. The portion size was totally adequate but, had I known that the food was complimentary, I would have ordered another.
The lunch and dinner menu, which is available after 12 PM looked excellent.
I didn't order wine but was impressed by the wine list, especially considering it's all complimentary.
American Express Centurion Lounge MEX bathrooms and showers
Men's and women's bathrooms are off to the side of the main seating area, and I found them clean and well-designed. The men's room contains four fully-enclosed toilets.
The lounge has a single shower room, which can be reserved at the front desk. During my visit, the shower was completely booked up, so I'd recommend making a reservation as soon as you enter the lounge to maximize the odds that it's available.
American Express Centurion Lounge MEX spa
Across from the bathrooms, there's a small room for massages and other treatments. Guests are entitled to a complimentary 15-minute treatment which, again, you should reserve early on in order to maximize the odds that there's a spot available.
Conclusion
Though it's small, windowless, and inconveniently located before security, the food more than made up. This is among my favorite Centurion Lounges anywhere, and I'd opt to use this lounge over almost any airside lounges in Terminal 1.