I was blown away by my recent visit to the Turkish Airlines Business Lounge at Istanbul Airport. Not having visited since the pandemic when service was considerably curtailed, I'm glad to report that this lounge is back–and better than ever. In fact, the Turkish Airlines Business Lounge in Istanbul is easily the best Star Alliance business class lounge anywhere in the world.
Access and hours
The Turkish Airlines Business Class Lounge is accessible to all passengers with a business class ticket on a Star Alliance airline and is open 24/7.
Due to the volume of traffic that passes through Istanbul International Airport, the lounge tends to be very crowded nearly all the time, except for a few hours in the middle of the night, between 2 AM and 5 AM, when flight traffic is lighter.
Location
The Turkish Airlines Business Class Lounge is located near E1 above the terminal's security checkpoint. You'll see signs with the Turkish Airlines logo and the words "LOUNGE BUSINESS" pointing you in the right direction. Make sure not to head to the nearly identical Turkish Airlines Miles & Smiles Lounge which have very similar signage. To add to the confusion, there are two entrances to this lounge and most visitors will pass the entrance reserved for disabled passengers since it's closer to where security comes out.
The main entrance is a bit further down the concourse where you'll see a sign pointing left towards a set of escalators.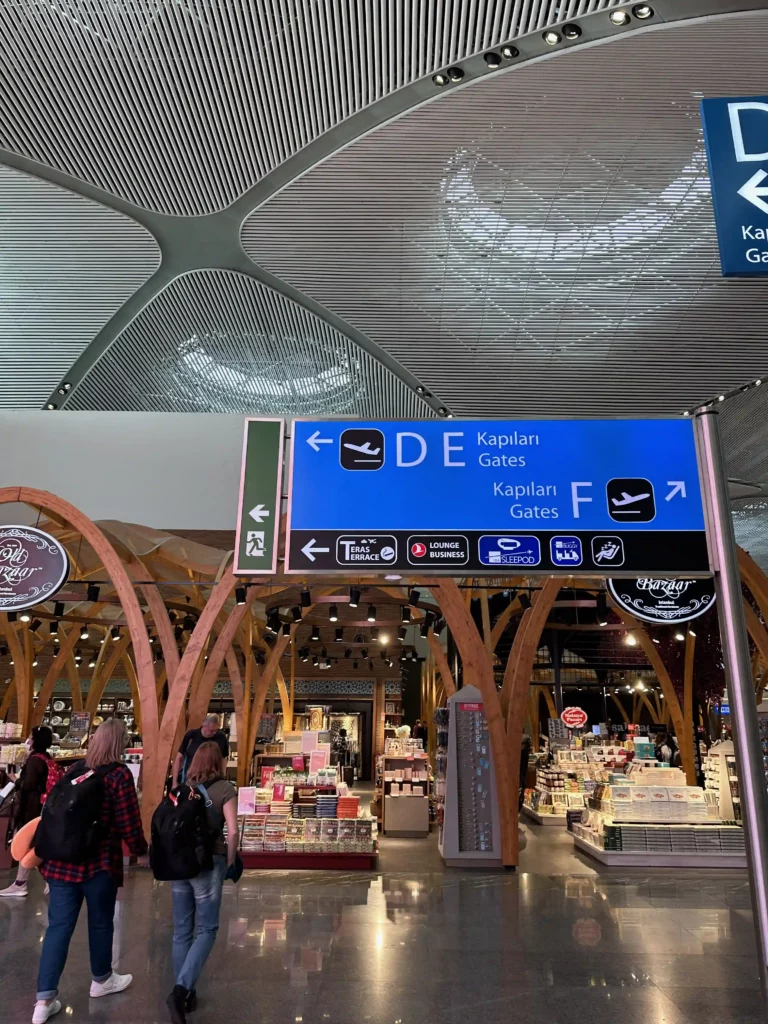 Take the escalators up and scan your security pass at the automated gates to enter the lounge.
As is the case with so many new airports, getting to this lounge may require a lot of walking depending on where you're coming from, so leave some cushion before it comes time to board.
Layout & seating
This lounge sprawls across a single, massive floor. Measuring 60,000 square feet, it's about double the size of United's largest Polaris Lounge and four times the size of the largest Centurion Lounge.
Entering the lounge, you'll be faced with a large screen playing Turkish Airlines promotional content. Turn to your right and you'll see a player piano, as well as most of the lounge's seating.
The area is essentially a long triangular room, with open kitchens down the middle allowing visitors to look in, and seating on either side. On the right side are tables and chairs, as well as booth seating.
On the left side are more tables and chairs and a balcony that overlooks the concourse.
You'll also find a wall of 12 TVs playing news from around the world and a series of circular armchairs from which to watch.
One of the things I like most about this side of the lounge is that, although it's really, really big, there are plenty of nooks and crannies off to the sides which lend the area a cozier feel and helps avoid the coldness and overexposure I've felt in other big lounges like Qatar's Al Mourjan.
Turning left from the lounge entrance, you'll find private, semicircular pods upholstered in white leather. They're one of the more comfortable and quiet places to sit and work.
Just behind the pods sits a long table with swivel chairs and eight iMacs lined up across from each other in rows of four, as well as a proper, office-sized printer at the far end.
The quietest and most convenient place to get work done or take a call is one of three conference rooms, which are fully enclosed and decked out with swivel chairs, a conference table, and AV equipment. These rooms can be reserved on an iPad mounted by the door.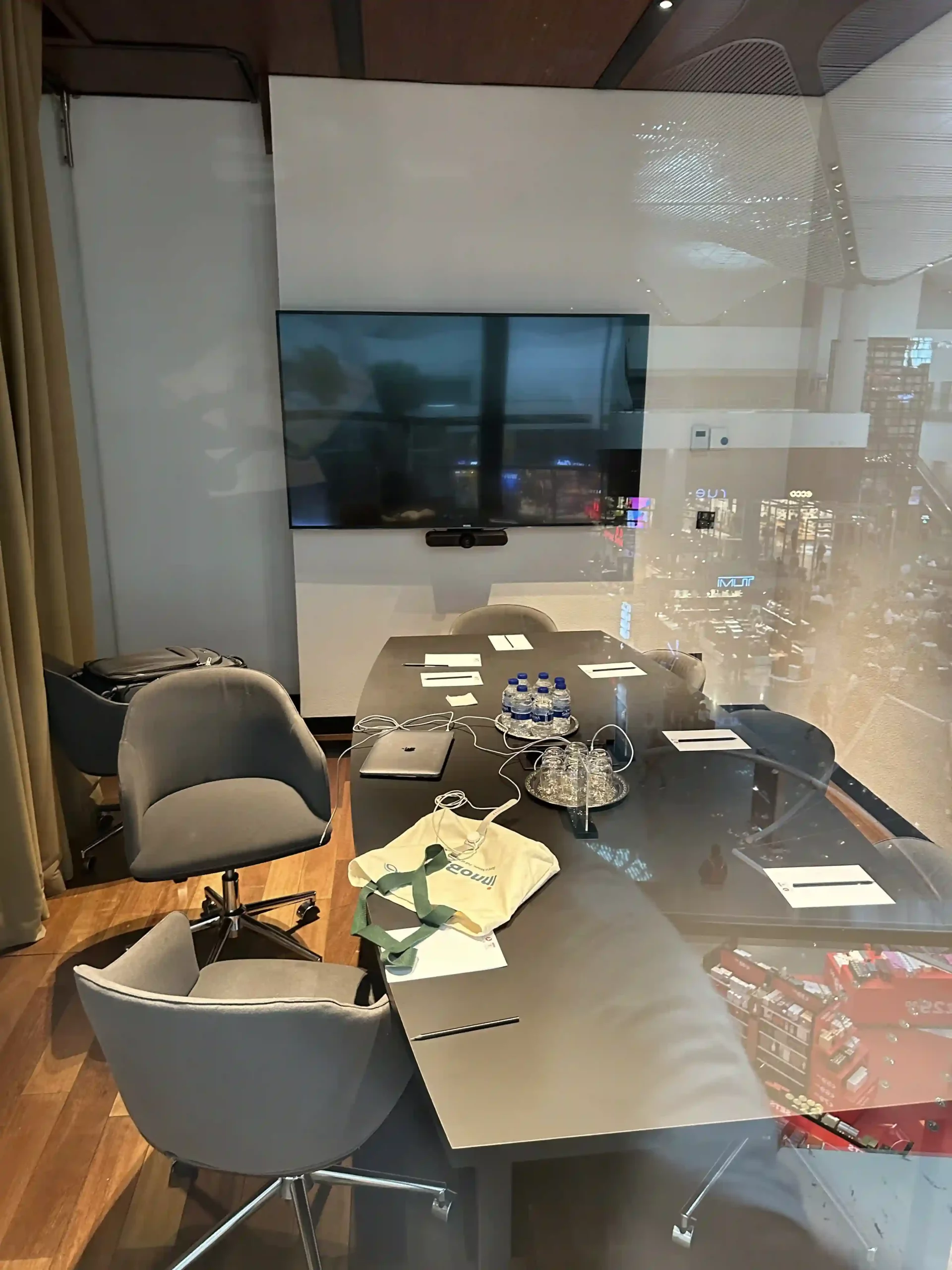 Unique (and excellent) entertainment
Though the highlight of this lounge is undoubtedly the food and drink, its most unique features are several entertainment areas. I haven't seen anything quite like this in other lounges I've visited and I think it's an innovative idea that I hope other airlines catch onto.
Towards the back of the lounge is a golf simulator, with a large projector, screen, set of clubs, and balls. This works by the user hitting a golf ball at the screen as if they were on a course and the trajectory and speed of the ball are tracked to determine where an on-screen ball lands in the virtual course. I haven't played golf in ages but had a blast with this.
Next to the golf simulator is something called the Hezarfen Flight Experience. Essentially, users are strapped onto what looks like a futuristic hang glider and put on a set of VR goggles and headphones. The goggles display an immersive four-minute flight over Istanbul's famous sites–the Hagia Sophia, Galata Tower, Topkapi Palace, etc.–while the glider pivots on a large mechanical arm and a fan near the user's face generates what feels like a warm breeze. While it wasn't the best VR experience I've had, it was a fun way to pass the time and an incredibly unique activity to find in an airport lounge.
If you're interested, here's a video of me enjoying the flight.
As if the golf simulator and VR experience weren't enough, there's also an entire room exhibiting items from past UEFA Champions League finals, presumably set up in anticipation of this year's final, hosted at Istanbul's Atatürk Olympic Stadium on June 10th. It's a soccer lover's dream, but the most exciting part of the room for me was the two business class seats stationed across from a flatscreen TV set up to play FIFA on PlayStation 5.
Finally, there's a kids-oriented race circuit with model cars running around a track. It's set on top of an impressively large diorama that features historical landmarks from around Istanbul.
Food
The food in this lounge, catered by Austrian catering company Do & Co, was the best I've had in any business class lounge bar none. The centerpiece of the dining area is a series of small open kitchens with counters of traditional Turkish foods, freshly prepared within.
At the far end of the room is an extensive buffet of salads, dips, cheeses, and meats.
Behind the buffet is a long counter with more freshly prepared foods. When I visited, there was a pasta station, a chicken curry, and self-serve lentil soup.
The lounge also had by far the most elaborately displayed butter I've ever seen.
Nearby is a table with beautifully displayed Turkish desserts, the only one of which I could name was Baklava.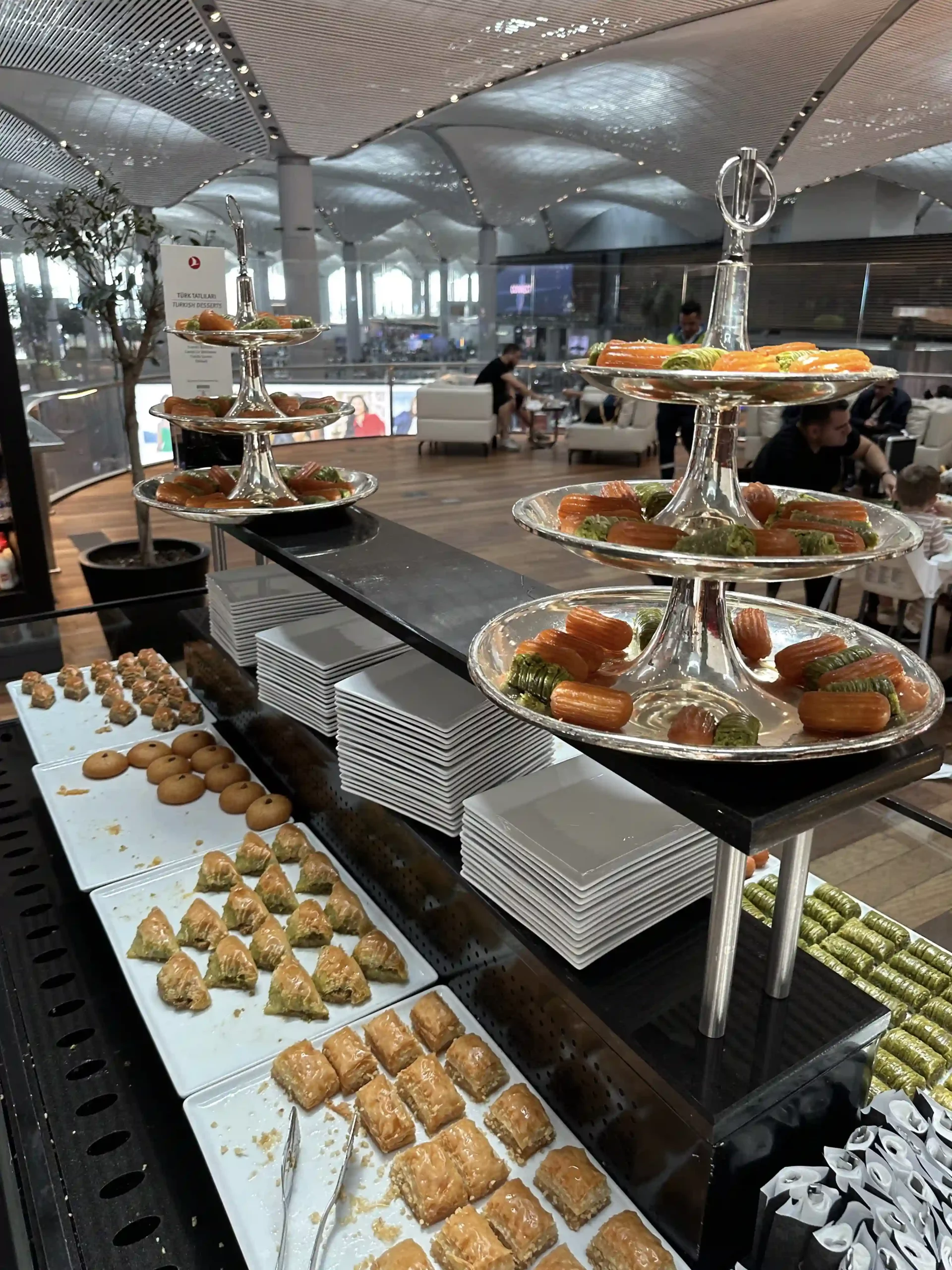 There are also two large tables with various cakes and cookies.
The drink selection, like the food selection, is expansive and delicious. A proper espresso bar manned by a barista offers up some of the best coffee I've ever had in a lounge, both business and first. If you're so inclined, they also serve up traditional unfiltered Turkish coffee.
There's a wooden barrel filled with Ayran, a Turkish dairy drink that tastes a bit like buttermilk, just across from the coffee bar.
Near the cakes and cookies is a vast selection of loose-leaf teas, as well as a pre-brewed Turkish tea.
Another table has an assortment of iced teas and fruit drinks.
Throughout the lounge, you'll also find refrigerated shelves containing bottles of water, soft drinks, and Ayran. Surprisingly, there's no bar in this lounge, but there are a few self-serve stations with various liquors.
The sheer variety and quality of things to eat and drink in this lounge blew me away. By an order of magnitude, it's more impressive than the spread at any other business class lounge I've visited, including Qatar's Al Mourjan, Cathay's The Pier, United's Polaris, or Singapore's SilverKris at Changi.
Sleeping rooms
The lounge features sleeping rooms that are on par with or better than many first class lounge sleeping rooms out there (though some don't even have). They're available on a first come first serve basis, and you'll need to meet the following criteria:
You're traveling in business class on Turkish (not on another Star Alliance airline)
You have a connection between four and nine hours
Either your arrival or departing is at least eight hours long

If you're elligible to use a sleeping room, make a reservation with the concierge.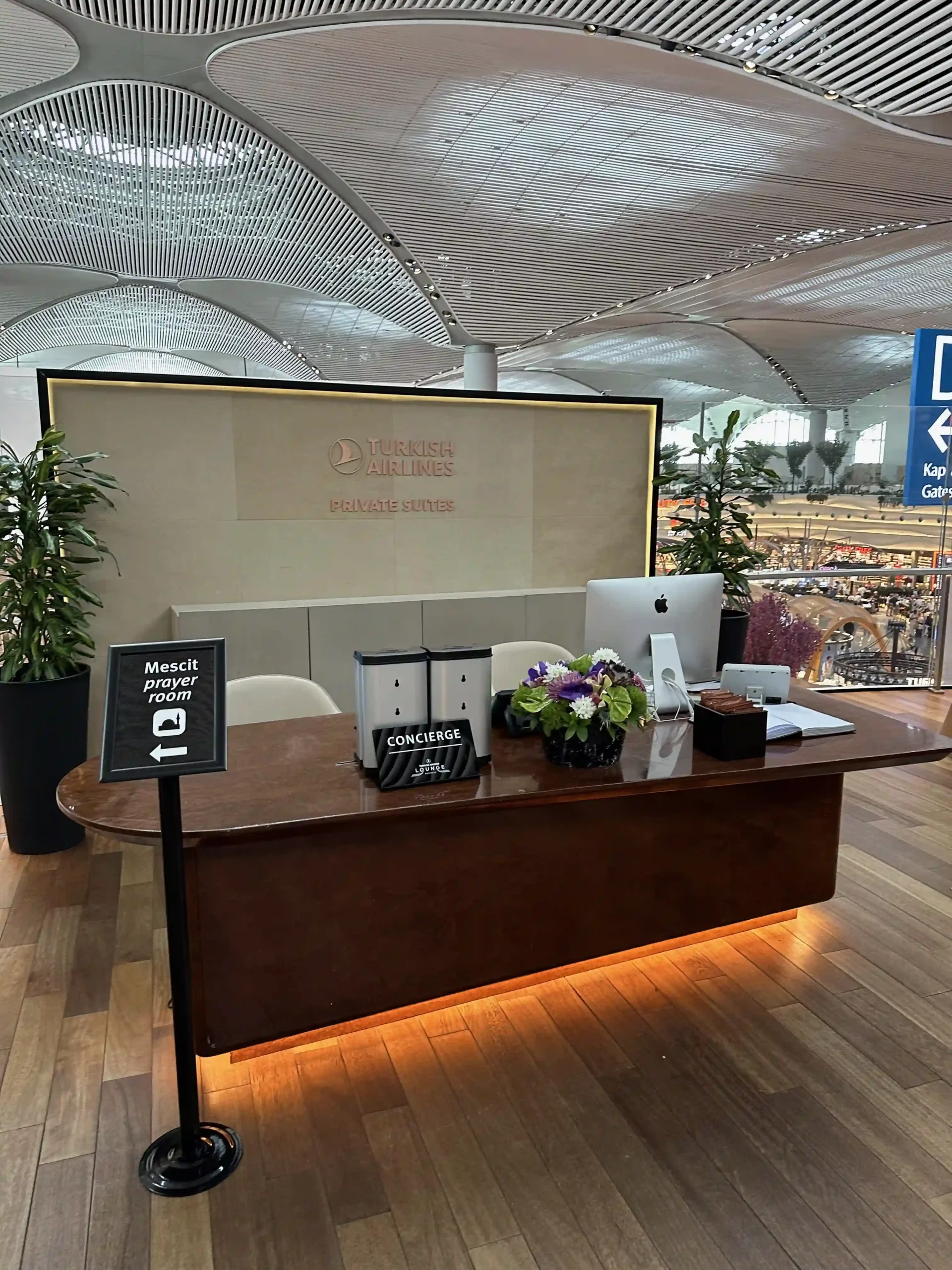 Though I was ineligible to use a sleeping room because of my short layover, I wanted to take photos but, to my great disappointment, all the rooms were occupied. Ben from One Mile at a Time got great pictures in his 2019 review which you can check out here.
Showers & bathrooms
There's one large bathroom in this lounge, decorated in faux marble, and I found it clean and tidy.
There are also several showers in the lounge, which can be reserved with the concierge. The lounge gets busy, so be sure to reserve a spot as soon as you enter if you plan to shower. Like the bathrooms, the showers are marble floor-to-ceiling. Gentle backlighting and chrome finishes make the space feel modern and elegant.
The shower rooms are well-stocked with amenities like robes, toiletries, and hair dryers.
Service
Despite being immensely busy, there was adequate staff to provide attentive service throughout my visit. Dishes were cleared quickly, kitchens were full of cooks, and food and drink stations were constantly replenished. There was even a man in a chef's hat wheeling around a dessert court, which I thought was a really fun touch.
Vastly improved Wi-Fi
My biggest gripe during my last visit to this lounge was the painfully slow Wi-Fi speeds. Thankfully, I didn't experience any of that during this visit. I'm also happy to report that the lounge has done away with the inconvenient and outdated Wi-Fi kiosks where you'd scan your boarding pass and then get a receipt with a username and password to access the internet.
Room for improvement
Any way you cut it, Turkish Airlines hit it out of the park with this lounge. Still, there are two areas that, if improved, would make it just about perfect. First, this lounge gets really busy. Though there was enough seating to accommodate the crowds, the sheer number of visitors made the lounge frenetic and noisy. Second, there are no outside views. There's not much Turkish Airlines can do about this short of opening an entirely new lounge, but the lack of natural light makes spending any more than a few hours here pretty unpleasant, at least to me.
Conclusion
I really, really like this lounge. The food and drink options are outstanding–especially if you like Turkish cuisine–and if, god forbid, you come to this lounge already having eaten, there's more than enough to enjoy, from the golf to the virtual reality flight simulator. Though the space tends to get very busy and is sorely lacking natural light, it's my favorite Star Alliance lounge, period. I can't wait to go back.