Air France's lounge in Terminal 2F at Paris Charles de Gaulle Airport is architecturally more impressive than just about every other lounge on earth, including Qatar's famed Al Safwa First Lounge and Cathay Pacific's stunning first class lounge in Hong Kong, the Pier. It's even more gorgeous than Air France's La Premiere Lounge just down the concourse.
Granted, the Air France Lounge in Terminal 2F is not nearly as luxurious as any of those lounges–and it's about 100 times more crowded–but all that is made up for by its breathtaking design. This lounge is, without a doubt, among the most beautiful spaces I've ever been.
Access
You can access the Air France Lounge by meeting one of the following requirements:
You're flying in a La Première cabin
You're flying in a Business cabin with a Standard or Flex fare
You have Flying Blue Platinum status
You have Flying Blue Gold status
You have SkyTeam Elite Plus status
You'll be able to bring in one guest with you unless you are flying in business class and don't have one of the statuses mentioned above.
Keep in mind that in order to access this lounge, you'll also have to be on an Air France, KLM, or SkyTeam flight departing from the same hall. Since Terminal 2F is inside the Schengen, you'll only be allowed into this lounge if you're ticketed on a Schengen flight.
Hours & location
The lounge is open daily from 5:30 AM to 10:00 PM. You can find the most up-to-date hours here.
To get to the lounge, make a right after security in Terminal 2F. Walk past the Duty Free Store on your right and F21-F36 gates on your left.
The lounge entrance will be about 50 yards ahead on your left.
Upon walking through the sliding glass doors, you'll see self-check-in kiosks which you can ignore unless you're bringing in a guest.
Walk straight ahead and scan your boarding pass at the electronic gate to enter the lounge.
Layout & seating areas
Stepping into the lounge, you're greeted by a lobby. The centerpiece of this space is a 6.5-meter-long perforated wing made from fiberglass, carbon fiber, and polyester. I didn't get a good photo so here's one from the architectural firm that designed it.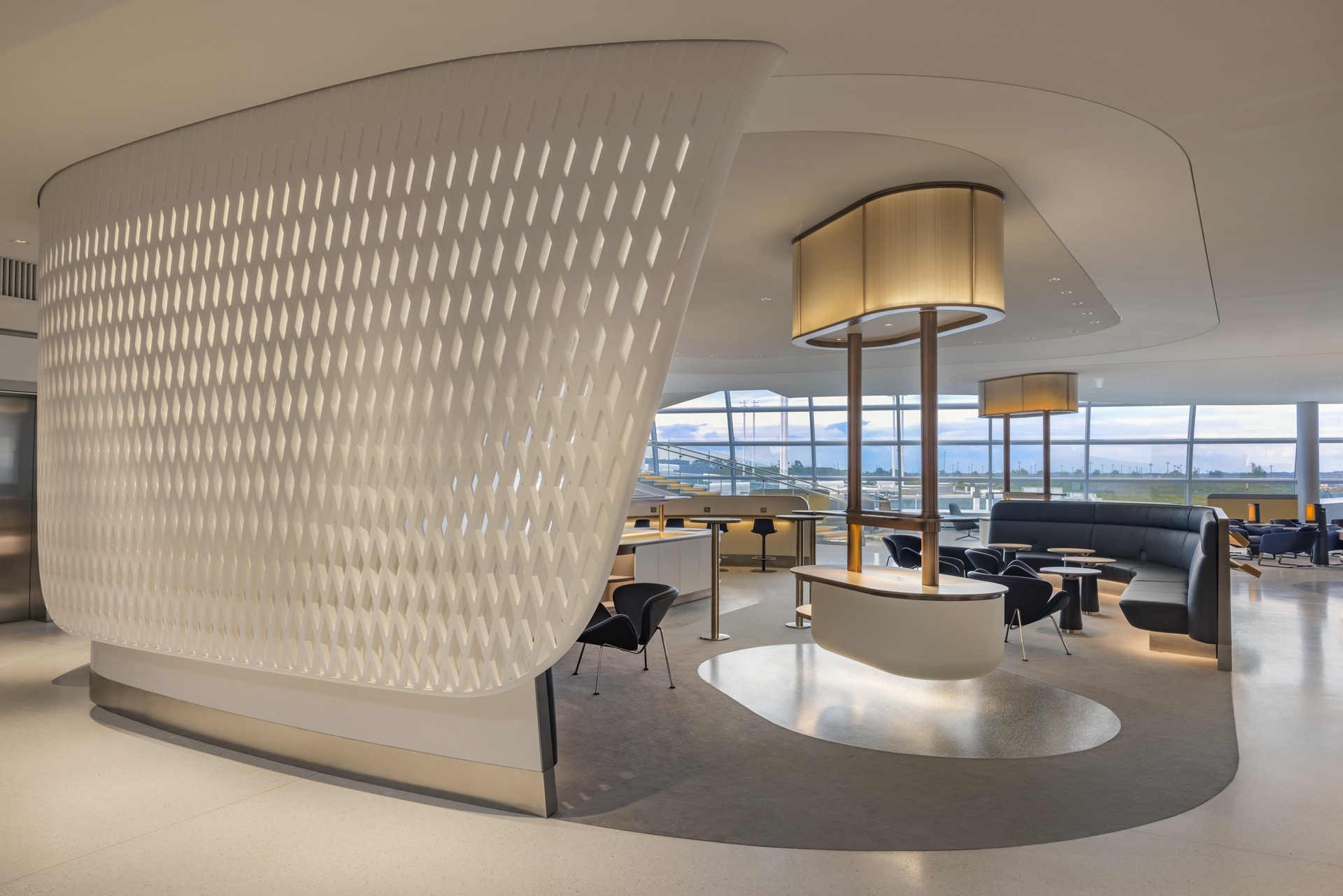 The ground floor unfurls behind the statue, revealing the lounge's most arresting feature: an enormous, curved window vaulting over two floors and stretching the length of the space. For AV geeks, it's an absolute dream, offering breathtaking and uninterrupted views of the bustling apron and runway.
The ground floor is almost entirely open and has seating for around 300 guests. There are lots of curved couches and stools, leather armchairs, and, further away from the windows are tables and chairs near the food and drink stations, which I'll cover in more detail later on. Most seats have easy access to a USB-A port and a universal power outlet.
At the far end of the first floor is a dedicated quiet area (distinct from the relaxation nap rooms) with more seating and another buffet.
A terrazzo pathway leads guests towards a staircase to the upper floor. According to the architects, the glass balustrade is supposed to give visitors the sensation of rising into the clouds.
I don't know about all that, but the stairs do have a celestial quality, and you'll find more incredible outside and interior views from them.
The second floor is effectively a smaller version of the first, with more curved couches and stools, leather armchairs, and tables and chairs.
On both floors there were a selection of magazines, though none I recognized.
Surprisingly, although seating across the two floors is designed to accommodate around 600 guests, I couldn't find a single spot to sit after 15 minutes of searching. We're talking Delta Sky Club-level overcrowding here, so keep in mind that if you're coming here in the afternoon on a weekday, it might be chockablock.
Food & drinks
There are five buffet areas across the two floors of this lounge. Since I visited at 4 PM, there were mostly cold items on offer, including a gazpacho soup, turkey sandwiches, sliced cheeses, cakes, yogurts, and various breads.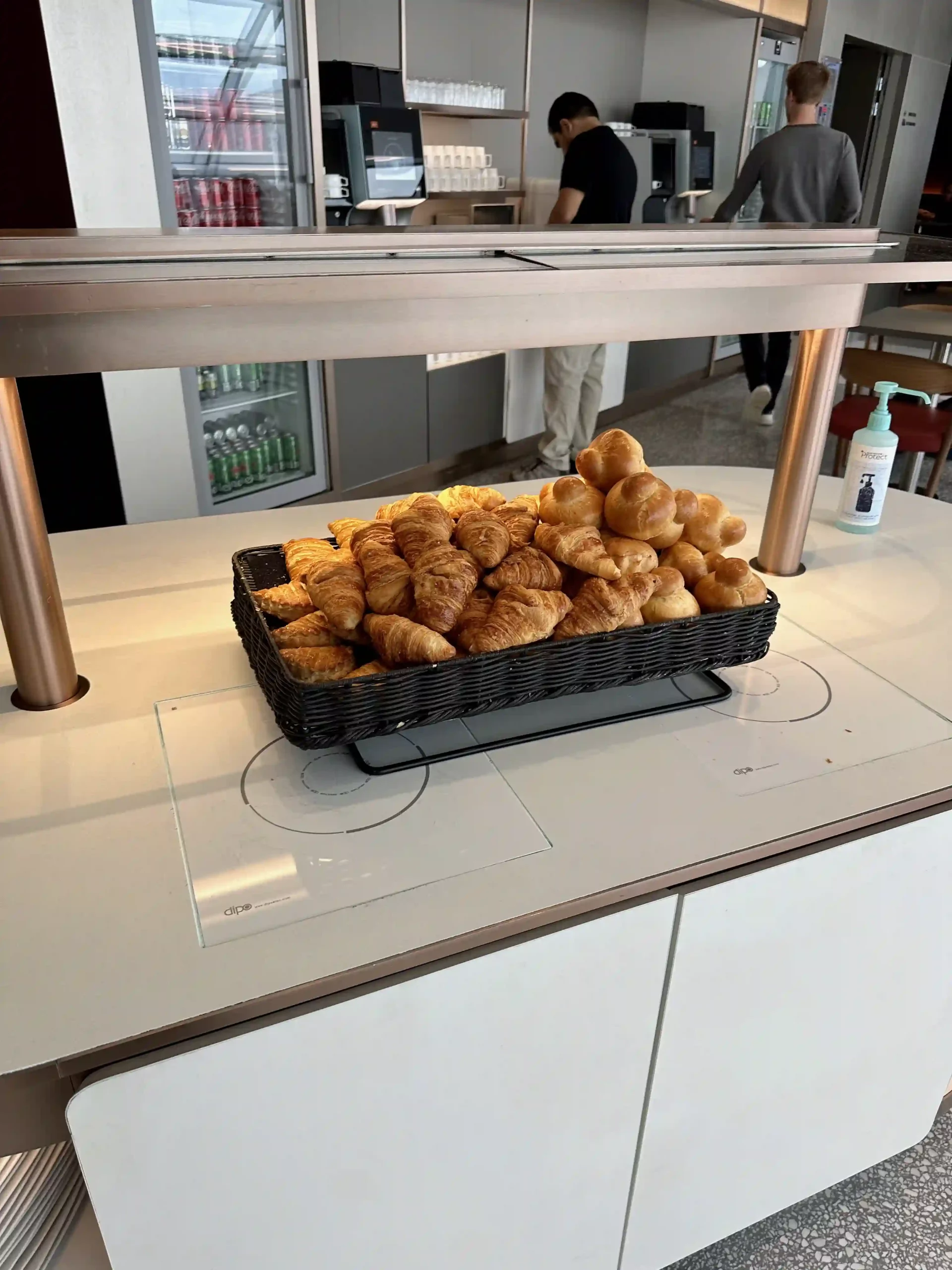 While there's no bar, there is a self-serve alcohol station with wine and spirits.
There are also fridges with beer and soft drinks.
Near the fridges are touch screen espresso machines–nice to have, but they didn't make a very good espresso.
Showers
At the far end of the second floor near the staircase are 10 shower suites. Available showers, indicated by a green light near the door, can be used by scanning a boarding pass in order to unlock the suite door. I like this system–it means that guests don't need to wait for an attendant to shower.
I didn't have time to take a shower but I did get to peek in and found the shower suites spacious, clean, and swanky, probably the nicest showers I've seen in a Sky Team lounge. The suites included amenities like shampoo and body wash, as well as thick, white towels, Q-tips, and a Dyson hairdryer.
Bathrooms
There are men's and women's bathrooms on both floors, mostly comprising floor-to-ceiling-enclosed stalls. Despite an extremely busy lounge, I found the toilets very clean and never had to wait to use them.
Clarins Spa
The lounge contains a spa by the French beauty brand Clarins, open from 7:40 AM to 7 PM every day except Sunday. Though you can book paid treatments, the spa also offers complimentary 20-minute facials on a first come first serve basis, which can be reserved at an iPad near the spa entrance. Unsurprisingly, the spa was totally booked so I unfortunately wasn't able to try the complimentary service.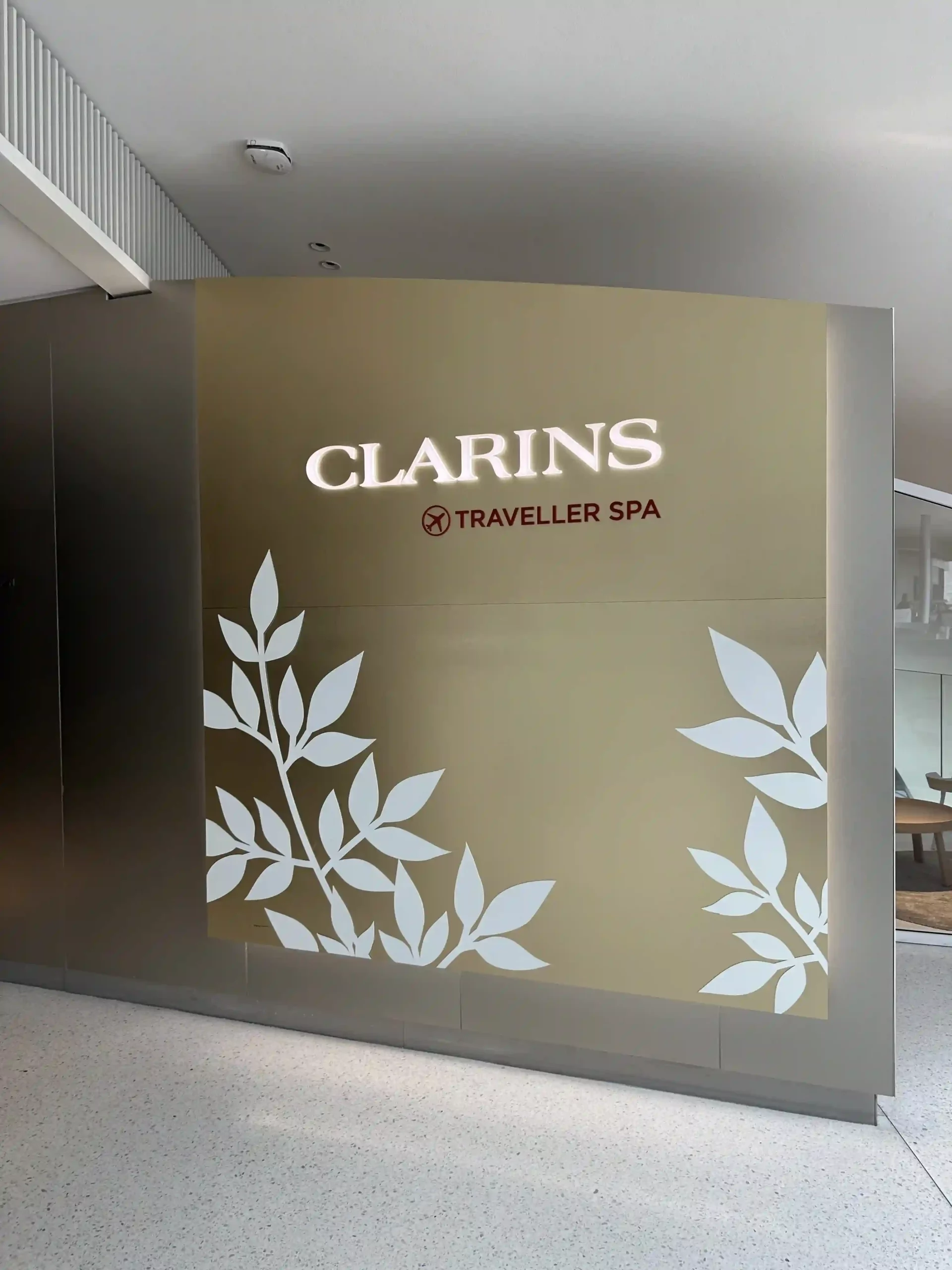 Nap rooms
On the second floor, there are a series of nap pods containing leather loungers and outlets. Though they're not proper rooms with doors, which would've been ideal for maximum quiet, drawing the curtains makes the space pretty private.
Service
As expected in such a heavily-trafficked lounge where all food and drink (and even shower suites) are self-service, there was effectively no personal service. I will say that the staff was proactive in clearing tables and that there was a guest services desk that never seemed very busy.
Conclusion
The Air France lounge in Charles de Gaulle Terminal 2F is among the most beautiful business class lounges anywhere. Though the food and drink were mostly unremarkable and the lounge was exceptionally crowded, a virtuoso design makes this Schengen lounge the best short-haul business class lounge I've ever visited. Airlines everywhere should be taking notes.