The last time I flew Brussels Airlines business class was just before the pandemic. I enjoyed it back then and I can now thankfully report that the product has held up well: my flight from Brussels to JFK aboard the A330-300 was a delight thanks to top-notch catering by Do & Co and a spacious throne seat. Despite the lack of wi-fi, this remains one of my favorite ways to cross the Atlantic.
How I booked my Brussels Airlines business class ticket
I redeemed 63,000 LifeMiles and paid $190.55 in taxes and fees for this flight. Those taxes and fees are so high because my itinerary originated in Frankfurt, and Germany has the third highest airport taxes on the planet. Had I originated in Brussels, I would have paid just $81.05.
My flight details were as follows:
Brussels Airlines 501
Brusells (BRU) – New York (JFK)
Departure: 10:35 AM, March 22
Arrival: 2:00 PM, March 22
Flight Time: 8h 25m
Business Class, Seat 5A
Brussels Airlines business class boarding & departure
About an hour before departure, I underwent the typical line of questioning that precedes flights to the US. For whatever reason, the Brussels Airlines employee responsible for preflight security interviews took a special interest in the past six months of trips I'd taken overseas, which meant the process took a bit longer than usual, about 10 minutes.
I boarded the plane shortly afterward and made my way to seat 5A. Within minutes, I was equipped with a pre-departure drink–I ordered a rum and coke–and spicy nuts.
At 10:45, we pushed back from the gate and taxied for 10 minutes before taking off.
Brussels Airlines business class cabin & seats
Brussels Airlines A330-300 contains 30 lie flat seats spread across seven rows. Odd-numbered rows are laid out in a 1-2-1 configuration, while even-numbered rows are arranged in a 2-2-1 configuration. The best seats in the house are the so-called "throne seats" at 1A, 3A, and 5A which take up the same amount of space as the two seats in front and behind it.
This cabin is only four years old, and it still looks pretty slick. The light wood surfaces and blue seats showed minimal scuff marks, scratches, or stains, and gave the cabin a bright and modern look, in an admittedly staid, Ikea sort of way.
I was seated in 5A, a throne seat. Brussels Airlines tends to reserve these for elite members until relatively close to departure, but since I booked my ticket only three days prior I was able to pick the seat immediately after booking. I've flown in this seat several times before, both on Brussels Airlines and on Austrian Airlines, but was still taken aback by the footprint of this seat. Though the seat itself is no wider than other European and US business class seats, there are two large counters on either side of the seat which make it feel extremely spacious.
On the left side of the seat above the counter is a rectangular storage cubby large enough to store the Brussels Airlines amenity kit.
At leg level on the same side is more storage, essentially two recessed shelves.
On the right side of the seat in front of the armrest is a row of metallic buttons to control the seat and the overhead light. Flipping up the armrest reveals buttons to adjust lumbar support, firmness, and the massage function, as well as an IFE remote control. I noticed quite a bit of dust and grime at the corners of this area and on the edge of the armrest cover.
Immediately above the righthand armrest on a partition between the seat and the aisle is a latch to release the tray table from its storage slot, allowing it to slide forward and flip down.
Further up the partition is a pop-out reading light, a three-prong headphone jack, a USB charging port, and a universal power outlet, as well as a grimy leather loop that holds the provided headphones.
In front of the seat is a crisp, 15.6-inch display.
Below the screen is more storage, accessible by a rectangular, latched door that flips down.
To the right of the screen is a literature slot.
My only complaint with the seat is the the foot cubby is rather tight.
Overall, I was delighted by what I think might just be the perfect business class seat for a long westbound flight–I enjoyed fantastic views through my three windows and was able to utilize the immense counter space on either side of me to work and eat comfortably. Since it was daytime throughout the flight, I didn't sleep, which meant I didn't have an issue with the tight foot cubby and slightly too firm seats.
Brussels Airlines business class amenities
A black fabric amenity kit was waiting for me in the storage area to the left of my seat upon boarding. The contents were fairly basic: earplugs, flight socks, eye mask, toothbrush, and lip balm and hand cream by the Brooklyn-based beauty brand, Apotheke.
Brussels Airlines entertainment & wi-fi
Brussels' A330-300s are not equipped with wi-fi, surprising given the planes' recent refurbishment. The entertainment selection was quite good, with a fairly expansive collection of movies and TV shows, as well as music and an interactive flight map. The 15.6-inch display was bright and crisp and the small remote was easy to use, although felt a bit dirty when I first picked it up.
The provided headphones were flimsy and produced a pretty poor sound so I'd highly recommend bringing your own.
Brussels Airlines business class lunch service
My favorite part of flying on Brussels Airlines is the food. Their business class cabins are catered by Do & Co, an Austrian company that I think consistently produces some of the best food in the sky.
I perused the following menu and decided to order the cod for my main. I don't eat shellfish or meat, so I was disappointed to learn that there was no suitable starter for me. Given how common plant-based diets are nowadays, it's surprising that there wasn't a vegetarian option among the list of starters.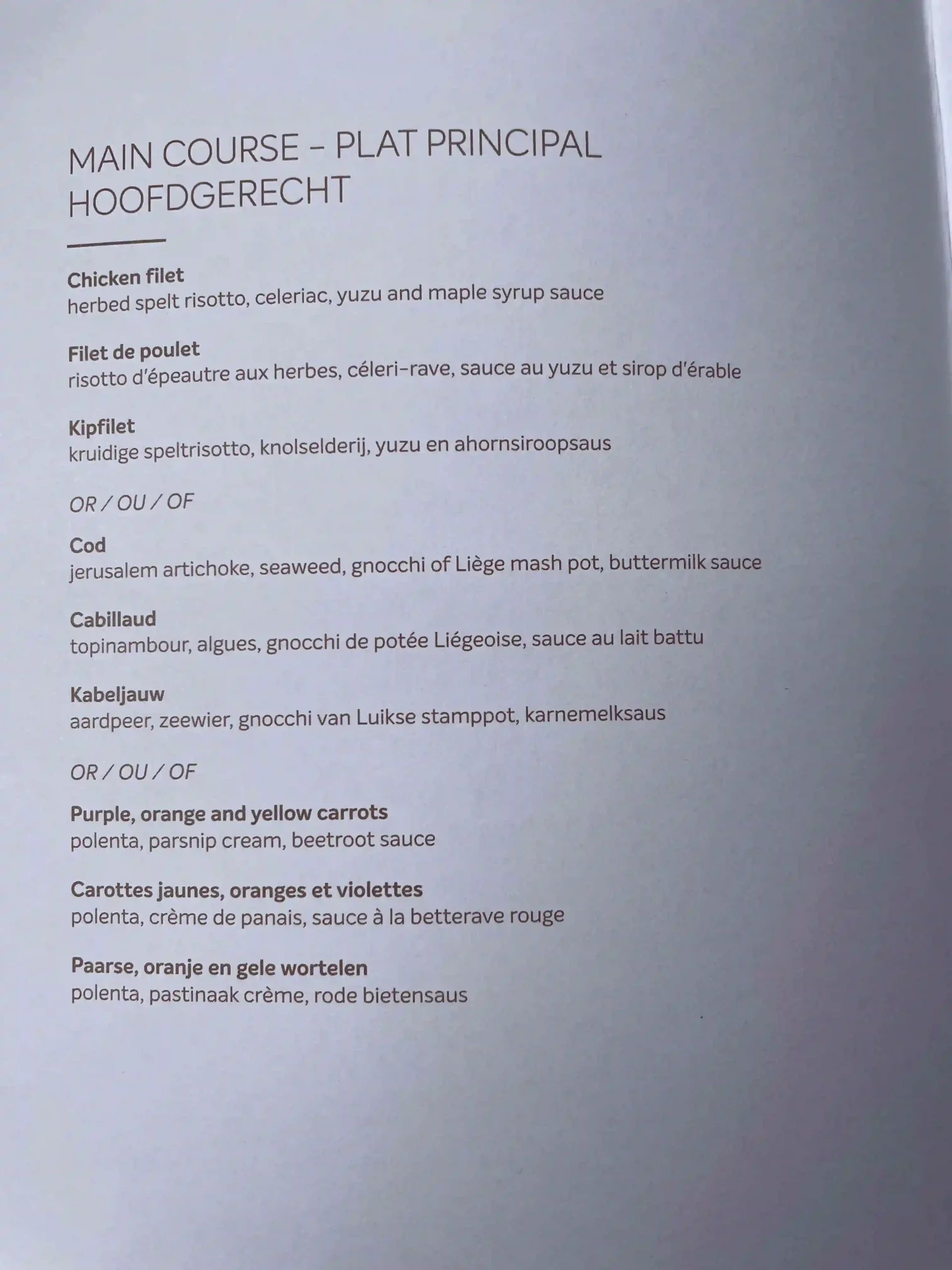 The drinks menu features red and white wines, spirits, soft drinks, coffee, tea, and a superb selection of beers that is unmatched in any other business or, dare I say, first class cabin I've ever flown. Any other day I would've ordered the Tripel Karmeliet but I was feeling a bit beered-out and opted instead for the 2016 Château Baret instead.
The cod arrived and, though it didn't look like much, it was finger-licking delicious. The large gnocchi were fluffy and slightly sweet, and the cream sauce was a creamy, rich acompaniement to a lean fish like cod.
Brussels Airlines business class bed
Having departed my apartment in Frankfurt at around 6 AM, I was feeling tired and decided to get some rest. Brussels Airlines provides a large pillow and soft blanket, though I would've preferred a comforter or something plusher.
The seat is quite firm so even though I found it perfectly suitable for sitting, sleeping on it wasn't particularly pleasant. It wasn't completely uncomfortable but, had this been a red eye, I probably wouldn't have slept soundly. I didn't find the foot cubby particularly problematic, but I could see it being annoying for taller people who sleep on their side.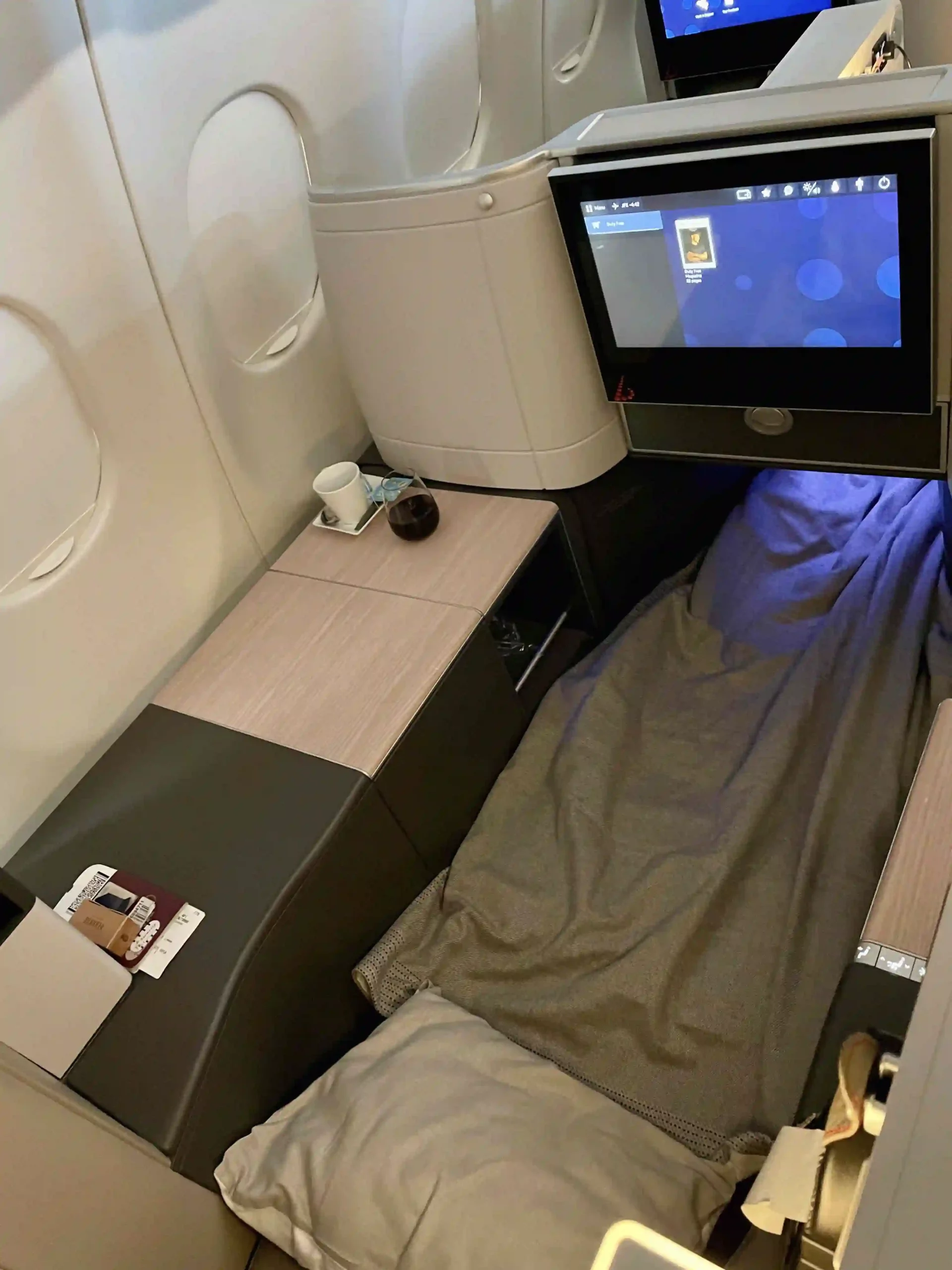 Brussels Airlines business class bathrooms
Brussels' A330 has two lavatories, one at the front of the cabin and one at the rear, for 30 business class seats. The bathrooms were kept clean throughout the flight and there was never a wait to use them.
Above the sink were bottles of facial moisturizer and hand lotion from a Belgian beauty brand called RainPharma.
Brussels Airlines business class pre-arrival service
Shortly before landing, passengers were offered a light meal. The only option was an arugula and grilled Asian pear salad with goat cheese, walnuts, figs, and jam which was absolutely delicious.
Dessert, a fluffy white chocolate mousse cake, came on the same tray and was excellent.
Brussels Airlines business class service
The service on this flight was very good, thanks to the fact that the flight attendant who served as my primary point of contact throughout the flight was incredibly responsive and kind. Unfortunately, the few interactions I had with other FAs were mostly unpleasant owing to an abruptness that I found pretty offputting.
Arrival at JFK
About 20 minutes before landing, we crossed the mouth of the Long Island Sound and turned west towards JFK. The great tradeoff of sitting in a throne seat on a westbound flight is that you won't be treated to views of the Manhattan skyline upon descent. Had there been empty seats on the right side of the plane, I would have switched for landing but, unfortunately, I was out of luck.
The plane touched down at about 1:25 PM and, after about 35 minutes of taxiing, we pulled up at gate 2 in JFK's Terminal 1. We deplaned at 2:10 and, thanks to Global Entry, I was through to baggage claim by 2:20.
Conclusion
I really enjoyed this flight. I had a few complaints–no wi-fi, spotty service, lackluster cleaning on certain high-touch areas, overly firm bed–but these were quibbles with an otherwise great product whose excellence was driven by some superb catering. If you're flying westbound and can snag a throne seat, Brussels Airlines is an excellent option.