The last and only other time I flew El Al's business class was from Bangkok to Tel Aviv. It's been a few years since that flight, so I wanted to check out the product again and see how it's held up.
Overall, I enjoyed this flight. The hard product seems to have held up well over the more than five years since El Al took delivery of this 787-9 and the soft product–an area the airline has struggled with in the past–was also good.
How I booked my El Al business class ticket
I redeemed 43,800 Qantas miles and paid $34 in taxes and fees for this flight. I didn't initially have enough Qantas miles in my account and had to top off my balance using American Express Membership Rewards points. Citi ThankYou or Capital One are also transfer partners, so I could've used those points as well.
Though El Al isn't part of an alliance, it entered into a partnership with Qantas in 2017 which made redeeming through the Australian airline the best way to book El Al award flights. El Al doesn't release too many award seats but if you've got some flexibility they're easy enough to find.
My flight details were as follows:
El Al 323
Tel Aviv (TLV) – Paris (CDG)
Departure: 9:00 AM, April 25
Arrival: 12:50 PM, March 25
Flight Time: 4h 50m
Business Class, Seat 2A
El Al business class check-in
Tel Aviv's Ben Gurion Airport is notoriously strict when it comes to security and recommends that passengers arrive a full three hours early for their flight. That recommendation should not be ignored: a few years ago, I showed up three hours prior to departure and still missed my flight. Most of my family and friends have similar stories.
Thankfully, flying in business class significantly cuts down on the time it takes to get airside because a business class ticket grants holders access to 1) a dedicated, shorter queue for the initial, pre-check-in security check, 2) a premium check-in desk, and 3) a fast-track security line.
All those perks meant I was sitting in the lounge just 20 minutes after arriving at the airport. That may not sound impressive, but considering I was flying out of Ben Gurion with a checked bag, it was downright miraculous. Had I been in economy class, I estimate it would've taken me closer to 90 minutes to get through.
El Al business class boarding & departure
Though my ticket showed boarding beginning at 8:30 AM, by the time I arrived at gate D8 at 8:25, boarding was nearly complete. I hurried onto the plane and took my seat at 2A. Doors were closed at 8:40, but we pulled back from the gate around 9:05.
During a fairly long taxi, I was treated to views of El Al's retired 747s. At around 9:25, we approached runway 12/30 and began our roll before ascending moments later into sunny skies.
El Al business class cabin & seats
El Al's 787-9s contain 32 lie flat seats spread across eight rows in a 1-2-1 configuration. The seats are staggered, so window seats alternate between facing the aisle and being right up against the window. These true window seats are found in even-numbered rows and grant far more privacy than their odd-numbered counterparts.
This cabin was originally delivered to El Al in September 2017 and seems to be holding up well. The surfaces, brown plastics, and mottled gray-blue seats showed minimal stains or scuffs, though there were a handful of scratches on the wood surface next to my seat.
The cabin feels light and airy thanks to the Dreamliner's tall windows and the lack of overhead bins over the center seats.
I was seated in 2A, a true window seat. It was set back quite a ways from the aisle so despite not having a door it felt very private. The seat measures 21 inches wide and is 78 inches long when fully flat, more than long enough for me to sleep comfortably.
At the front of the seat is a 15-inch IFE screen that can be unlatched and swung outwards toward the seat. Just below the screen is the tray table, which can also be unlatched and pulled out.
The tray table was adequately sized, and fit my 16-inch computer with width to spare.
I found the seat's footwell to be rather small, but not nearly as tight as Brussels Airlines' A330.
The seat is flanked by two brown leather armrests. Directly above the right armrest (which can conveniently be pushed down to give the seat a bit more width) are buttons to control the seat and reading light.
Further to the right is a wood surface that was pretty scratched up.
Above it is a touchscreen IFE remote, auxiliary port, and USB charging port. 
A small door can be unlatched to reveal a storage area with mirror and enough room for a few small personal belongings.
Directly to left of this is a very small and open storage area that I found difficult to access and not particularly useful.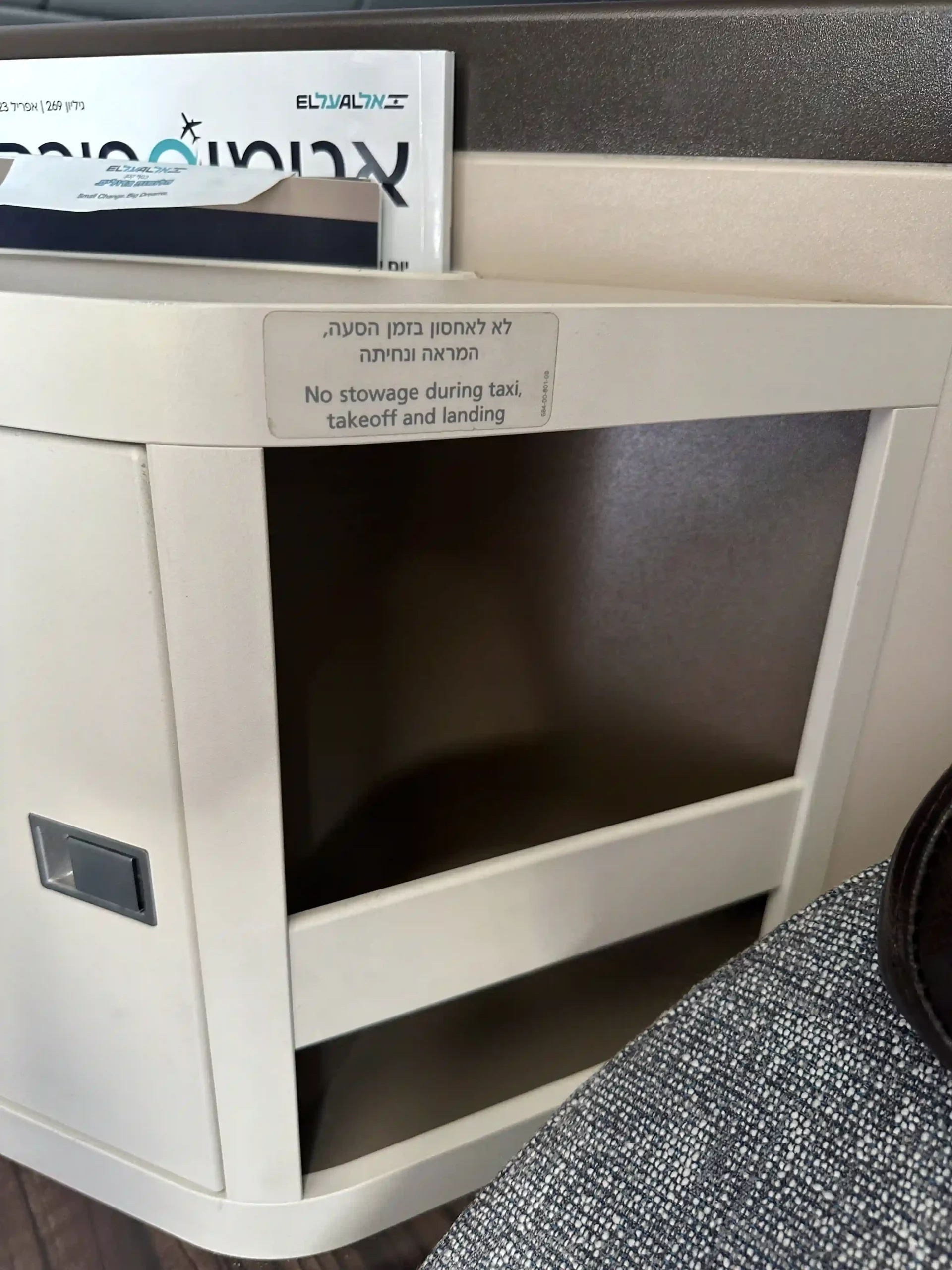 On top of the storage area is a small surface and a literature slot.
In front of the seat at foot level is another small storage area.
Above it, at eye level, is a coat hook.
Directly below the seat is a universal power outlet and USB port.
I generally really liked this cabin, but my biggest complaint was the cleanliness of my seat. The armrest, for example, was sticky and the area behind the seat, which is revealed when the seat is fully reclined, was covered in crumbs and hair. Yuck.
El Al business class amenities
Given the relatively short nature of this flight, I was pleasantly surprised to see a soft Ted Baker amenity kit on my seat when I boarded.
It was light on contents, though more than adequate for such a quick trip. It included an eye mask, tissues, earplugs, socks, L'Occitane lip balm and hand cream, and facial wipes.
El Al entertainment & Wi-Fi
The entertainment selection was quite good, with a collection of over 300 movies and a bunch more TV shows, as well as music and an interactive flight map. Unfortunately, the provided headphones were pretty low quality so I'd definitely recommend bringing your own.
I found the touch screen to be highly responsive and much easier to use than the remote, though it was nice having a smaller screen on which to keep the flight map. 
The only option for Wi-Fi was a flat $19.99 package that covered the entire flight. While that's not cheap, it's also very reasonable for what was the fastest Wi-Fi I've ever had on a flight–a speed test showed download speeds at 43.85 Mbps!
El Al business class breakfast service
Menus were handed out shortly after takeoff and breakfast was served about an hour later.
Of the two options on offer, I chose the Jerusalem-style pastry. I'd eaten in the lounge and wasn't particularly hungry, but the pastry was absolutely delicious. The side salad was fresh and crispy and the breadsticks were warm and moist. I feel like breakfast is the hardest meal for an airline to get right, and I was genuinely impressed by the food here.
El Al business class bathrooms
El Al's 787-9 business class cabin technically has just one dedicated bathroom, with an additional two bathrooms at the rear of the cabin shared with premium economy passengers. I only used the business class bathroom but found it to be clean and well-stocked throughout the flight.
Above the sink were three bottles of Dr. Klein-branded moisturizer and toners.
El Al business class service
In the past, El Al's cabin crew were known for their brusqueness, though I personally haven't found that to be the case in at least 15 years. This flight was no exception, and I thoroughly enjoyed the service I was provided. Across the board, flight attendants were super responsive, professional, and warm.
Arrival at CDG
About 30 minutes before landing, we began our descent and I got a glimpse through the clouds of the Paris suburbs. We touched down about four and a half hours after take-off and taxied towards our gate. On our way, we passed a gorgeous Concorde operated by Air France from 1978 until its final flight on June 11, 2000.
Conclusion
The seat, service, and food on this flight were all excellent, and I ended up wishing the flight was longer. For probably the first time in a very long time, El Al's business class is genuinely competitive and among the best ways to travel to or from Israel. Given their award availability through Qantas and Qantas's numerous transfer partners, I'll be flying El Al again soon.