While returning from a recent trip to South Africa, I had the chance to travel Ethiopian business class from the busiest airport in Africa, Johannesburg OR Tambo International Airport, back to Chicago O'Hare International. This review outlines the longest leg of that journey, a massive 17-hour and 40-minute journey from Addis Ababa to Chicago, with a short technical stop in Dublin.
Overall, the flight was decent: the food was good and the service excellent, but the 2-2-2 layout, outdated seats, antique IFE, and lack of lavatories detracted significantly from the quality of the experience, especially on such a long flight.
This post was co-authored by David Woldenburg, a friend, fellow points junkie, and head of engineering at my favorite travel rewards card startup, Taekus!
How I booked my Ethiopian Airlines business class ticket
I booked this flight using Avianca's frequent flyer program, Lifemiles, as part of a JNB-ORD itinerary, which cost 78,000 points and $68.08.
Lifemiles is among my very favorite frequent flyer programs because of its great redemption rates (just 87,000 miles for a first class Lufthansa ticket!), frequent awards and points sales, and many transfer partners. I transferred American Express Membership Reward points to pay for this trip, but you could use points from any major award program other than Chase. Considering the fact that these programs often run transfer bonuses, you could easily get the points cost of this itinerary 20% lower than I paid.
My ticket details were as follows:
Ethiopian Airlines 574
Addis Ababa (ADD) – Dublin (DUB) – Chicago (ORD)
Departure: 10:15 PM, January 15, 2023
Arrival: 6:55 AM, January 16, 2023
Flight Time: 17h 40m
Business Class, Seat 1L
Ethiopian Cloud Nine Business Class Lounge in Addis Ababa
I arrived in Addis Ababa at around 3 PM following my flight from Johannesburg. I had six hours before boarding started for my next flight, so decided to spend most of that time in Ethiopia Airlines' business class lounge, dubbed the "Cloud Nine Lounge."
To get there, I went upstairs, walked past the Sheba Miles Platinum Lounge, and entered the Cloud Nine Business Class Lounge on my left. I was quickly waved through by an agent at the front desk and walked to the main seating area.
The lounge was relatively busy, but I didn't have trouble finding a table. This lounge has a few different areas, including a bar, smoking room, meeting room, quiet area, prayer room, and a children's play area. I won't provide a full review of this lounge, but will give you a quick overview of what I found to be the highlight: the food. If you're a fan of traditional Ethiopian fare, which mainly consists of various stews eaten alongside flatbread, you won't leave disappointed.
I helped myself to a few different stews and an Ethiopian Coke from the large buffet.
My main takeaway from this lounge is that the food is excellent if you like Ethiopian, but beyond that, the lounge is average, being not very well-maintained and getting quite busy.
Before I left to catch my flight, I came across the "coffee ceremony zone," where visitors can enjoy a cup of traditional Ethiopian coffee, which I thought looked pretty cool.
Ethiopian Airlines 787 business class cabin and seats
Boarding went smoothly and I was on the plane 45 minutes before takeoff. My first impressions were so-so. I don't love the bright red seats or the 2-2-2 configuration, and the cabin looked threadbare compared to Ethiopian's A350 I'd flown in earlier that day. Unlike the A350, which felt airy and open due to the lack of central overhead bins, this cabin felt relatively tight.
Ethiopian's Dreamliner's Business Class cabin is located at the front of the plane. It contains 24 lie-flat seats in a 2-2-2 configuration that face forward and have access to the aisle, with the exception of window seats where you have to climb over your neighbor. Seats on the sides are slightly angled away from the aisle, offering slightly more privacy. For a full seat map of Ethiopian's 787, click here.
The seat itself is firm but otherwise comfortable. It has a pitch of 68 inches (though it measures 74 inches long in bed mode) and a width of 22 inches, about average among business class cabins today. Each seat has an ancient-looking monitor (many of Ethiopian's 787s have much newer IFEs), controlled by an armrest controller. Underneath the monitor is a storage drawer and footrest, which becomes part of the flatbed when the seat is reclined. Unlike the foot cubbies on the A350, these seats' cubbies are tiny and uncomfortable unless you're sitting in a bulkhead seat like I was.
The armrest between paired seats features seat controls, a remote for the entertainment system, and a small shared table for drinks and snacks. It also contains a fold-out tray table that needs to be pulled out for use, blocking you in your seat. At the back of the headrest is a difficult-to-reach storage compartment with a power outlet and USB port.
Ethiopian Airlines 787 business class amenities
On the shared armrest when I sat down was a bright red amenity kit. These kits come in either yellow, green, or red, and I got a yellow one last flight so it was nice to mix it up with a different color. Inside the case was a dental kit, comb, hand sanitizer, eye mask, lip balm, pair of socks, set of earplugs, branded pen, and a face mask. Almost all the items were, like the amenity kit case and the seats, bright red. I also received a pair of poorly functioning plastic headphones.
Shortly after boarding, the stewardess walked around offering a choice of champagne, orange juice, or cinnamon water. Having never tried the latter before, I gave it a go and it was pretty pleasant.
Ethiopian Airlines 787 entertainment & Wi-Fi
Unlike the big, beautiful, and responsive touchscreen IFE on my last leg, this IFE was low resolution and slow. The selection of movies and TV shows was also not nearly as good as the one on my earlier A350 flight.
There was no onboard wi-fi available on this plane, which was a bit of a drag given how long the flight was.
Ethiopian Airlines business class dinner service
The dinner service, which for whatever reason was under the lunch section despite being served at around midnight, was excellent. It comprised three massive courses and was definitely the highlight of the nearly 18 hours journey. Check out the food and drinks menu below.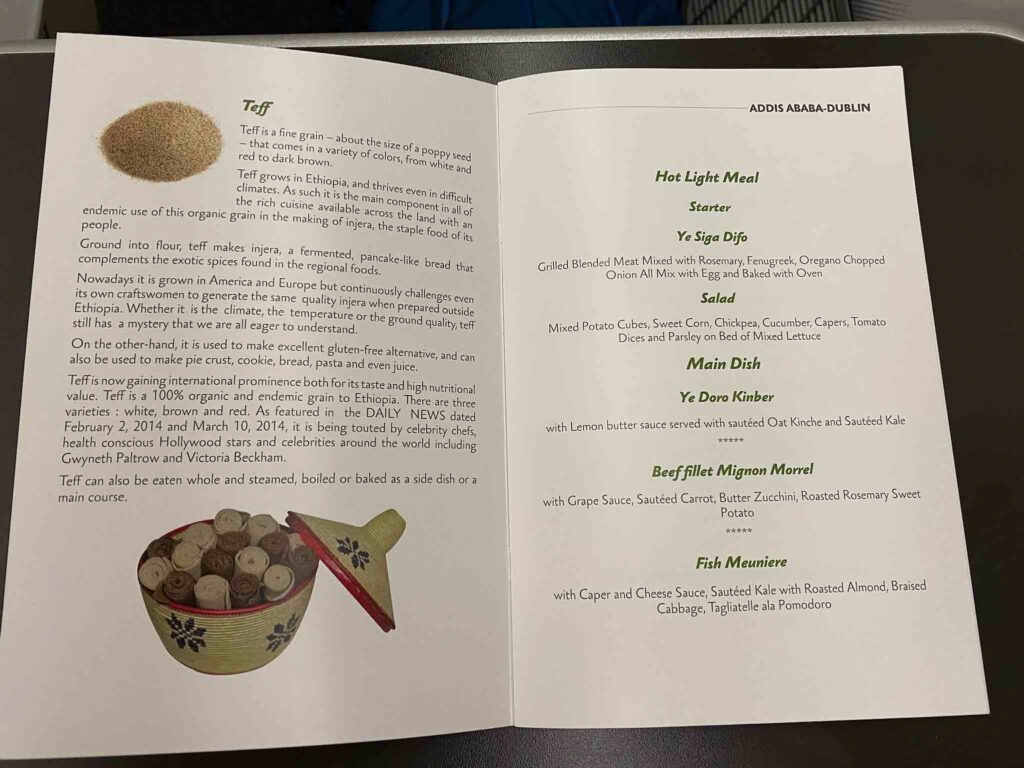 I started the meal with the Ye Doro Hibist, a pâté-like Ethiopian dish made from chicken, nutmeg, egg, and cream, as well as a salad of lettuce, vegetables, and chickpeas.
Despite having eaten lots of Ethiopian food just a few hours earlier, I had an assortment of stews and an Ethiopian flatbread called Injera. I gotta say, I really don't get tired of this food. Although it's somewhat heavy, there's something about the berbere spice in this cuisines that's incredibly complex and highly addictive.
For my main course, I had the South Indian Savoury Uppuma which was fine but nothing special.
Completely stuffed, I soldiered on to dessert, and ordered the Ye-Teff cake, a traditional Ethiopian confectionary made from Teff flour. Despite a staid appearance, it was probably the single best dessert I've ever eaten on a plane in any class, including first.
Ethiopian Airlines 787 business class bed
After dinner, I brushed my teeth and settled in for the night. Though the seat's pitch is 68 inches, it measures 74 inches in bed mode. The bed was, unfortunately, not particularly comfortable due to the lackluster padding in the seat. Still, due to the extra foot room, my bed was significantly more comfortable than those outside the first row.
Ethiopian Airlines 787 business class lunch service
As we passed through the North Atlanta and into Canada, lunch was served. I ordered the Ye Doro Kimber, another delicious Ethiopian dish.
I finished lunch with a plate of fresh fruit.
Technical stop in Dublin
Very early in the morning, I was awoken by the PA announcing that we would soon be landing in Dublin for what's known as a technical stop. A technical stop is basically one in which a plane refuels or undergoes repairs but no passengers or cargo disembarks. In this case, we were stopping to refuel. Why did we need to refuel, you ask?
The answer, fascinatingly, is that because of Addis Ababa's high elevation–the airport sits at 7,657 feet above sea level–the air is thinner and fewer air molecules pass through the engines, generating less thrust, which means that departing aircraft must carry less fuel than they need to get to the US in order to achieve a lower takeoff weight. All planes flying from Addis Ababa to the US fly this longer and less efficient route in order to refuel.
As we descended into Dublin, we were greeted by a classically Irish grey, rainy morning sky. We landed and sat for about 30 minutes at a refueling stand before turning back around and taking off.
Ethiopian Airlines 787 business class lavatories
There's just one dedicated lavatory for 24 business class seats, so there was frequently a line to get in. By contrast, on my last Ethiopian Airlines flight aboard the A350, there were four lavatories for 30 business class seats. It ultimately wasn't a big deal, because there were two economy class lavatories behind the business class cabin that we could use.
Though there was often a wait to get in, the bathroom was kept clean throughout this very long flight. Beyond the hand cream in the corner, there's nothing to differentiate this lavatory from those in the economy cabin.
Ethiopian Airlines 787 business class service
As I expected, Ethiopian Airlines' flight attendants on this business class trip were kind, responsive, and professional. Despite the flight clocking in at a whopping 17 hours and 40 minutes, the cabin looked as if we had just stepped on board throughout the entire flight. I didn't see any outright heartwarming moments of hospitality I saw between a flight attendant and a hyperactive toddler on the previous leg, but I was nevertheless impressed by the standard of service.
Conclusion
My business class flight aboard Ethiopian Airlines' 787 was average. On the one hand, the food and service were both excellent. On the other, the cabin was badly outdated, the seat poorly padded, the IFE unresponsive, and the selection of TV shows and movies small. Especially on such a long flight, all these issues make for a significantly diminished experience.
If I were to fly to or from Africa again, I'd make sure it was on one of Ethiopia's newer planes or with a different carrier, such as Qatar or Emirates.