On the way back from my most recent trip to Amsterdam, I decided to try out an airline that doesn't get the best rap: Iberia. Thankfully, I was pleasantly surprised by the experience. The highlight was the food, but the hard product was comfortable and clean too. For the price–award tickets between the East Coast and Europe go for as few as 34,000 Avios each way–Iberia is an unbeatable way to cross the Atlantic.
How I booked my business class ticket
When I booked this ticket, award availability was extremely scarce. I looked across every major alliance and found nada. While wracking my brain for solutions, I remembered a friend telling me a few months ago that Iberia occasionally has award availability that doesn't show up online but can be booked on the phone.
I called Iberia and it was my lucky day. There was one ticket from Amsterdam to Chicago through Madrid for 66,500 Avios and $252 in taxes and fees. By Iberia standards, that's actually not such a good deal, since similar flights can often be had for 34 Avios. Keep in mind, though, that I took advantage of a 20% transfer bonus between American Express and Iberia, meaning I spent just over 50,000 Amex Membership Rewards for this redemption. That's not bad considering there was virtually no other transatlantic award availability on offer.
My flight details were as follows:
Iberia 6275
Madrid (MAD) – Chicago (ORD)
Departure: 11:35 AM, August 3
Arrival: 2:15 PM, August 3
Scheduled Flight Time: 9h 40m
Upper Class, Seat 3C
Check-in
Since I had landed in Madrid from Amsterdam the previous evening and stayed overnight near the airport, I arrived at Iberia's premium check-in counter in Madrid–Barajas Airport's gorgeous Terminal 4 around two hours before my 11:35 AM departure. Lines were nonexistent and check-in was a breeze, so within five minutes of arrival my bags had been whisked away and my paper ticket issued. As a business class passenger, I had access to the fast track lane, which meant a quick trip through security and, from there, a short walk to the Iberia Velázquez Premium Lounge, one of two Iberia lounges for business class customers at Madrid-Barajas.
Boarding & takeoff
After an hour in the lounge, which I'll write about in a separate post, I made my way to gate S50 and snapped a picture of the nine-year-old A330-300, nicknamed "Miami," that would be flying the 4,200-mile journey to Chicago.
There were two jet bridges, and I boarded through the first set of doors before turning right towards seat 3C.
Shortly after taking my seat, the cabin crew came around with a tray of pre-departure drinks and I took a glass of delicious Villa Conchi Cava.
Boarding was completed around 30 minutes later. We pulled back from the gate right around 11:40 and took off about 10 minutes later. It was a gorgeous, sunny day, and I was afforded great views of Madrid on our ascent.
Iberia A330-300 business class cabin & seats
Iberia's business class cabin on the A330-300 contains 36 lie-flat seats in a staggered 1-2-1 configuration.
The staggering means that even-numbered seats are closer to the window while odd-numbered seats are closer to the aisle and afford much less privacy. I booked relatively last minute, so I was unfortunately unable to reserve an even-numbered seat. I like to look out the window when I fly, so this was a real bummer.
If you're traveling with someone, keep in mind that odd-numbered middle seats are closer to the center while even-numbered middle seats are closer to the aisle, so you'll be better off booking the latter (assuming you want to sit nearer your travel companion).
The cabin is outfitted in a sterile palette of greys and beiges. It doesn't look great, but ultimately, it's pretty inoffensive. Though a few splashes of color would improve the space, I think the grey fabric on these seats looks elegant.
The seat is around 26 inches wide and its pitch (the distance from a point on one seat to the same point on the seat in front or behind it) is a respectable 78 inches. It felt roomy and padded–honestly, more comfortable than Virgin Atlantic's Upper Class on the brand new A330-900neo.
Just above the left armrest is a touchscreen IFE remote and seat control buttons. One quirk of this seat is that it offers a massage function. It didn't do much, but I like the idea.
Below the seat controls at knee height is a universal power outlet, headphone jack, USB port, and a circular outlet I didn't recognize.
To the left of the seat is a small surface and, behind it, a headphone storage area.
Next to the headrest is a small adjustable reading lamp.
In front is a tray table that can be unlatched to fold out. It was sturdy and large enough to comfortably work on my 16-inch laptop.
An 18-inch touchscreen IFE monitor is directly in front of the seat. To the left of the IFE screen is a small coat hook and below is a very spacious footrest open on the right side. It was far roomier than all but a few modern business class products.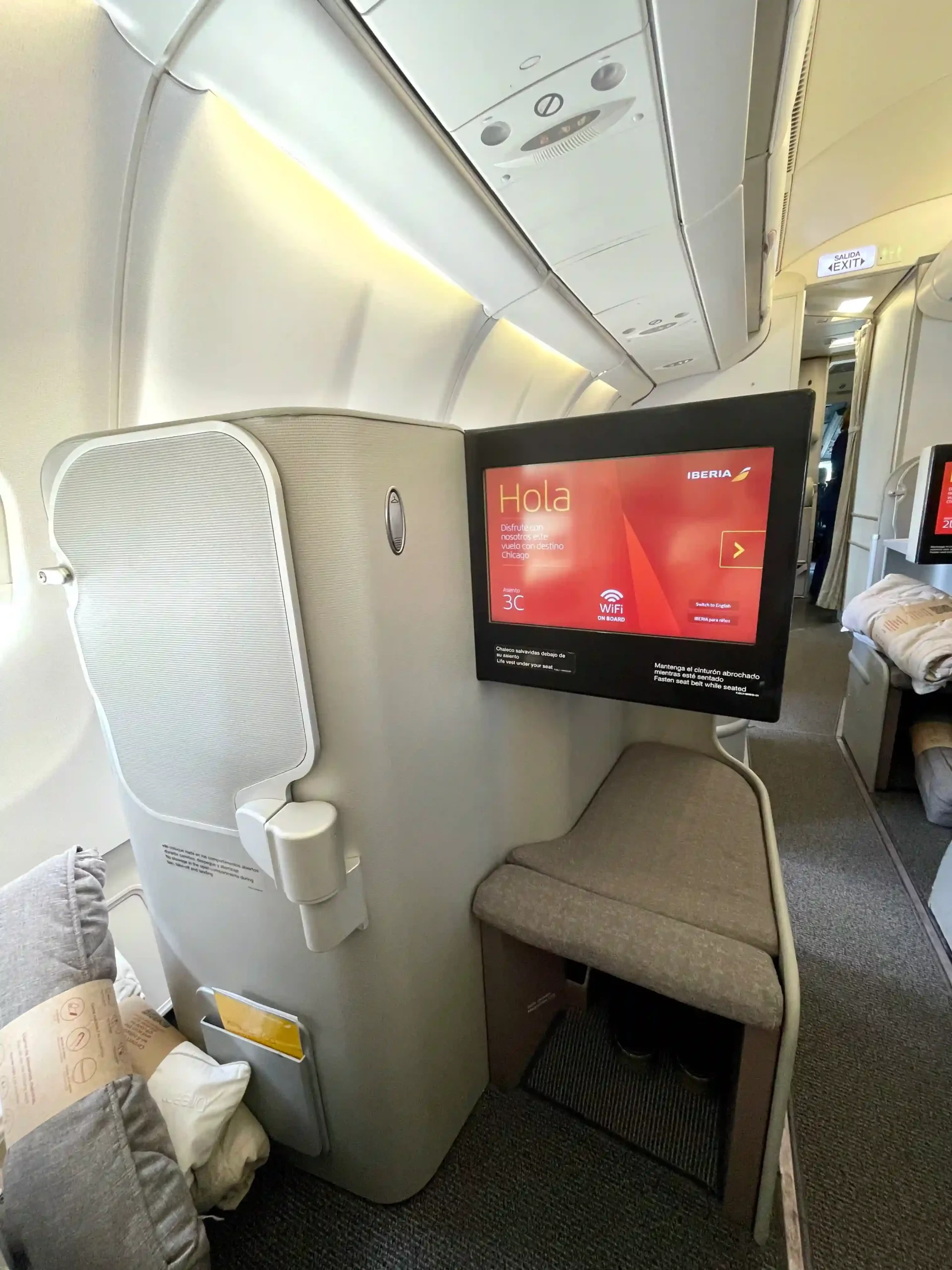 Iberia A330-300 business class amenities
Iberia's business class amenities are housed in a beige fabric and leather case. Inside you'll find hand cream, lip balm, facial mist, socks, eye mask, comb, toothbrush, toothpaste, and earplugs. Aside from the facial mist, there's nothing too out of the ordinary here, but I found the eye mask, which was nicely padded, much better quality than any other I've found in an amenity kit.
Iberia entertainment & Wi-Fi
I found Iberia's IFE touchscreens crisp and responsive, though at 18 inches they're not particularly large.
The entertainment selection was plenty big to stay occupied, with at least 100 movies and TV shows. I had downloaded Netflix content on my device before the flight, so mostly ended up using the moving flight map.
I briefly made use of the provided headphones but, as you'd expect, they weren't particularly comfortable or nice sounding.
Iberia's A330-300s are equipped with Wi-Fi, and the costs on my flight were as follows:
● Four-hour pass: £13.49
● Full-flight pass: £20.49
Those prices are reasonable, so I opted for the full-flight pass. Speeds were sufficient for email and basic web browsing and, more importantly, held up throughout the flight.
Iberia A330-300 business class lunch service
About 30 minutes after takeoff, the crew came by to take drink orders and drop off a plate of absolutely excellent Spanish olives and Manchego.
Before I get into the details of the meal, I want to make clear that this was probably the best business class meal I've ever had, and among the best first class meals I've eaten.
The menu read as follows:
I started with buffalo mozzarella, roasted eggplant, peppers, and gazpacho. This was phenomenally delicious, and I'd be thrilled if I got this at a restaurant.
For my main, I had the honey mustard marinated salmon. It was explosively flavorful and cooked medium rare, which I've never had on a plane before. Generally, I've found that white fish like cod or halibut tend to hold up better than salmon in the air, but this was a major exception.
After finishing my main, I ordered a bowl of Stracciatella ice cream with strawberries and chocolate sticks. Not the most creative dessert, but it hit the spot.
All in all, this lunch was absolutely sensational. It showcased local Spanish flavors, was explosively tasty, and looked great. From start to finish, I was impressed.
Iberia A330-300 business class bed
Having woken up relatively early, I decided that, despite it being the middle of the day, I'd take a nap. As far as bedding, Iberia provides a quilted comforter and I plush pillow, both of which were quite comfortable and, along with the expansive footwell, allowed me to sleep soundly for three hours.
One complaint I have is the proximity of the bed to the aisle, which you can see in the picture below. Luckily, it didn't affect my nap, but it really did feel a lot like sleeping in the aisle.
Iberia A330-300 business class bathrooms
There are just three bathrooms in the business class cabin. That's pretty generous, considering this cabin can seat up to 36 passengers. There was nothing particularly premium about the lavatories–no amenities beyond soap were provided–but they were kept extremely clean throughout the flight.
Iberia A330-300 business class service
I was thoroughly impressed by the service on this flight. Despite a completely full cabin, the cabin crew was extremely responsive. Glasses were refilled as soon as drinks got low and plates were cleared quickly. I also found the crew extremely warm and welcoming, and virtually everyone with whom I interacted seemed genuinely pleased to be onboard.
Conclusion
My experience on Iberia's A330-300 Business Class from Madrid to Chicago was nothing short of exceptional. While I came in expecting mediocrity, I was won over by the impeccable service, great seats, and a surprisingly phenomenal meal. All this, combined with the reasonable redemption rate for a business class ticket, makes Iberia a really compelling option for transatlantic travel. The cabin might not win any awards for design, and the Wi-Fi could be faster, but these are minor quibbles in an otherwise near-flawless experience.
If you find yourself looking for a business class ticket across the Atlantic, don't overlook Iberia—especially if you can score a transfer bonus with Avios points. With excellent food, a comfortable lie-flat seat, and attentive service, I'd be thrilled to book again for future journeys, and highly recommend it to any discerning traveler.