When United introduced its Polaris seats in 2016, they set a new standard for widebody business class cabins among US carriers. Though I've flown Polaris a handful of times since then, I decided to use this most recent flight between San Francisco and London as an opportunity to properly look at the product seven years after its release, with the added perspective of around 100 international business class flights under my belt.
My general impressions are that the hard product–what set United apart from the herd when Polaris debuted in 2016–is now middle of the pack among transatlantic business class cabins. The soft product, at least on this flight and on the past few I've taken, is below par, with disappointing food and service.
There was a time when I'd go out of my way to fly Polaris, but that's no longer the case. None of that's to say that my experience was unpleasant per se, just that Polaris is–at least beyond the lounge–a pretty ordinary product.
How I booked my United Airlines business class ticket
I booked this flight for 63,000 Avianca LifeMiles and $51.70 in taxes and fees. Lifemiles is among my favorite frequent flyer programs because of its great redemption rates (just 87,000 miles for a first class Lufthansa ticket!), frequent awards and points sales, and many transfer partners. I transferred American Express Membership Reward points to pay for this trip, but you could use points from any major award program other than Chase. Considering the fact that these programs often run transfer bonuses, you could easily book this ticket for around just 50,000 miles.
My flight details were as follows:
United Airlines 930
San Francisco (SFO) – London Heathrow (LHR)
Departure: 7:50 PM, April 4
Arrival: 2:10 PM, April 5
Flight Time: 10h 20m
Business Class, Seat 12A
United Airlines business class check-in & boarding
I arrived at San Francisco Airport early to get some work done from the Polaris Lounge, where I spent four productive hours. At around 7 PM, I left the lounge and made my way towards gate G1 to get a picture of the 787-9 that would be carrying us nearly 5,500 miles from San Francisco to London.
I walked down the jet bridge and onto the aircraft at 7:20. Boarding finished about 15 minutes later, and we pulled back from the gate just before 7:50.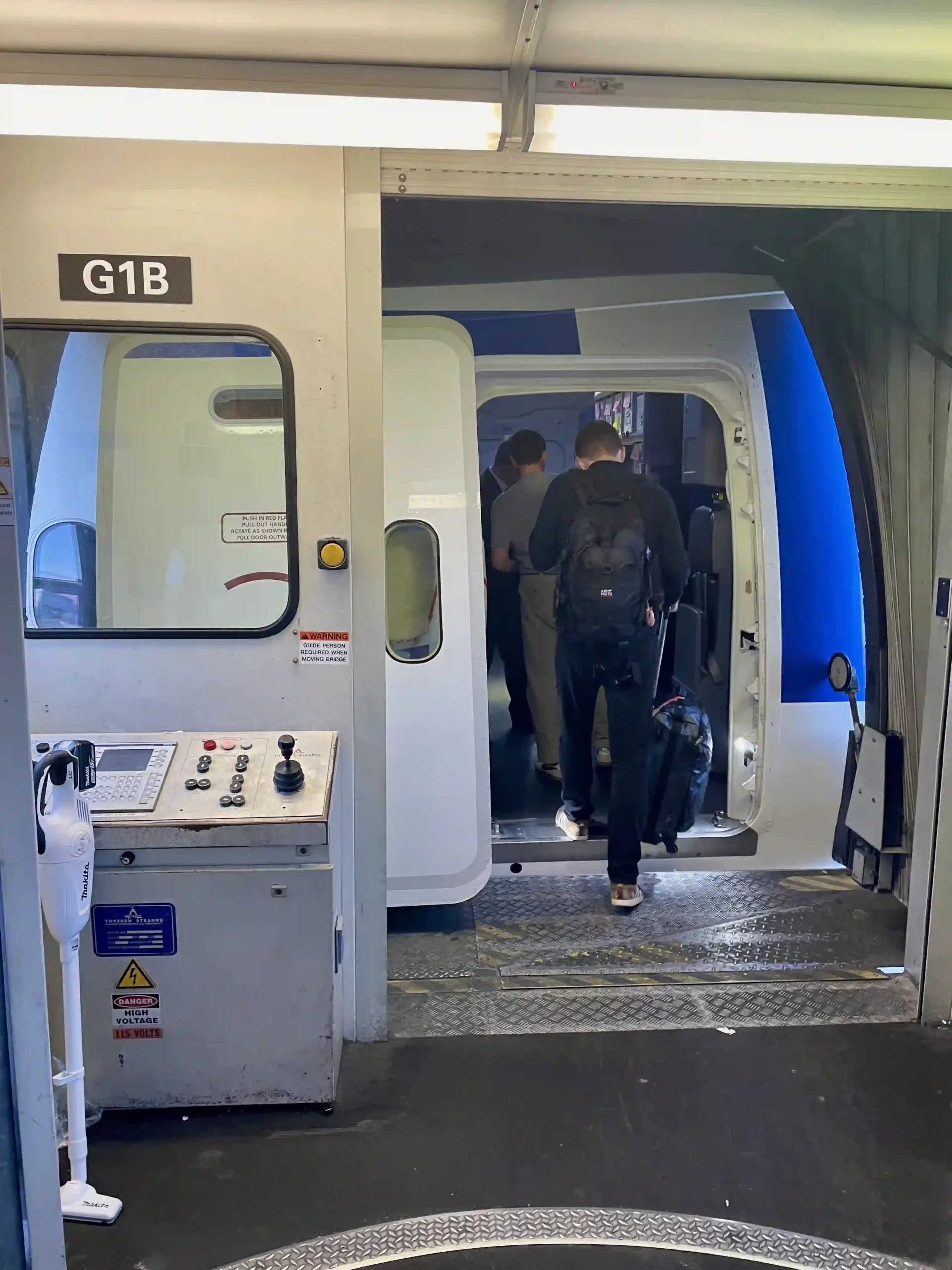 United Airlines business class cabin & seats
Polaris on this 787-9 is laid out in a staggered 1-2-1 configuration and contains 48 seats across a total of 12 rows–eight in the forward cabin and four in a rear mini cabin. The seats are 20.5 inches wide (seats on the 777-300ER and the older B/E Diamond on certain 767-400s are actually a slightly wider 22 inches) and offer 78 inches of pitch. They're well-padded and I found them pretty comfortable for sitting and sleeping.
I was seated in 12A, a window seat at the back left corner of the Polaris cabin. Since seats are staggered, my seat was nearer the aisle than the window, which made it feel relatively exposed, despite a privacy partition that wraps partially around the upper part of the seat. For a true window seat, choose an odd-numbered A or K seat.
On the left side of the seat are two windows and a faux marble countertop, in front of which is a small cylindrical light fixture.
The fixture gave my seat a cozy feel, especially against the backdrop of beautiful sunset during takeoff.
Above the countertop is a universal power outlet, USB port, and IFE remote control.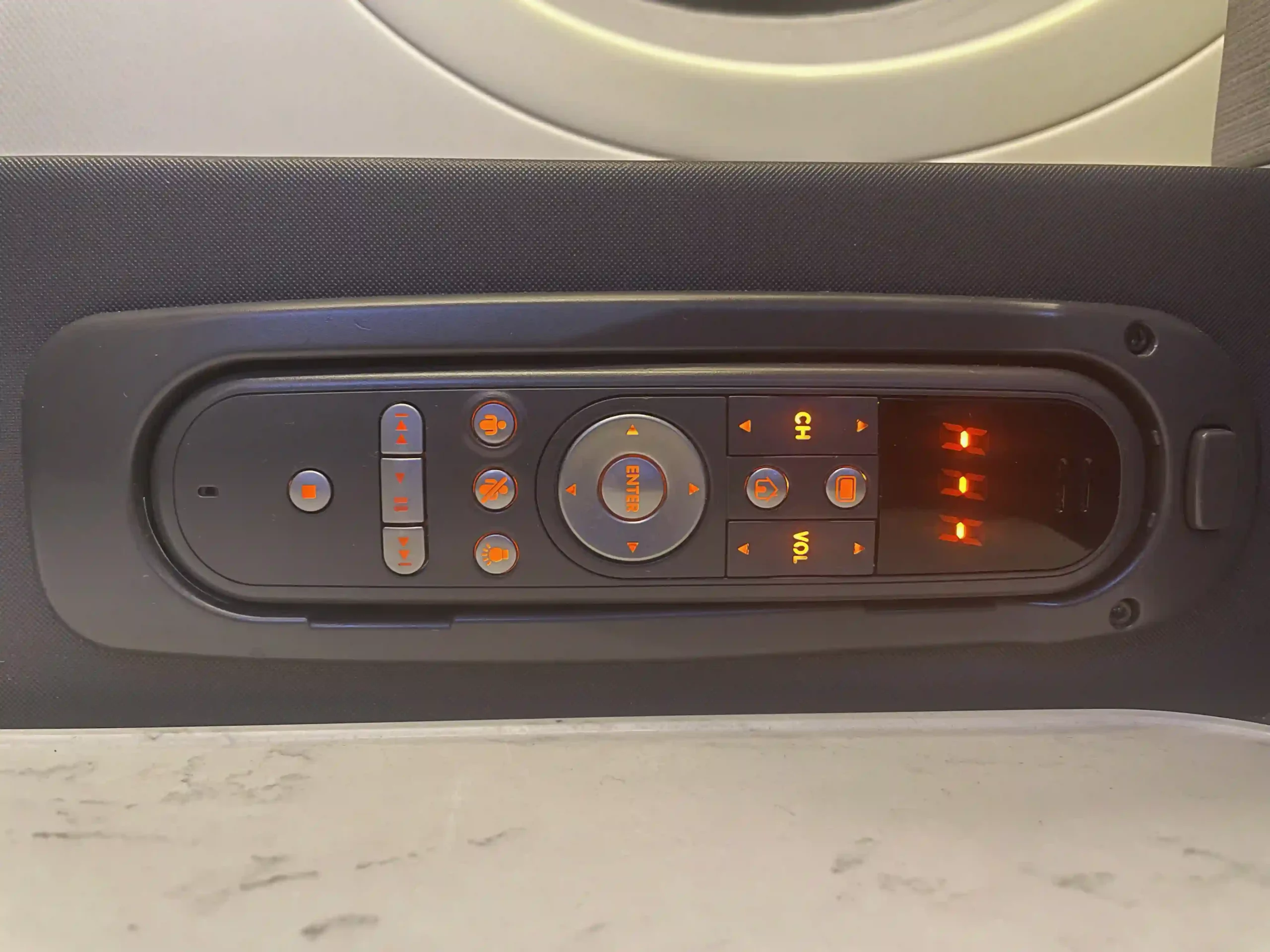 To the left of the seat and parallel to the headrest is a small cupboard that housed the provided headphones and bottle of water when I sat down. It's big enough to store a phone, wallet, passport, and book. On the right side of the cupboard is a small reading lamp.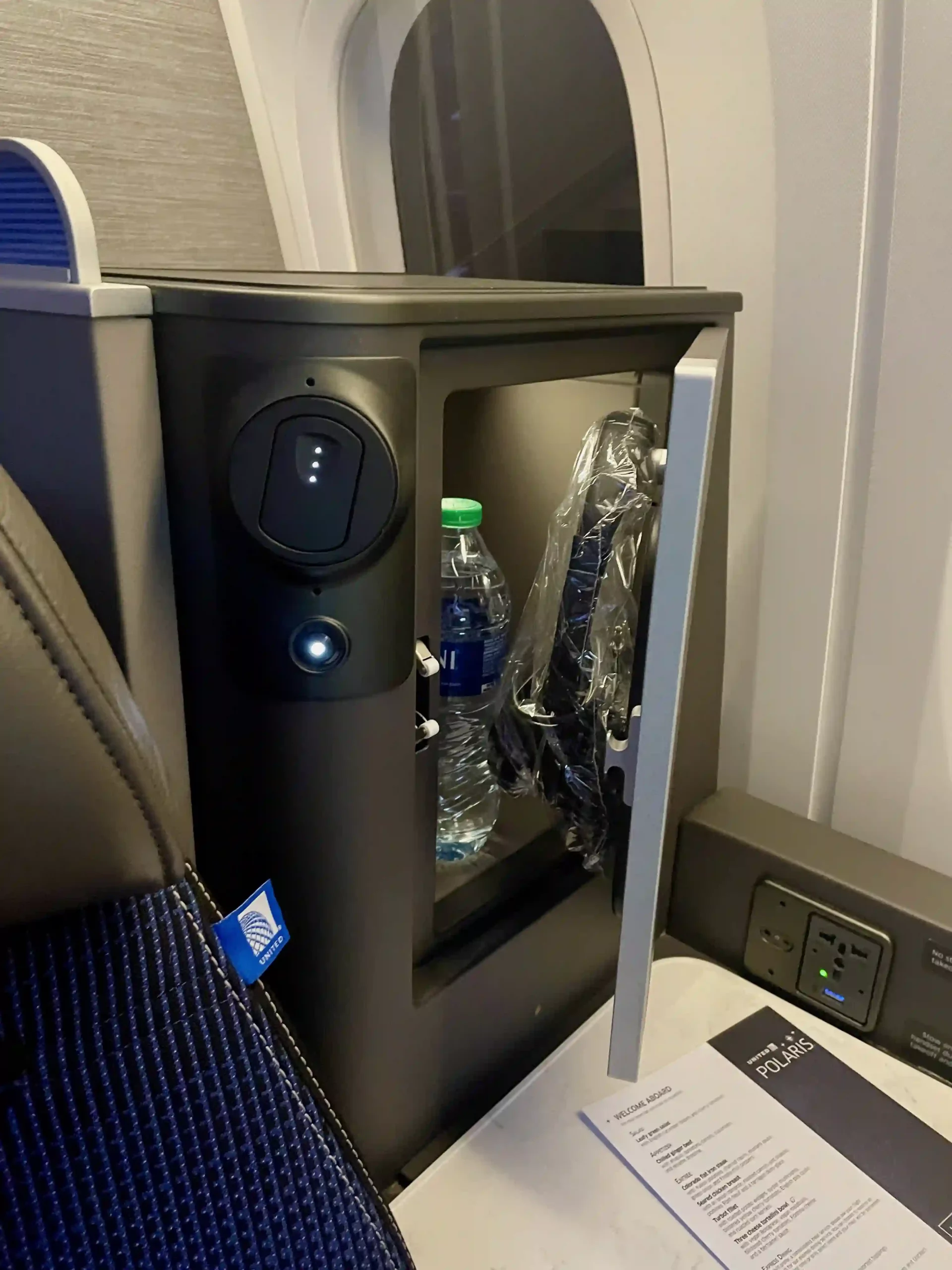 The left side armrest contains backlit seat control buttons, including a massage function, as well as a button to control the lighting and the do not disturb sign on the outside of the seat.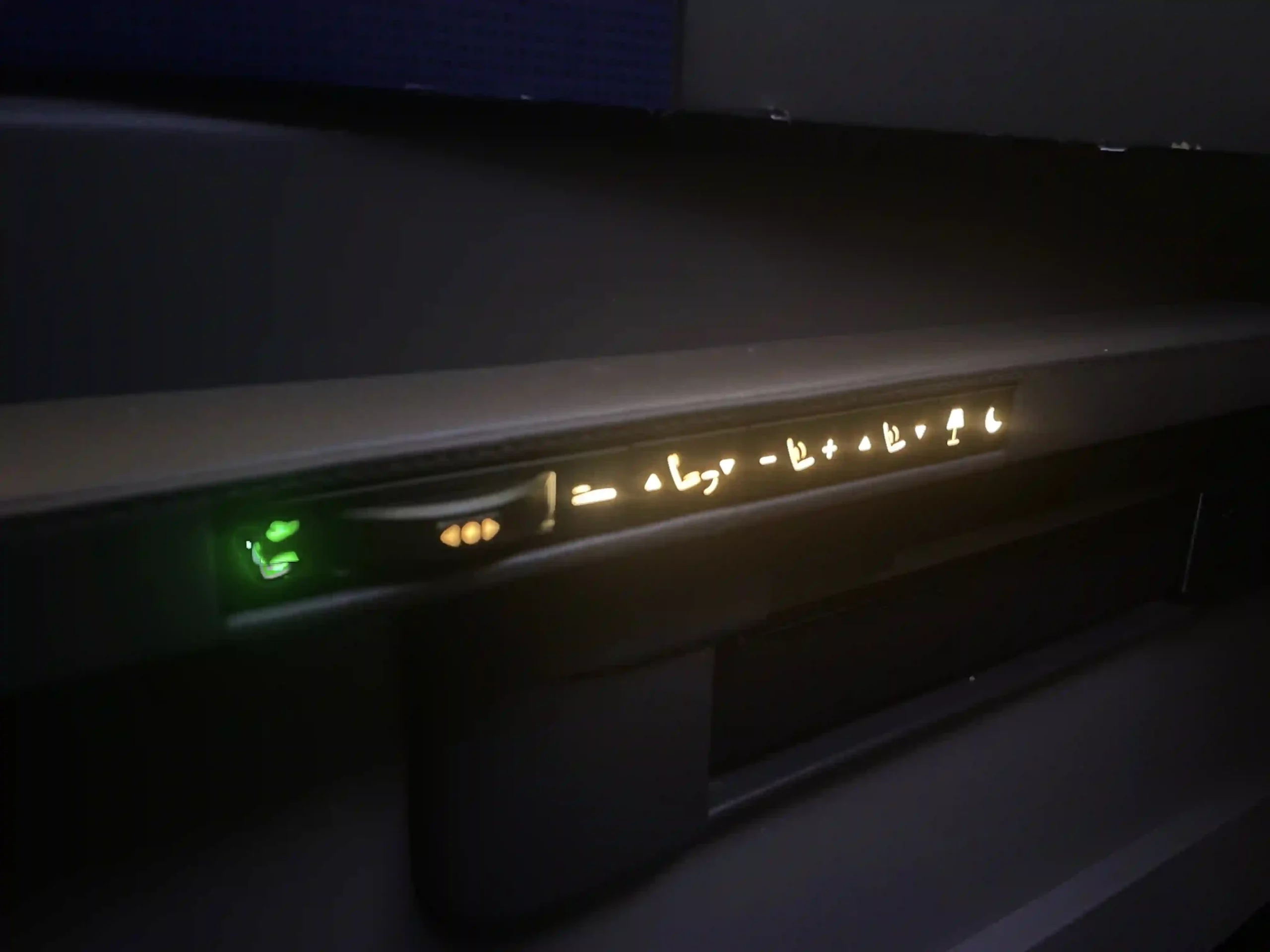 In front of the seat is a crisp 16-inch IFE touchscreen, below which is a second USB charging port next to a storage slot.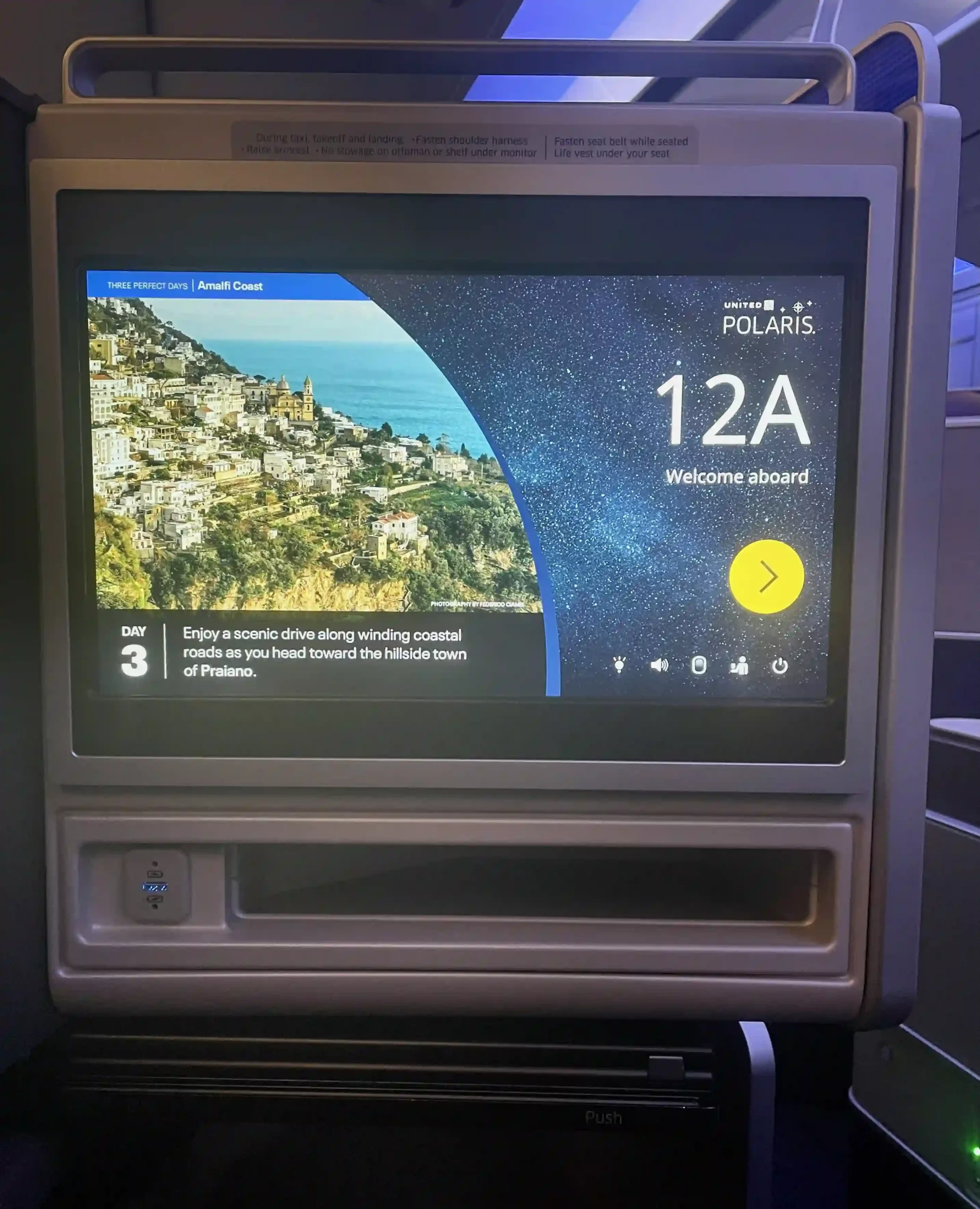 Directly below that is the tray table, which you'll need to push in to unlatch.
The tray table was large enough to eat and do work at the same time, which I really like.
To the left of the screen was a small coat hook.
On the right side of the seat was a gray leather armrest and, below it, a literature slot.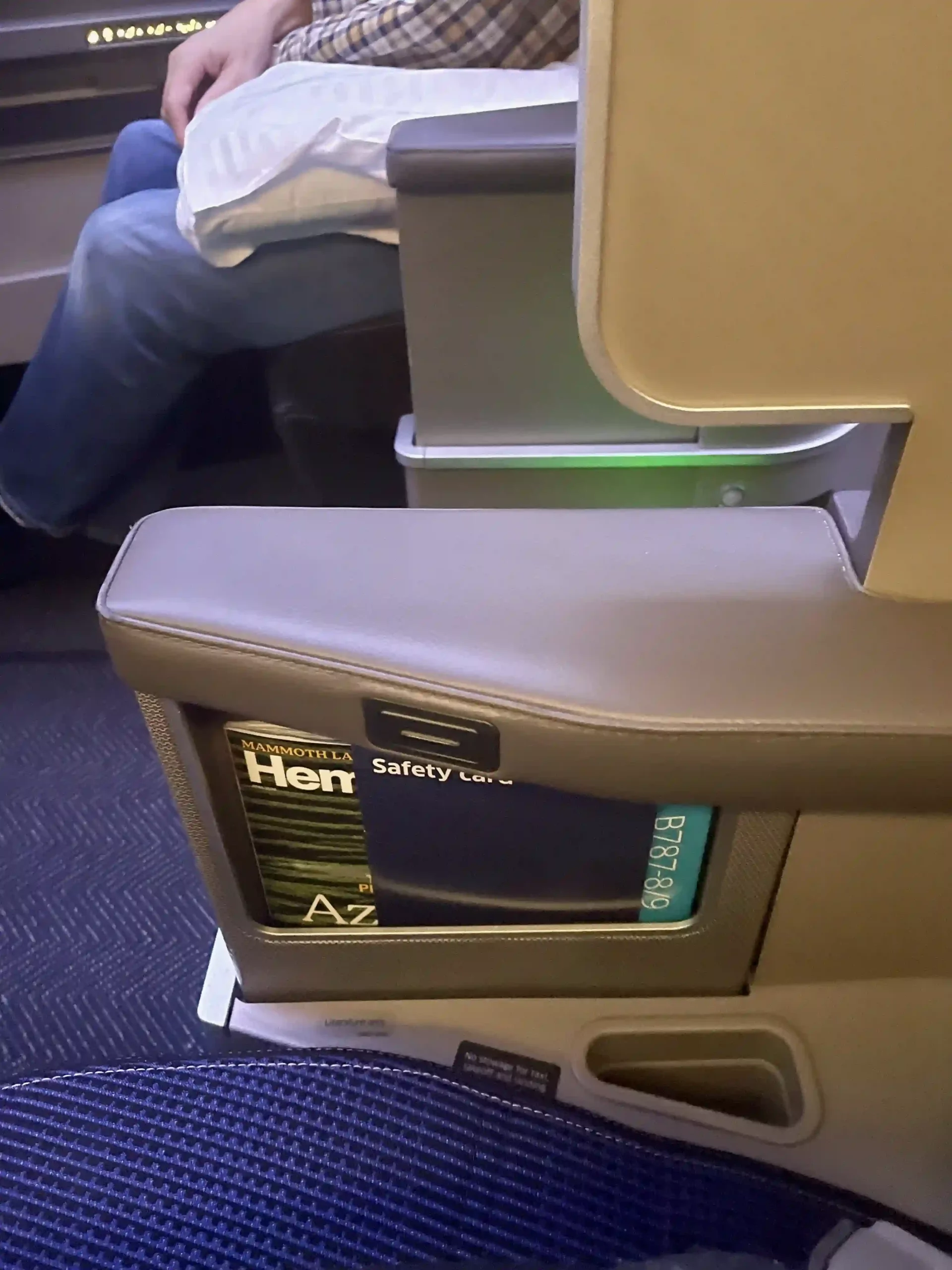 Overall, I like the look of the cabin. Faux-marble finishes, blue fabric, and brushed aluminum make the space feel clean and calm, and are consistent with the aesthetic of the Polaris Lounges. The seats themselves are comfortable, relatively private (more so if you reserve an odd-numbered A or K seat), and have direct aisle access, which are all things that I expect from a modern business class seat. There's nothing especially nice about these seats, and you can find equally private and slightly wider seats in several Delta One and American business class cabins.
United Airlines business class amenities
When I arrived at my seat, a hard plastic Away-branded amenity kit was waiting for me.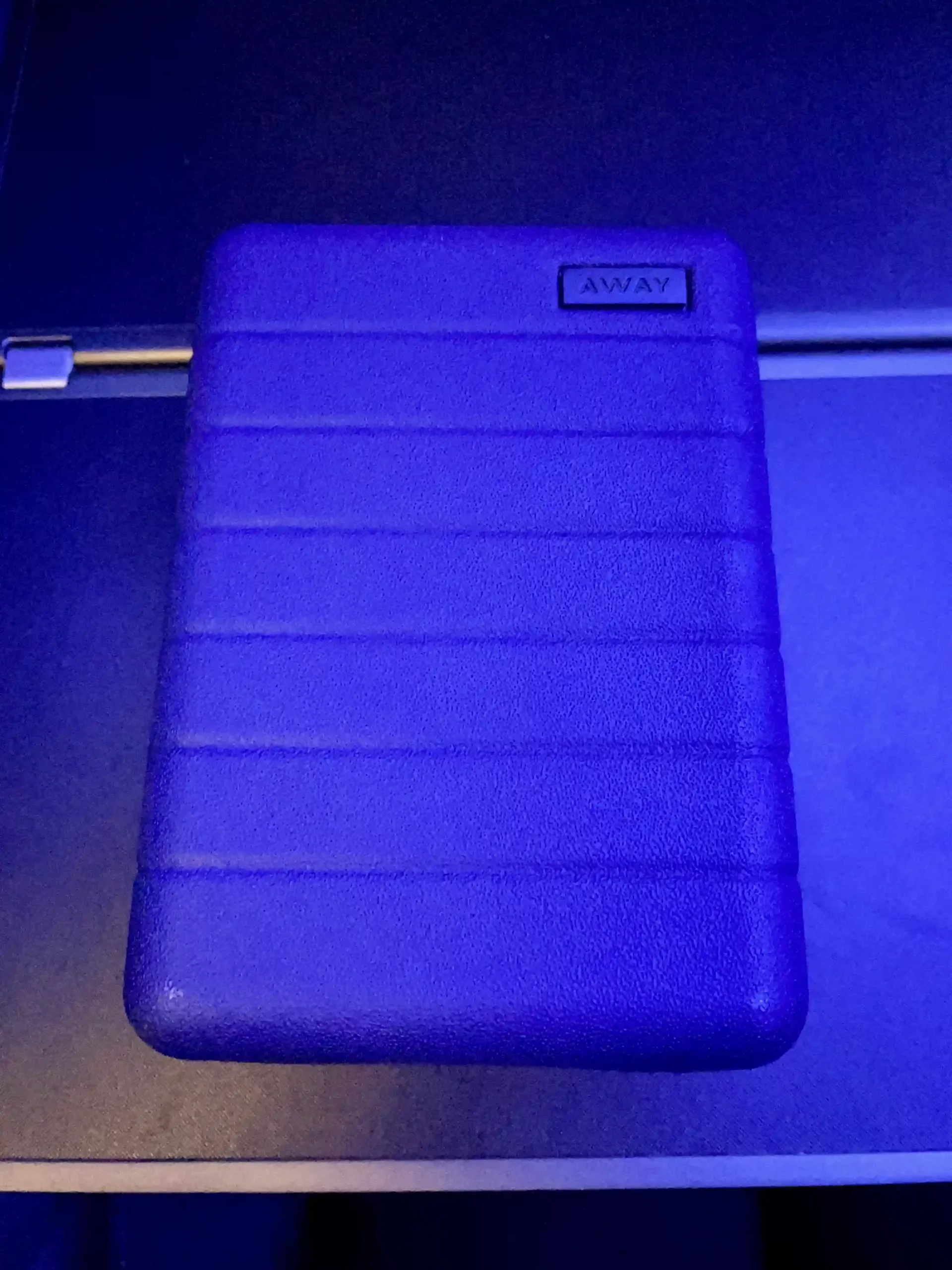 Inside were a pair of socks, a pen, a set of earplugs, a dental kit, an eye mask, and a packet of tissues.
There was also a bag of Sunday Riley beauty products, including facial moisturizer, lip balm, hand cream, and a facial cleansing cloth.
All said, that's actually a lot of stuff for a business class amenity kit, and I was impressed by the quality of the items provided.
United Airlines entertainment & wi-fi
United's 787-9s are equipped with wi-fi, which costs $22 for the whole flight, or, perplexingly, $8 for two hours and $2 for one hour. Except for some spottiness over the North Atlantic, speeds were reliably fast the entire flight.
The entertainment was expansive and featured lots of new movies and TV shows, as well as music and an interactive flight map. The provided noise-canceling headphones were comfortable and produced good sound.
United Airlines business class dinner service
Shortly after takeoff, one of the cabin crew came around to take orders. The menu read as follows.
I was leaning towards the turbot fillet but switched to the tortellini after I made the mistake of asking for a recommendation from the flight attendant, who embarked on a five-minute spiel about the environmental damage caused by commercial fishing.
My starter, salad, and main course arrived about an hour and a half later. I found the tortellini to be bland and watery and the bread to be pretty stale.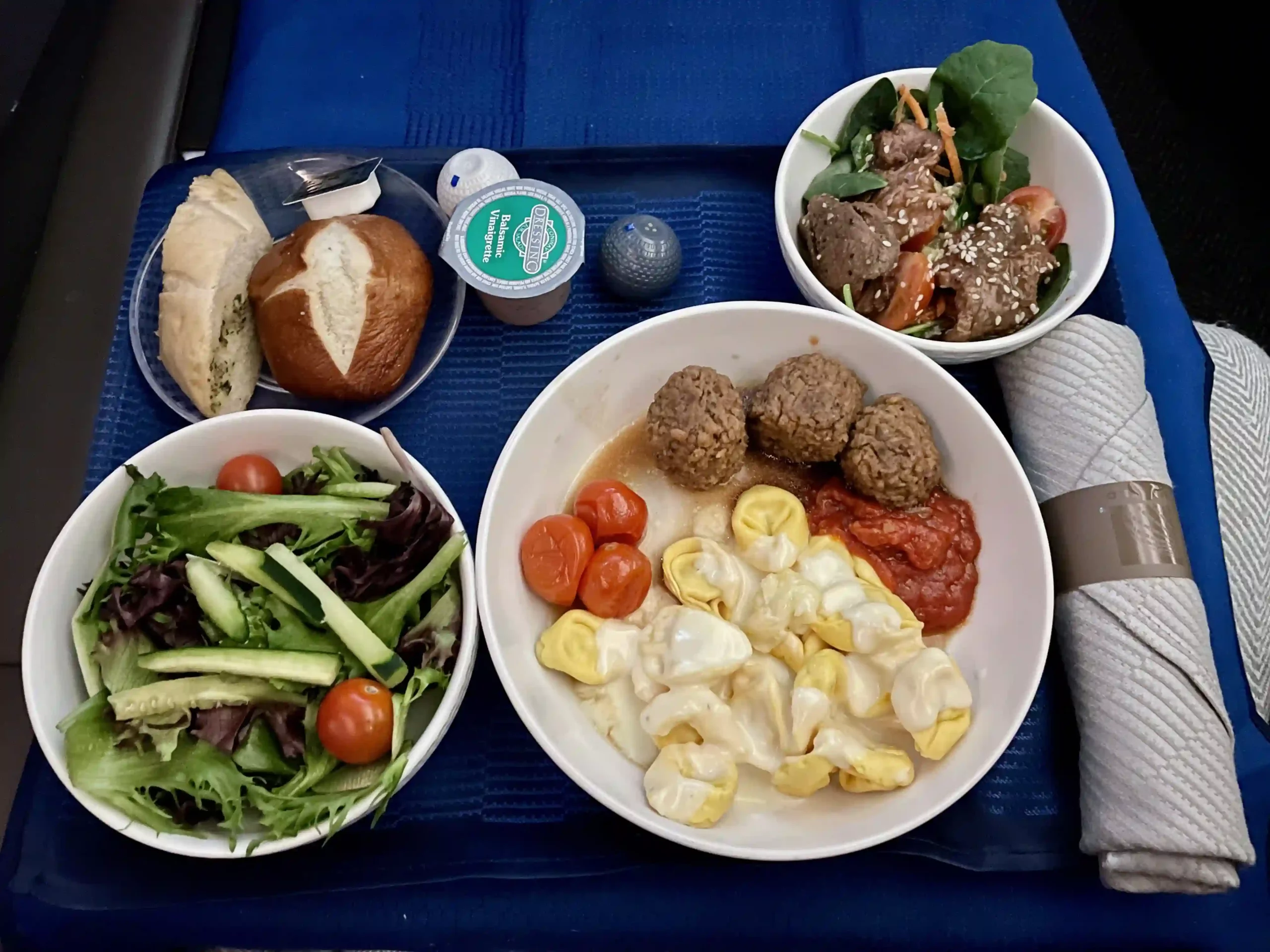 For dessert, I ordered an ice cream sundae. The menu advertised it as coming with "assorted toppings," but arrived with only maraschino cherries. I asked for other toppings but was told that only cherries were available.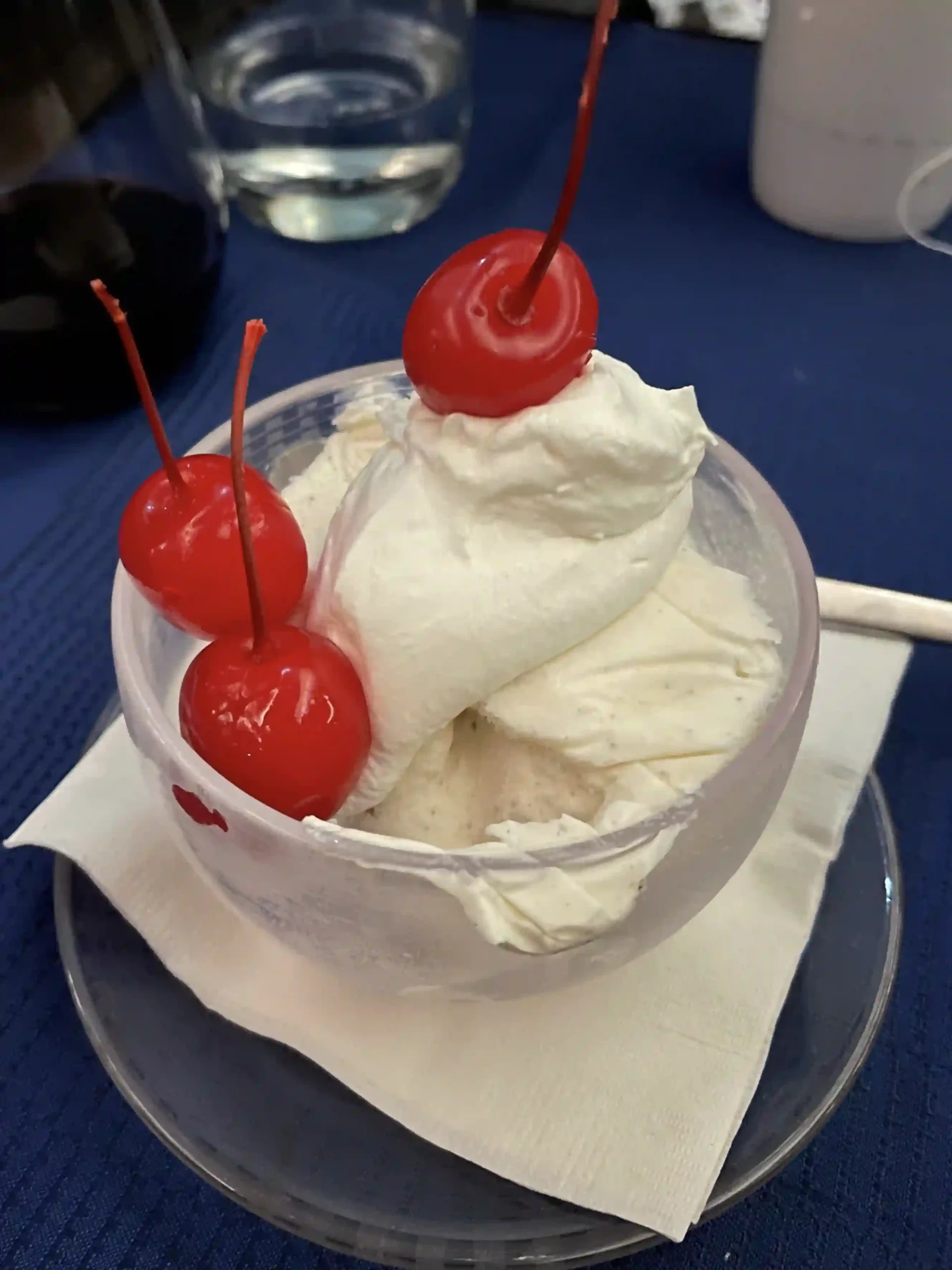 My complaints might sound caviling, but for a seat that frequently retails for more than $5,000, I think onboard food should be better than what I was served. That should be doubly true on a flight originating from a United hub like SFO, where I'd expect the catering to be especially good.
United Airlines business class bed
At around 10 PM Pacific Time, I decided to hit the hay. United's Polaris bedding is provided by Saks Fifth Avenue and comprises a duvet, throw blanket, large white pillow, and gel pillow, all of which I thought were very comfortable. Unfortunately, there were not enough mattress pads loaded on this flight so I didn't get one.
United doesn't provide pajamas on flights less than 12 hours, so I didn't get any on this flight.
United Airlines business class bathrooms
This 787-9 has three lavatories, two at the front of the cabin and one at the rear, for 48 Polaris seats. The bathrooms were kept clean throughout the flight and there was never a wait to use them.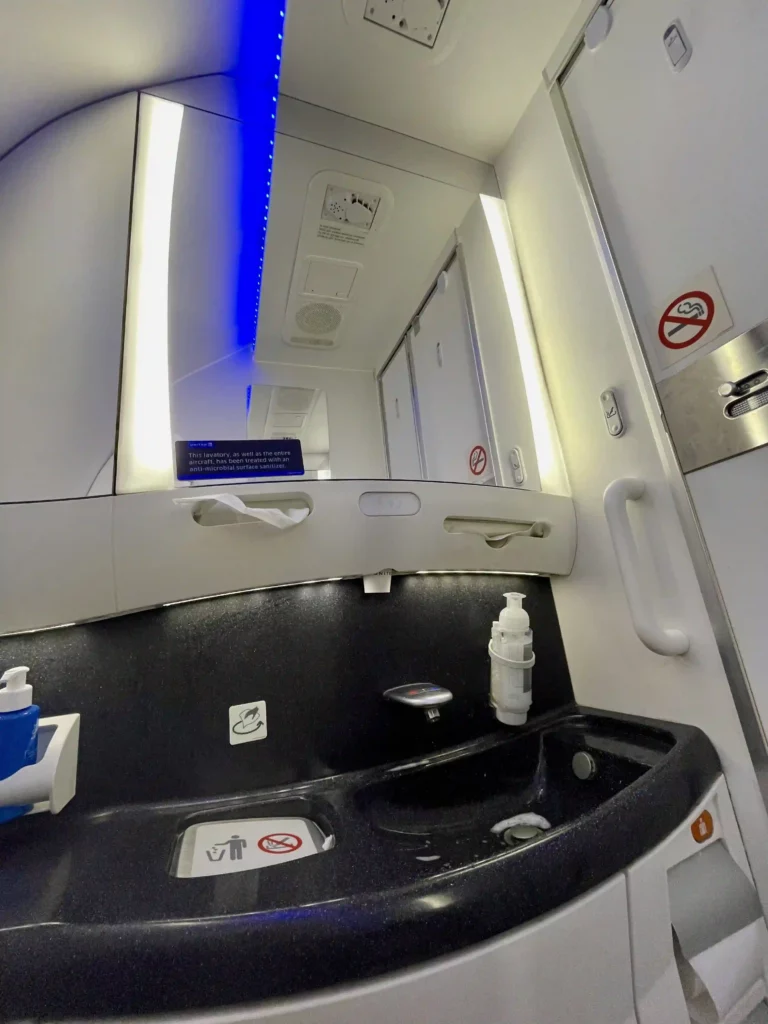 Next to the sink were bottles of facial mist and hand cream provided by Sunday Riley, as well as Murchison-Hume stain remover and fabric freshener, which I've never seen before but found pretty handy for refreshing my clothes after a long flight.
United Airlines business class pre-arrival breakfast
The best food I had on this flight was my pre-arrival French toast. It came with a berry compote, roll, side of fruit, and tub of Chobani.
United Airlines business class service
The service on my flight was not good, and I'd call it a letdown but for the fact that I boarded the flight with low expectations. There are three examples that stuck out to me:
Flight attendants seldom came through the cabin to offer drinks and check in on passengers
It took a while–about 90 minutes–to get my dinner after I ordered
Two of my drink orders were dropped and I had to remind a flight attendant that I had requested them
The flight attendants themselves were perfectly pleasant, but I had a much more attentive and proactive cabin crew on my economy class KLM flight a few weeks ago. At the risk of sounding repetitive, that should not be the case for a ticket that routinely costs more than $5,000.
Arrival at LHR
We broke through London cloud cover around 1:45 PM local time and touched down 10 minutes later for an on-time arrival. We taxied for another 10 minutes before parking at gate B47 at Heathrow's Terminal 2.
Conclusion
In an absolute sense, this flight was good: a decent hard product mostly offset a poor soft product. In relative terms, though, it was a disappointment. Most other transatlantic business class products I've experienced over the past couple of years had superior service and served better food, all while offering equally comfortable seats.
That wasn't the case until recently, which probably amplifies my disappointment; only a few years ago, I felt that a seat from San Francisco to London in one of United 1-2-1 Polaris seats was a cut above their US competitors. Today, the newest Delta, Jet Blue, or American business cabins all offer a better inflight experience than their United counterpart.
All that said, I'm willing to be proven wrong. I've got a couple of Polaris flights booked for later this year, and I hope United steps up the product before then.