A few hours after finishing my exciting flight on Venezuela's national carrier, Conviasa, from Caracas to Mexico City's new Felipe Ángeles International Airport, I took a taxi across the city to Mexico City's older airport, Benito Juárez, for my flight back to Frankfurt in business class on Lufthansa's gorgeous 747-8.
Though the novelty of flying on the upper deck of a 747 doesn't get old, there's no escaping the fact that Lufthansa's business class cabins just aren't competitive anymore. Granted, sitting upstairs, which has a 2-2 configuration instead of the 2-2-2 layout downstairs, makes the cabin feel less crowded. But limited foot room, little privacy, and lack of direct aisle access from window seats mean I wouldn't recommend this product to anybody other than couples or 747 fanatics.
How I booked my business class ticket
Since Lufthansa makes plenty of seats available to partners for award bookings, business class tickets are easily bookable with miles and points. You can book through a number of Star Alliance frequent flyer programs, including United MileagePlus, Air Canada Aeroplan, ANA Mileage Club, or Avianca LifeMiles.
I have a cache of LifeMiles that I'm working through, so I booked this ticket using those. The cost was 70,000 miles and $71.79 in taxes and fees.
My flight details were as follows:
Lufthansa 499
Mexico City (MEX) – Frankfurt (FRA)
Departure: 7:50 PM, June 20
Arrival: 2:45 PM, June 21
Scheduled Flight Time: 10h 55m
Business Class, Seat 84A
Boarding at Mexico City International Airport (MEX)
I find Mexico City International Airport generally unpleasant and since I wasn't checking bags and already had an electronic boarding pass, I arrived at 6:45 PM ahead of the 7:50 departure time. I got through security quickly and by 7 PM was standing in a hot and sweaty crowd of passengers waiting to board from Gate G. Thankfully, boarding began just a few minutes later.
Lufthansa 747-8 business class cabin & seats
Though I knew boarding the plane that Lufthansa's business class is outdated and uncompetitive, I was nevertheless excited walking up the stairs to my seat. Given the fact that 747s are increasingly uncommon and that A380s board directly onto the second level, ascending stairs on an airplane is, for me at least, a pretty special experience.
There are 32 business class seats on the upper deck and another 48 on the lower deck.  Because the upper level of the 747 is substantially narrower than the lower level, the configuration up here is 2-2, rather than 2-2-2 downstairs. It makes the cabin feels intimate and if it weren't for the fact that my window looked out over every other plane on the tarmac, sitting here would feel a bit like flying in a private jet.
I think this cabin is quite handsome–it's got this understated sort of elegance and feels classy and relaxed.
The seats themselves are 20 inches wide, which is pretty narrow by international business class standards, though you can get a bit more width by lowering the armrest. The seats have 64 inches of pitch and recline 180 degrees to create a respectable 79-inch long flat bed. 
To the left of the seat are extremely capacious storage bins. These are probably my favorite part of the seat. To give you a sense of their enormous capacity, they're probably bigger than the overhead compartments you'd find on most narrow-body planes.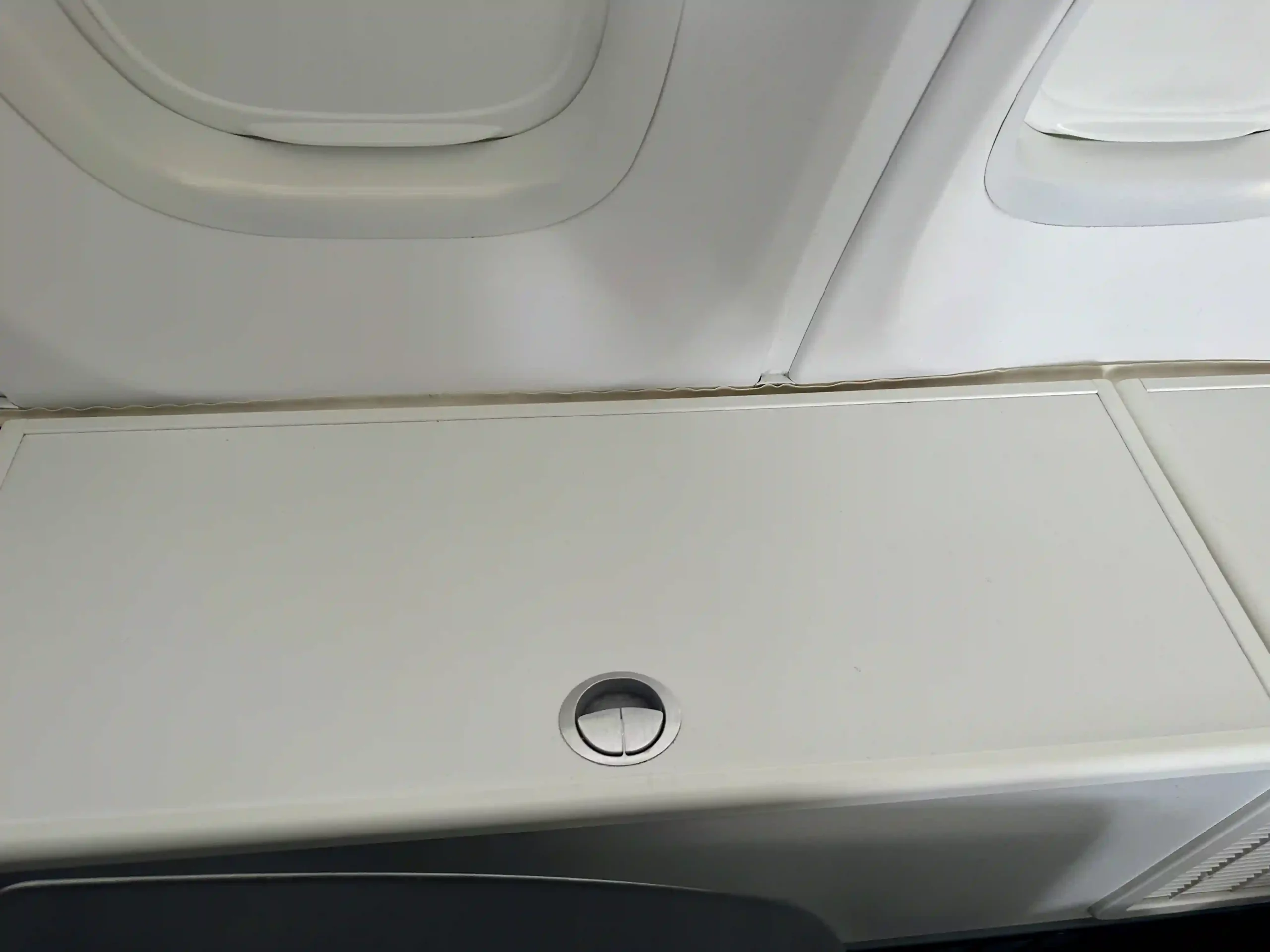 To the right of the seat is the seat control panel and, nested in the headrest, an adjustable reading light.
In the center armrest, you'll find your tray table.
For scale, here's my 16-inch MacBook Pro on it.
Next to the tray table is an IFE remote. The IFE monitor is a touch screen so it can also be controlled without the remote.
There's also a storage area in the armrest, which contains headphones and a USB charging port.
In front of the seat is the footwell. It's pretty small, but I've got small feet and didn't have an issue with it.
Above that is a 15-inch IFE screen–on the smaller side, but perfectly usable. You can pull it out a few degrees to more directly face you.
Near my feet in between the two seats are two universal outlets.
Interestingly, there was also a US power outlet on the wall next to my seat for vacuum cleaners, though it worked just fine charging my laptop.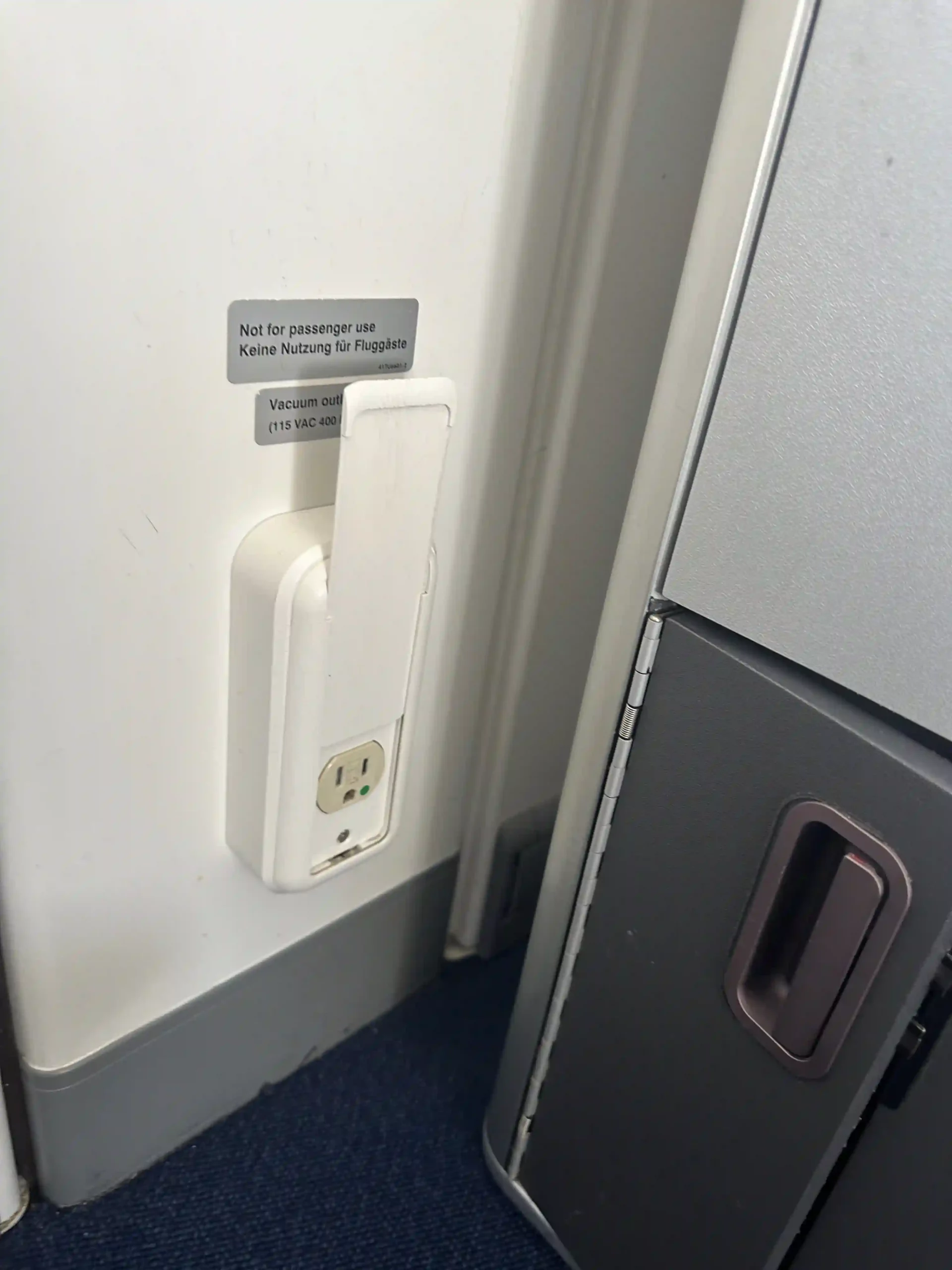 Overall, this isn't a terrible seat, but there are a few things I don't like:
There's virtually no privacy because seats are angled toward each other.
They're very narrow, just 20 inches wide. That's narrower than a lot of domestic first class seats in the US.
Getting out of the window seat when your seatmate is sleeping is genuinely annoying. For older folks or those with less flexibility, it might require waking them up.
All of those things just aren't acceptable for an expensive international business class ticket in 2023. Lufthansa's new business class really can't come soon enough.
Lufthansa business class amenities
Upon boarding, I received an amenity kit designed by Porsche Design.
It's essentially a mesh bag, which I think is pretty ugly, and contains a toothbrush and toothpaste, earplugs, eyemask, socks, creams, and a moist towelette. Overall, pretty uninspired.
I also received a pajama top designed by van Laack but, interestingly, no pajama bottoms. I guess you have to fly first class to get the full set.
Lufthansa entertainment & Wi-Fi
The entertainment selection was pretty comprehensive, with several hundred movies and many more TV shows. I knew the screen wasn't particularly good before the flight, so I just downloaded a few shows and movies from Netflix and didn't use the IFE for anything other than the moving map. I also found the provided headphones by a brand called AKG pretty poor–significantly worse than the Bose headphones that I've found previously in Lufthansa business class cabins.
The plane was Wi-Fi equipped, though I've had pretty bad results with connectivity on this route in the past, so I didn't purchase it. There are three Wi-Fi tiers:
"Messaging" Wi-Fi for the whole flight (100 Kbps), costing 5 euros
Premium Wi-Fi for two hours (4 Mbps), costing 15 euros
Premium Wi-Fi for the whole flight (4 Mbps), costing 25 euros
Lufthansa business class dinner service
About 30 minutes after takeoff, two flight attendants moved across the cabin taking orders. For my starter, I ordered the grilled salmon, and for my main, I ordered the roasted seabass. You can check out the full food and drink menu below:
Around 15 minutes after taking orders, starters appeared, served on a tray alongside a green salad, mini bottle of vinaigrette, roll, and knob of butter. Despite it being only around 8:30 PM local time, our flight attendants decided to turn off all the lights for the meal service, which made taking pictures somewhat difficult.
Next came my seabass which, upon first glance, looked pretty ghastly but actually tasted nice.
Overall, the meal was actually pretty good. My biggest complaint is that the portions were on the stingy side, and I ended the meal still hungry. Also, when I asked for desert, I was told that they'd run out, which seemed odd given the relatively few passengers I could see having dessert.
I ended up drinking another few glasses of wine to quell the hunger pangs and go to sleep. If anyone at Lufthansa is reading this, just know that you're the reason for my unhealthy drinking habits.
The wine worked wonders, and I ended up sleeping all the way through breakfast.
Lufthansa business class bed
I'm not sure whether it was really the wine or the seat, but after dinner, I slept like a log for around nine hours. The provided pillow and mattress pad, both of which I found comfortable, as well as earplugs and an eye mask from the amenity kit, certainly helped.
Lufthansa business class bathrooms
The upper deck of Lufthansa's 747-8 has a generous three lavatories for 32 seats which meant there was never a wait. The bathrooms themselves aren't particularly well-appointed or spacious but were clean throughout the flight.
In terms of amenities, there were two bottles of L'Occitane hand cream as well as eye masks. Sort of an odd combination of bathroom amenities, but whatever.
Lufthansa business class service
I found the Lufthansa cabin crew generally attentive and accommodating. Though they weren't the friendliest, that's what I've come to expect from German hospitality, and throughout the flight drinks were refilled, plates were cleared quickly, and passengers were checked on with good regularity.
Arrival in Frankfurt
About 25 minutes before landing, we began making our descent into a sunny Frankfurt and I was treated to beautiful views of the surrounding countryside.
We touched down at 2:51 PM local time and pulled up to the gate 15 minutes later. I walked back down those famous stairs and off the plane at 3:10.
Upon deplaning, I managed to snap a few photos of the plane that had just dutifully flown us some 6000 miles. What a beaut!
Conclusion
While the charm of the 747's upper deck is undeniable, it's hard to overlook such outdated business class seats. The food and service were satisfactory, but portion sizes were too small, which made the fact that the crew ran out of desserts extra disappointing.
For a premium product in 2023, customer expectations for comfort and cuisine are higher than what this flight delivered. Until Germany's flag carrier refurbishes its business class cabins in 2024 and in the following years, there will be far better ways to cross the Atlantic than with Lufthansa.