My bucket list is now one line shorter: after much anticipation and a circuitous journey down to Caracas, I finally flew Venezuela's national carrier, Conviasa, on their A340-600 in business class.
By no means luxurious, it was a fascinating look into one of the world's more mysterious airlines and an experience I'll remember for a while. From the cockpit door staying open the entire flight to a world-class ground service to being greeted by a small army of Mexican authorities upon landing, this was the most interesting flight I've taken in a long time.
If you haven't already, check out my previous post, where I outlined a few of my biggest takeaways from the flight.
Brief background on Conviasa
I recognize that some people might find my desire to fly off-the-beaten-path airlines perplexing, so I wanted to provide a brief overview of Conviasa and what makes it so fascinating.
Conviasa is the flag carrier and largest airline of Venezuela, headquartered at Simón Bolívar International Airport just outside of Caracas. It was established in 2001, following the liquidation of the country's previous flag carrier, Viasa. The airline operates domestic and international flights, though its only current destination outside the Western Hemisphere is Moscow.
What makes Conviasa interesting is its ability to operate (and even expand) despite the exceptionally challenging economic and political conditions in Venezuela, particularly during the country's economic crisis that began in 2010 and numerous sanctions from the United States and other countries due to the airline's association with the Venezuelan government.
More than anything, I'm interested in Conviasa because we here in the US and Europe just don't know all that much about it, evidenced by the very few reviews you'll find online.
Getting to Venezuela
Coming from the United States, the most straightforward way to get to Venezuela is through Tocumen International Airport in Panama, which is well-connected to both countries. Once you're there, Copa Airlines, Panama's flag carrier, offers three flights daily to Caracas, and other airlines, including WOW, LASER, and Estelar offer more infrequent services.
I flew on Copa the whole way, first on a two-leg ticket from Chicago O'Hare to LaGuardia and then from JFK to Panama City, which I booked with LifeMiles, and then on a separate, surprisingly expensive cash ticket from Panama City to Venezuela. I booked these two tickets separately since Copa doesn't sell itineraries between the US and Venezuela.
In total, just getting to Caracas from Chicago took around 24 hours and cost $554.90 plus 26,900 LifeMiles.
How I booked my Conviasa business class ticket
Needless to say, Conviasa tickets can't be booked on points, which is how I'd typically pick up business class tickets. Not only that, but tickets can't be through the airline's website either. Rather, prospective passengers submit their information via a form on the website and wait for a representative to respond and take payment.
Weeks after submitting my information on the website, I still hadn't received anything from Conviasa. I decided to email the company and, after five separate emails to various corporate email addresses bounced, I finally got a response providing me a phone number to message over WhatsApp.
Once I got in touch with a booking agent over WhatsApp, I was able to purchase my one-way business class ticket for $886 using Zelle, sending the money to a sketchy-looking gmail address. Several days later, I received an electronic ticket from an Uruguayan ticketing software company called Kiusys.
My flight details were as follows:
Conviasa 3726
Caracas (CCS) – Mexico City (NLU)
Departure: 10:00 AM, June 20
Arrival: 1:00 PM, June 20
Scheduled Flight Time: 5h
Business Class, Seat 4K
Check-in at Simón Bolívar International Airport (CCS)
To my surprise, my hotel had told me that passengers flying out of CCS internationally should arrive at the airport 3-4 hours before their flight. Given that I was flying business class and that I really didn't feel like getting up at 5 AM, I arrived at the airport at 7:30 AM, about two and a half hours before my 10 AM departure.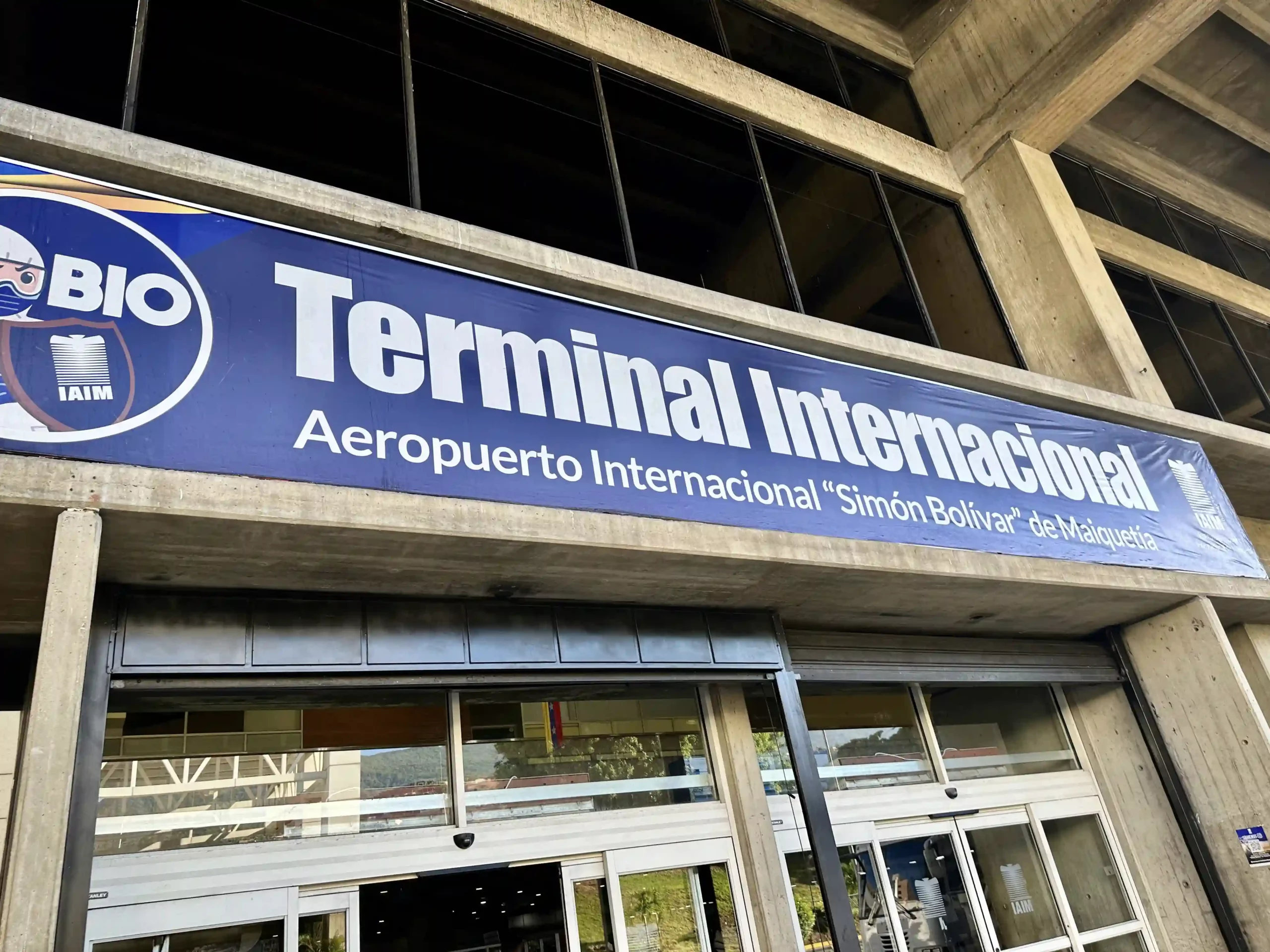 The airport was bedlam, and a massive line wrapped around the terminal. I didn't see a sign for business class check-in, so I approached a Conviasa employee holding a clipboard to ask about its location. Before I finished my sentence, she turned the clipboard towards me and pointed to my name, the only name at the top of a large sheet of paper. "Is this you?" she asked.
I responded that it was indeed me, and was then escorted to the front of the line, where a uniformed employee placed a security sticker on my passport and printed off my two boarding passes (one for the gate agent to take upon boarding and one for me to keep) which appeared a lot like shopping receipts.
My escort then brought me to the front of the security line and bid me farewell before asking that we take a picture together.
Throughout the process, she was extremely warm and a joy to have by my side. Despite her spotty English and my spottier Spanish, she made friendly small talk all while shepherding me from the moment I stepped into the terminal to the moment I passed through security–all said, it took barely 10 minutes. The service far exceeded any I've received in business class and was on par with what I'd expect from a first-class transfer.
After getting through security, I passed through exit immigration and was airside. I must have looked confused because another Conviasa employee immediately approached me and asked whether I was looking for the lounge. We walked about 5 minutes to Conviasa's "Salon VIP," which I'll review in a separate post, where I'd be the only guest for the next two hours.
Conviasa business class boarding & departure
The boarding time displayed on my ticket was 8:30 AM, 90 minutes before scheduled departure, and just about the earlier boarding time I've ever seen. It turns out that time was more aspirational than realistic, and we ended up boarding at around 9:45 when I was escorted to the gate by two more Conviasa employees.
Interestingly, there was a second security checkpoint by the gate, where passengers were once required to walk through a metal detector and have their bags x-rayed. My escorts brought me to the front of the line and within two minutes, brought me down the jetbridge where I got my first glimpse of the A340-600 taking us to Mexico City.
I also snapped a photo of a Laser Airlines MD-80 that was first delivered to American Airlines in 1987 and still sports a gorgeous silver livery!
Shortly after I sat down in my seat, I was offered a choice of pre-flight orange juice or water. No champagne or any other alcoholic beverages would be served on this flight.
After a five-minute taxi, we began our takeoff roll and descended into sunny Venezuelan skies where I was treated to spectacular views of Maiquetía and the surrounding mountains.
Conviasa business class cabin & seats
Conviasa's business class cabin on this A340-600 is laid out in a 2-2-2 configuration and has many of the same interior elements it had when it was delivered to Virgin Atlantic in November of 2002. That was evident when I entered the plane and was confronted by an onboard bar–a hallmark of nearly every Virgin Atlantic business class cabin in the airline's history.
Aside from the bar, what stood out most to me was the sheer number of business class seats on this plane–48 in total, laid out across eight rows.
This cabin was obviously configured for a route with lots of premium traffic, and I can't imagine Conviasa has ever filled it. On my flights, just three seats were occupied, one of those by an employee, and the lack of overhead bins over the middle row made the cabin feel even more empty and cavernous.
The seats are upholstered in a grey and green leather-like material and measure about 22 inches wide. I found them well-padded and comfortable. Most noticeably, they were maintained immaculately and almost looked freshly upholstered.
The seats are controlled by flimsy plastic buttons on the armrest which looked uncharacteristically grimey.
They don't go fully flat, though they do get pretty close.
At shoulder height between the seats are flexible reading lights.
Tray tables are nested in the armrest and are the only ones I've seen that are non-rectangular aside from JetBlue's.
They're relatively large and fit my 16-inch MacBook Pro.
Though the cabin was kept hot throughout the flight, there were thankfully individual air vents above each seat.
Conviasa business class amenities
To my surprise, amenity kits and slippers were provided on this less than five hours flight, waiting on my seat atop a fleece blanket when I boarded.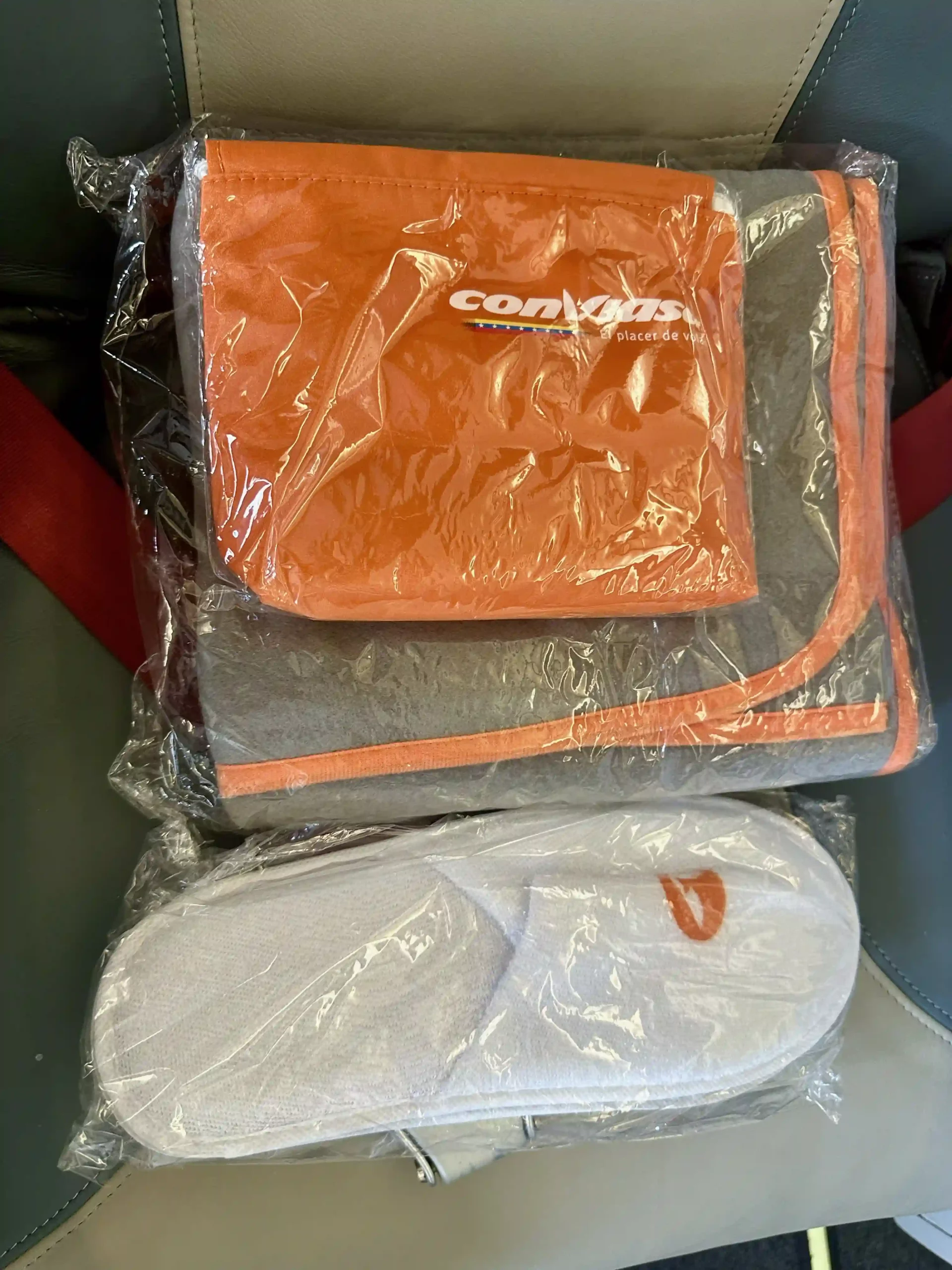 My amenity kit looked a bit like it'd been made of a recycled traffic cone, though I was of course grateful for the opportunity to take home such a unique souvenir.
The contents of the kit were fairly standard–toothbrush and toothpaste, eye mask, ear plugs, comb, socks–except for a nail file and, more interestingly, an inflatable neck pillow, something I've never seen before in any amenity kit I can remember. It's actually a pretty good idea, and I wish other airlines included these instead of those scratchy, low-quality socks that seem to come standard nowadays.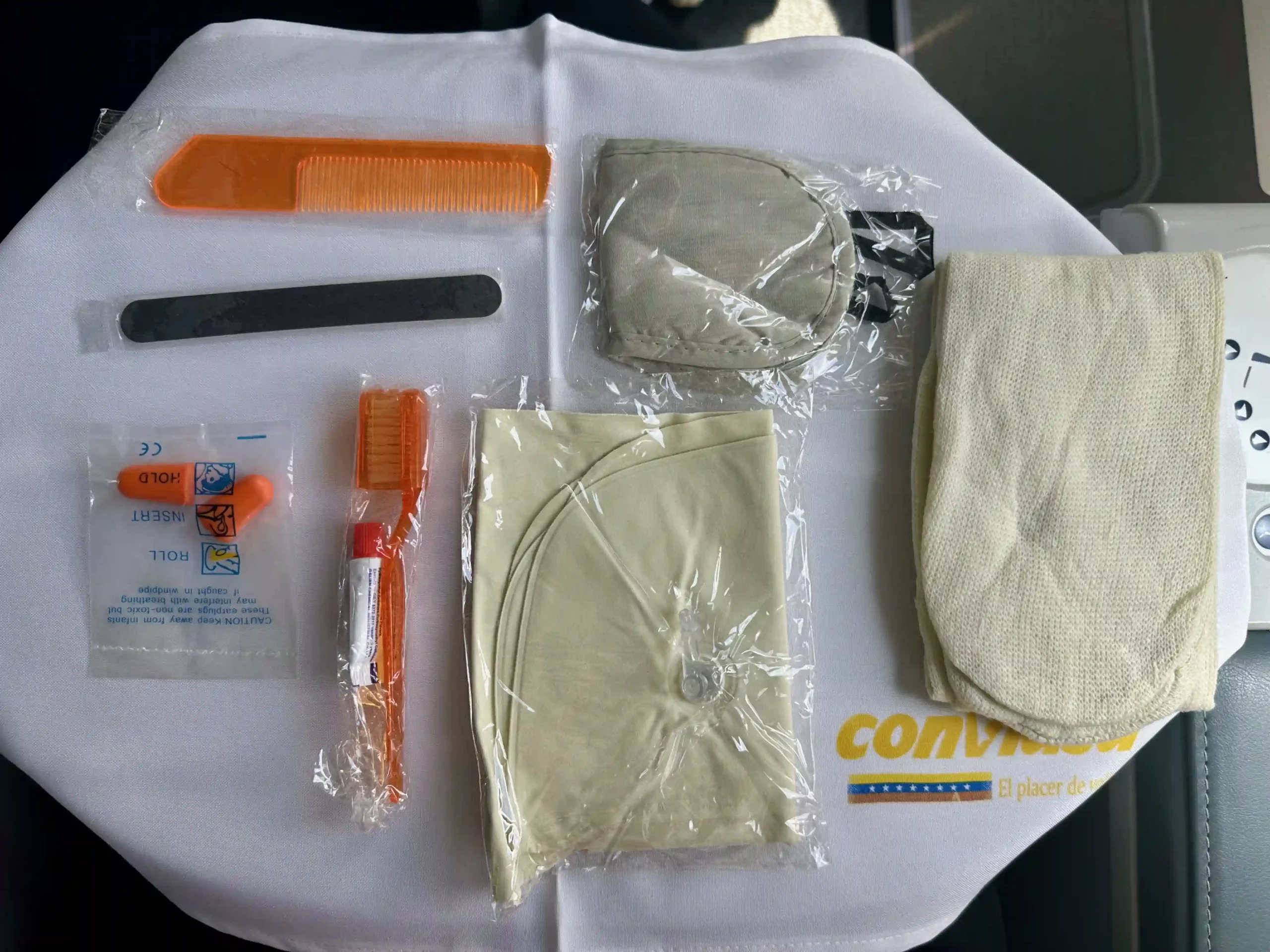 Conviasa entertainment & Wi-Fi
Unsurprisingly given the cabin's age and unlike nearly every commercial wide body in the sky today, seats had no personal IFE screens, just a literature slot with an emergency procedure card where you might expect a screen.
Instead, the cabin had a single, large screen at the front of the cabin which was nonfunctioning during my flight.
Wi-Fi was free and lightning-fast from takeoff to touchdown.
Just kidding. There was obviously no Wi-Fi.
Conviasa business class lunch service
About an hour into the flight, my tray table was covered with a Conviasa-branded table cloth and lunch was delivered on a single tray. Lunch comprised a breaded chicken sandwich with cheese and sad-looking pickles. An apple, cupcake, yogurt, and what I can best describe as knockoff Raisin Bran, were served on the side.
I asked the crew whether there were any vegetarian options and was told that there were not. I then asked whether there were any fish options, which I assumed was a dumb question. To my surprise, a crew member came to my seat five minutes later with a tuna melt. It wasn't great, but I was impressed by how quickly they'd spun up an alternative meal.
Upon finishing my meal, I was offered a choice of coffee or tea. I opted for tea and asked for it with milk. When a flight attendant returned with a cup of tea, he asked whether cream would be fine instead of milk, and after I responded that, yes, it would be fine, he handed me a plastic cup of powdered creamer. I inquired as to whether there was any liquid cream available and was told that Conviasa doesn't stock it.
Even stranger with respect to drinks was that nothing alcoholic was served on this flight. That'd be bizarre in economy class let alone business, and the only explanation I can come up with is that this policy is an homage to the plane's former Iranian owners, Mahan Air.
Conviasa business class bathrooms
Coviasa's A340-600 business class has three dedicated bathrooms. I found them clean and well-stocked throughout the flight. The toilets also had large quantities of ice in them at the beginning of the flight, which is something I haven't seen outside of dive bar urinals.
In terms of amenities, there was soap, hand cream, a tube of toothpaste, and mouthwash. With all the items being different brands and full size, it looked a bit like one of the flight attendants had made a Target run before the flight to pick everything up.
Conviasa business class service
In contrast to the phenomenally attentive ground staff, I found the cabin crew slightly disengaged. Throughout the five-hour flight, I was checked in on just once, and flight attendants spent most of their time sitting at the onboard bar talking and laughing loudly–enough that I could hear it even while using noise-canceling headphones. Given that only three of 48 business class seats were occupied, it would've taken the cabin crew little effort to be more attentive.
Open cockpit door?!
One more thing worth mentioning is that every time I went to the bathroom, the flight deck door was open. Like, wide open. I eventually began making unnecessary bathroom trips just to check whether it had been closed—which I imagine looked fairly suspicious—but the pilots and crew remained unconcerned and kept the door open the whole flight.
This is truly something I've truly never seen before and was my first look at the flight deck of a flying A340-600. In retrospect, I probably should've taken pictures, but I really didn't want to risk drawing any ire from the cabin crew.
Arrival in Mexico City (NLU)
Before long, we were descending into Felipe Ángeles International Airport, Mexico City's recently completed second airport. I had assumed that deplaning in Mexico would be among the less eventful parts of my trip, but I was mistaken.
As I walked off the plane, around 20 heavily-armed members of the Mexican National Guard came into view at the end of the jetbridge and fanned out behind it. I was asked to show my passport and waved through quickly. I didn't hang around to find out why our flight had received such a warm welcome, but the whole thing was slightly unnerving.
My other overwhelming impression of Felipe Ángeles International Airport was just how much nicer it is than Mexico City's main airport, Benito Juárez. It's airy, bright, and clean, and my only complaint is that Uber and other rideshares are prohibited from picking up there, forcing arriving passengers to use one of the far more expensive taxi companies operating from the airport.
Conclusion
I'll remember my experience in Conviasa's business class on the A340-600 for a while to come, mostly fondly. Despite not offering much luxury, the airline has an uncommon charm, owing partly to its many idiosyncrasies (how often do you get to peer into the cockpit of a jumbo jet mid-flight?) and partly to its resilience amidst Venezuela's intense economic and political turbulence. It's a journey I'd recommend to any intrepid AvGeeks keen on exploring the route less traveled.