In every person's life, there are defining moments: their birth, their marriage, their children's birth, and, for weirdos like me, their first time flying Air France's La Premiere.
With the keenly anticipated arrival of a new La Premiere cabin later this year, I decided to fly La Premier from Paris to Mexico City and sample its magnificent delights for the purpose of…um…research and so I'll be better able to compare the old and new product.
I came away thoroughly impressed at the ground experience, onboard product, and service, as well as confused by Air France's decision to revamp a product that is head-and-shoulders above its European rivals. Whatever the airline's motivation, the new product better be good, because the current one sets a stratospherically high bar.
How I booked my Air France La Premiere ticket
For my flight from Paris to Mexico City, I initially paid 65,000 miles and $385 in fees for a business class ticket, and then an extra $1,645.20 to upgrade to La Premiere upon check-in—altogether a hair over $2,000 and 65,000 miles.
La Premiere tickets are notoriously difficult to book for a reasonable price—either with cash or miles—so I've written a separate post about how I booked this award for a fraction of the cash price and how you can too.
My flight details were as follows:
Air France 178
Paris (CDG) – Mexico City (MEX)
Departure: 12:10 PM, March 8
Arrival: 4:00 PM, March 8
Flight Time: 12h 20m
La Premiere Class, Seat 1A
Air France La Premiere lounge transfer and check-in
My La Premiere experience began as soon as my flight from Frankfurt pulled up to its remote stand. Though the bus meant to carry passengers to the terminal was running late, my transportation, a black BMW 8-Series, was parked about 20 feet from the plane stairs.
I descended the stairs and was greeted by Jennifer, a staff member of the La Premiere ground service who took my bag and led me to the car.
We drove 5 minutes to the La Premiere Lounge parking area and walked through a pair of glass sliding doors into a small room with a metal detector.
Travelers coming from certain places, including Europe and the US, I was explained, don't have to re-clear security, so we walked on in. In the elevator, Jennifer asked me for my passport so she could check me in and returned it about 10 minutes later as I sat in the lounge. For the next two hours, I luxuriated in the best lounge on earth—you can read all about it here—and was then quietly approached by Jennifer who informed me that my flight had begun boarding.
Air France La Premiere boarding
I was whisked off, this time in a DS7 luxury SUV, to the 777-300ER that would be making the journey to Mexico City. We drove for five minutes and parked next to gate M28.
We then exited the car, entered a building, took an elevator up two floors, and came upon passengers queuing at a jet bridge, as well as an entirely separate jet bridge, cordoned off with a red velvet rope. Jennifer unclipped the rope and we walked onto the plane.
I was introduced by Jennifer to the two first class flight attendants, one of whom, Joelle, would be taking care of me, and was left to explore my gorgeous seat.
A short while later, the captain came out to introduce himself and show me on an iPad a detailed flight plan for the day's flight, explaining where he anticipated turbulence and how long he expected it to last each time. It was the first time I'd ever experienced anything even remotely like this, and it was insanely cool.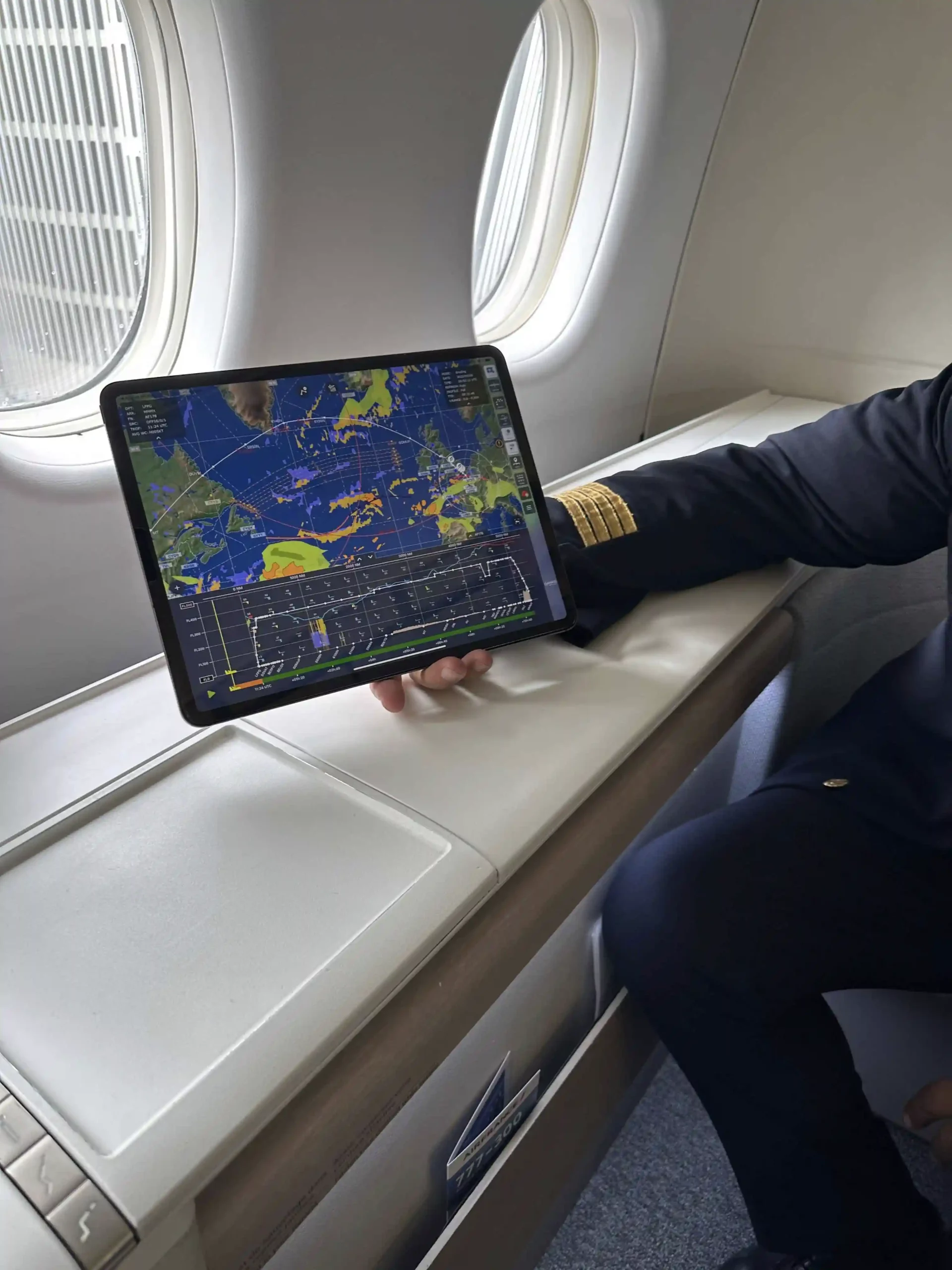 Finally, I was offered a pre-departure drink and chose a glass of 2016 Clos d'Ora, a biodynamic blend of Syrah, Grenache, Mourvèdre, and Carignon from the Minervois-la-Liviniere appellation in southern France. My wine arrived with crispy cheese snacks.
Air France 777 La Premiere cabin & seats
The La Premiere cabin contains just one row and four seats laid out in a 1-2-1 configuration. The cabin is decorated in beiges, grays, and off-whites and reminds me a bit of Cathay's first class product which is elegant and understated in the same way. The cabin is bright and airy—Air France's use of curtains rather than doors, as well as the cabin's lack of overhead bins over the middle seats, gives the cabin a spacious, open vibe.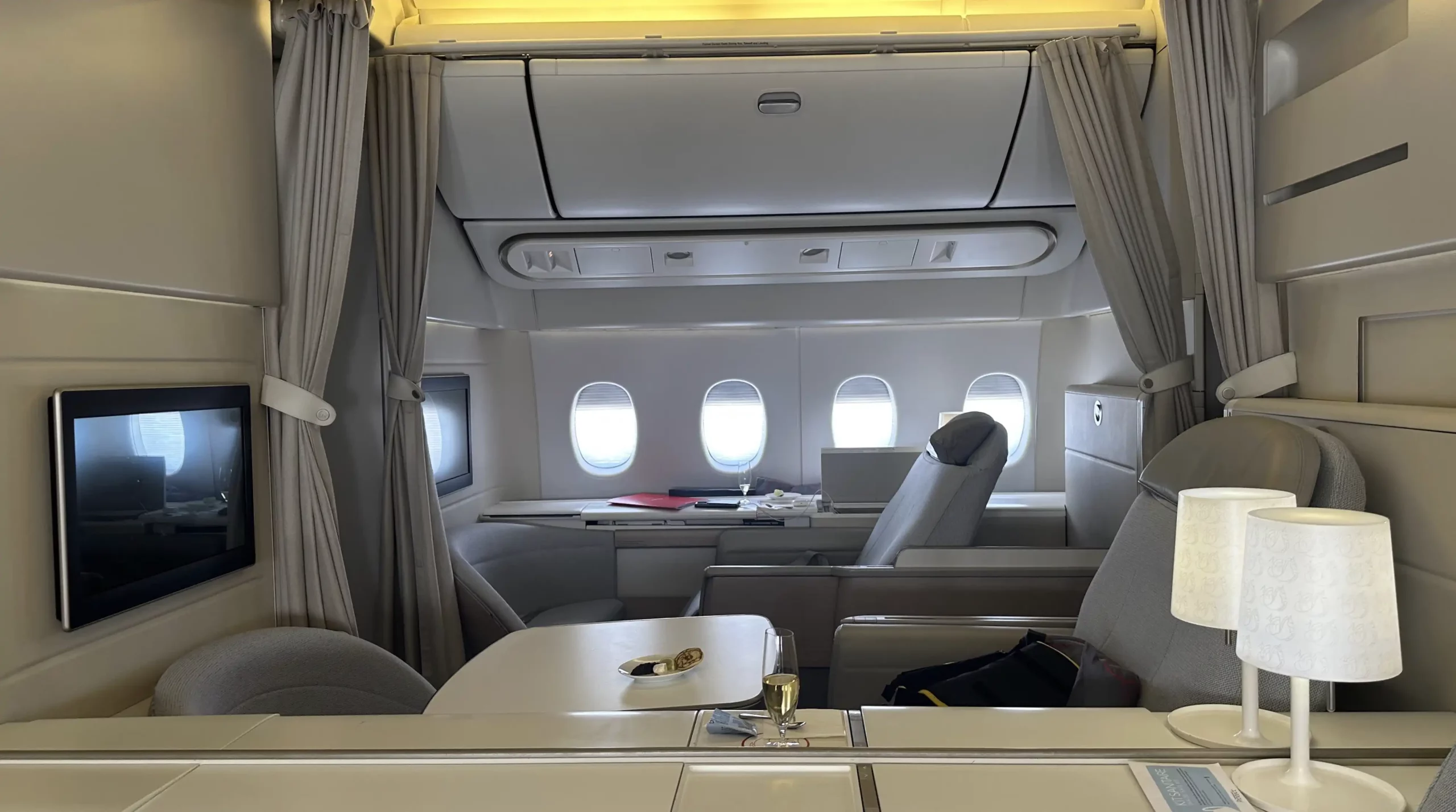 I was seated in 1A. To the seat's left are four beautiful windows and a countertop surface that spans the length of the seat, as well as buttons to control the window shades and preset seat positions.
Inside the left armrest are buttons to further customize seat position, including lumbar support, footrest, and backrest angle, as well as a button to toggle backlighting.
Inside the same compartment is a small storage area containing Denon headphones, which are comfortable and feel sturdy, but didn't have the sound quality or noise cancellation capacity of my Sony XM4s.
Also inside the compartment is the touchscreen IFE control, a USB port, a headphone jack, and a universal power outlet.
Further down the countertop is a flap covering the retractable tray table.
The tray table is massive—easily big enough for two people to dine or for one person to eat and work at the same time. For reference, here's a picture of the table holding my 16-inch MacBook Pro.
To the right of the seat is another armrest—mine felt a little loose and looked worse for the wear—as well as a retractable partition panel and control buttons.
Behind the armrest is a small closet upholstered in La Premiere's signature red and elegantly backlit.
At the front of the seat is a large ottoman and a seatbelt, upon which a dining companion can seat, allowing passengers to eat together face-to-face. Underneath the ottoman is a drawer containing a blanket and slippers.
Gray, floor-to-ceiling curtains flank the right of the seat. The curtains are held open by beautiful leather holdbacks and are closed with magnetic buttons.
Air France La Premiere amenities
Upon boarding, I was given a gorgeous red leather box—they come in white, too—embossed with the hippocampe ailé, Air France's winged seahorse logo.
The box was filled with all sorts of goodies including a variety of Sisley-branded creams, earplugs, an eye mask, a wooden toothbrush, and the prettiest, heftiest pen I've ever received on a plane.
I was also given a gray felt pouch embroidered with the hippocampe ailé that contained a set of cotton pajamas, also with the hippocampe ailé embroidered on the left breast pocket.
Air France entertainment & wi-fi
The IFE monitors in the La Premiere cabin are crisp 24-inch, black-framed screens large enough to be immersive but not so large as to overwhelm the space. The selection of movies, TV shows, and music was excellent–so excellent, in fact, that it could've benefitted from a search function.
The whole system is controlled by a touchscreen remote stored in the armrest that conveniently allows the user to browse and view the flight map while watching content.
The wi-fi, provided free to La Premiere passengers, was a weak spot on this flight. Though I came in with high hopes after looking at a cool coverage map that indicated I'd be connected the whole flight, the wi-fi was either painfully slow or completely nonfunctional throughout.
Air France 777 La Premiere lunch service
I received a large, red, La Premiere food and drink menu during boarding and placed my order shortly after. The food menu read as follows:
The drinks menu read as follows: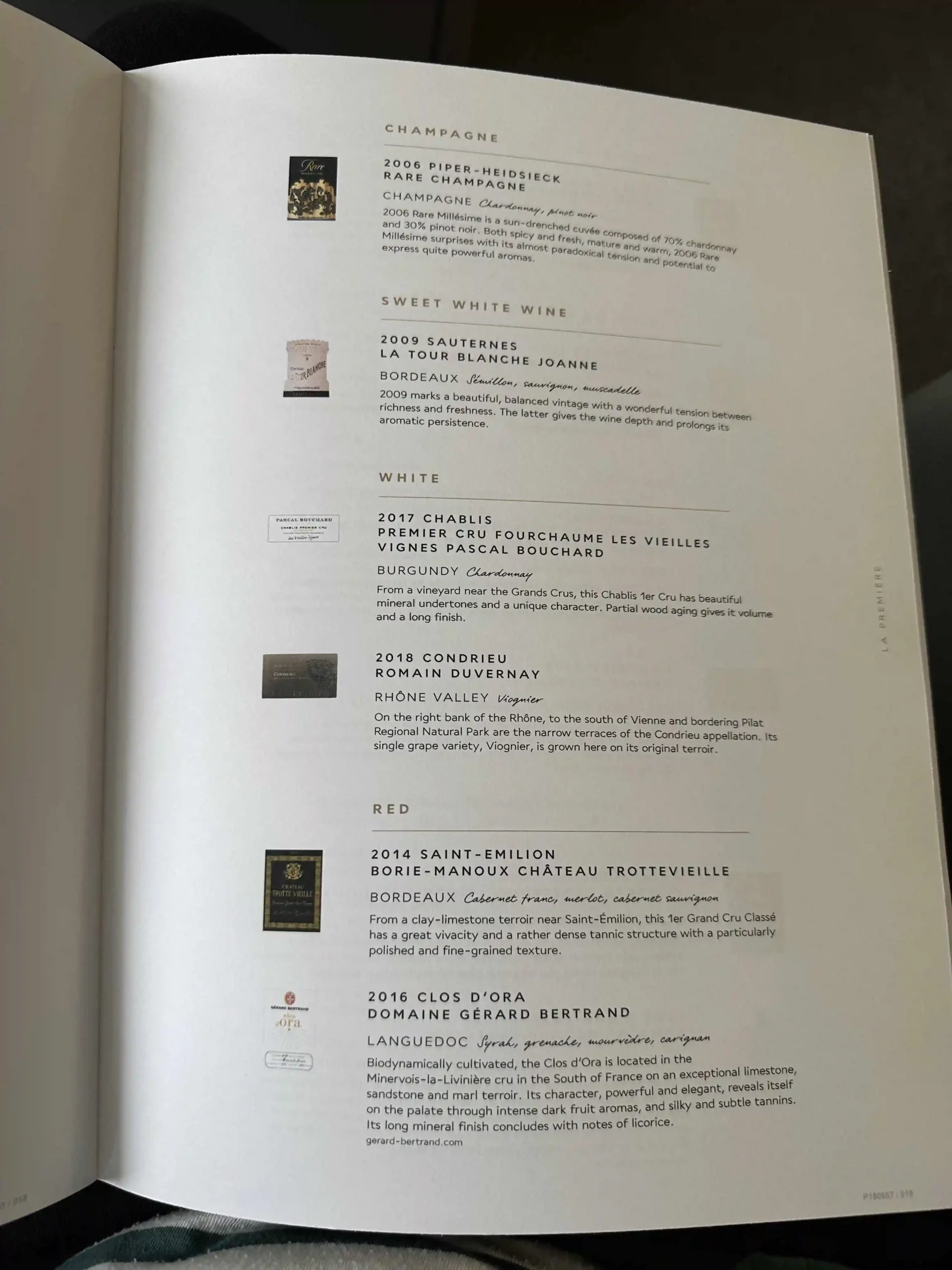 An hour later, 30 minutes after take-off, lunch was served, beginning with a quenelle of caviar, vodka-lime sour cream, and blinis.
Soon afterward, my plate, glasses, salt and pepper mills, vinaigrettes, and bread plate were laid out carefully atop a white tablecloth.
A few moments later, Joelle came by with a basket of warm bread and French butter.
I started my meal with a make-your-own salad of flaked cod, smoked salmon, asparagus, radish, grilled zucchini, quail egg, chervil, sundried tomatoes, and a mustard and caper dressing. It was the best salad I've had on a flight.
I continued my meal with a leek and potato soup, served with a dollop of crème fraîche. It was rich and warming, and I happily slurped it up.
My next dish was cold white asparagus in ravigote, an emulsified dijon and herb sauce, which was delicious.
For the main course, I opted for the Comté cheese and onion ravioli with a porcini mushroom sauce. Not the most adventurous option, I grant you, but due to my dietary restrictions, my only choice. The mound of porcini mushrooms in the center of the plate was excellent, but overall, the dish was the weakest of my lunch, owing to the slightly mushy pasta.
Next up was a cheese course and a board featuring five French cheeses was brought to my seat.
All of them were tempting, but I decided to limit my cholesterol intake and take just three: Cantal, Crottin de Chavignol, and Maroilles. All three were phenomenal, but the Crottin de Chavignol, a goat's milk cheese, was my favorite.
Finally, dessert arrived—something called an "Angelo Musa"—which was rich and not overly sweet. I devoured it quickly and finished off the meal with a cup of herbal tea provided by the luxury tea brand Palais des Thés.
The meal met my sky-high expectations. Admittedly I didn't try some of the more interesting options, but this lunch stands uncontested as the best meal I've had in a first class cabin. The depth and contrast of flavor, pacing, service, and presentation were all unmatched.
Air France 777 La Premiere bed
After finishing dinner, I decided to hit the hay and asked Joelle to turn down my bed as I changed into the provided pajamas. The pillow and duvet were both filled with down, making them fluffy and warm. The mattress pad was thick and the cabin temperature comfortably brisk, and I easily drifted off into a blissful two-hour nap.
Air France 777 La Premiere lavatories
There's one bathroom at the front of the La Premiere cabin. There were only three seats occupied on my flight, so I never had to wait to use it. The bathroom aboard this 777 is nothing special, and the only thing that really separated it from business or economy class (aside from, perhaps, its cleanliness) were the Dyptique amenities and toothbrushes on offer.
Air France 777 La Premiere pre-arrival meal
After a nap and a few hours of work, Joelle laid the table for a pre-departure dinner. To drink, I ordered a glass of 2017 Pascal Bouchard Chablis which was minerally and floral.
My first course was a leek tart served with baby spinach and ewe's cheese salad.
For my main course, I had crispy polenta rounds with a pea and cumin sauce, which tasted as good as it looked.
I finished the meal with a pot of herbal tea.
Air France 777 arrival in Mexico City
As we descended into Mexico City, I was treated to views of the metropolis' trademark sprawl and mountainous backdrop.
I disembarked the plane and was greeted, along with the two other La Premiere passengers, to my surprise, by employees holding an iPad with my name on it. It wasn't necessary since the passport line was so short already, but I was led by the employee (somewhat awkwardly) to the front of the line and directly to a passport officer. When we entered the baggage claim area, I was met by another employee with a luggage cart and yet another iPad with my name on it ready to help me with my bags. All this is to say that Air France had contracted six employees in Mexico City for its three arriving La Premiere passengers. Wow.
Air France 777 La Premiere service
The service on this flight was immaculate, and Joelle, my point of contact throughout the flight was consistently friendly and responsive. My drinks were refilled without my asking, food orders were filled quickly, and I got the sense that the La Premiere staff truly enjoy their work. The captain coming out during boarding to introduce himself and share the flight plan in detail is something I've never experienced but really hope to experience again. Being driven directly to the plane and welcomed off in Mexico City by two separate staff were fitting bookends to an all-around phenomenal service.
Conclusion
From start to finish, this flight was a delight—with the minor exception of poor wi-fi, I can't fault a single aspect of the experience. I had lofty expectations going in, and the service, seat, and drink all met them.
The food, which exceeded my expectations, is really what sets this product apart. For though I'd argue that La Premiere's hard product is not as salubrious as Emirates' game changer or Singapore's first class suites, I can also claim confidently that its food is unequaled by any other first class product I've ever flown.