One of the largest airlines in Southeast Asia, Vietnam Airlines has generally offered a wide range of flights to destinations around the world and a solid onboard product. On a two-hour hop from Ho Chi Minh City (referred to by locals and, from here on, me as Saigon) to Hanoi, I was able to put the business class on their A350-900 to the test. Overall, it was an excellent experience and far exceeded my expectations for a two-hour domestic flight, though the hard product would have been pretty unsatisfactory had this been a long flight.
This post was co-authored by Austen Mance, a close friend, fellow points junkie, and founder at my favorite travel rewards card startup, Taekus!
How I booked my Vietnam Airlines business class ticket
I booked this flight using cash, for a mind-blowingly low price of $81. If you want to book this, don't rely on Google Flights; I found this deal directly on Vietnam Airlines' website and found similarly great value on other OTAs. I'm willing to be corrected here, but I'll bet this is just about the cheapest possible way of flying a true international business class product.
My ticket details were as follows:
Vietnam Airlines 216
Ho Chi Minh City (SGN) – Hanoi (HAN)
Departure: 4:00 PM
Arrival: 6:10 PM
Flight Time: 2h 10m
Business Class, Seat 2D
Vietnam Airlines business class check in
I arrived at Saigon's Tan Son Nhat International Airport about 2.5 hours before my flight. Although there were lines throughout the check in hall, there was no wait for the business class check-in counter. The check-in agent was polite and efficient, and I was pleasantly surprised when she informed me that the Hanoi-bound flight before mine was boarding, and that there was an extra business class seat should I wish to switch–an offer I gladly accepted.
Vietnam Airlines A350 business class boarding
Boarding began on time, about half an hour prior to takeoff. After I showed my ticket, I walked downstairs and onto the bus that would be carrying us to our plane. Business and economy class passengers weren't driven separately, so my bus was fairly packed.
Vietnam Airlines A350 business class cabin and seats
My first impressions were good; the cabin felt bright and airy, thanks to a lack of overhead compartments above the center section, something I wish more airlines did with their business cabins. This version of Vietnam Airlines' A350 features 29 lie-flat business class seats, spread across eight rows.
Most of Vietnam Airlines' 787 and A350 business class cabins feature reverse-herringbone seats in a 1-2-1 configuration. By contrast, on this plane and just a few Vietnam Airlines A350s, business class is set up in a staggered 1-2-1 configuration. Typically this configuration is used for shorter flights within Asia, while the reverse-herringbone configuration is flown on the airlines' European routes.
Though both setups allow passengers direct aisle access, the staggered is worse. First, it means that window seats in odd-numbered rows are annoyingly near the aisle. If you find yourself in one of those odd-numbered rows, you'll have no privacy and will need to crane your neck to see out the window. Second, it means that certain middle seats (G seats in even-numbered rows and D seats in odd-numbered rows) are very close to the aisle, affording virtually no privacy. Beyond that, the design of this seat is not great–it's narrow and short and there's barely any storage. There's no leg rest, so you have to move your seat forwards or backward to find a comfortable position, and, for whatever reason, every time the person behind you latches their tray table or kicks your seat, you feel it.
My seat was 21 inches wide and quite well-padded. I was in a middle seat on the left side of the plane, which has a table divider on the right separating me and my neighbor. On the left side of my seat were a reading lamp, slot for literature, cupholder, USB port, and a universal electrical outlet at knee height.
On the left side of the seat below the armrest are seat controls and a remote to control the IFE system.
A relatively sharp 15.4" touchscreen IFE monitor was fixed in from of the seat and to its left was a tray table held in place by a latch that could be folded out, as opposed to a more typical tray table stored in or near the armrest.
The foot cubby below the monitor was spacious and there was enough room below it to store a fairly large backpack.
Finally, it's worth noting that Vietnam Airlines sadly didn't install individual air nozzles on their A350s as they did on their 787s.
Vietnam Airlines A350 business class amenities
As soon as I sat down, I was given a delicious lime and pineapple welcome drink. Given this was a two-hour flight, no amenity kit was provided, though we did get a pair of cheap, plastic headphones.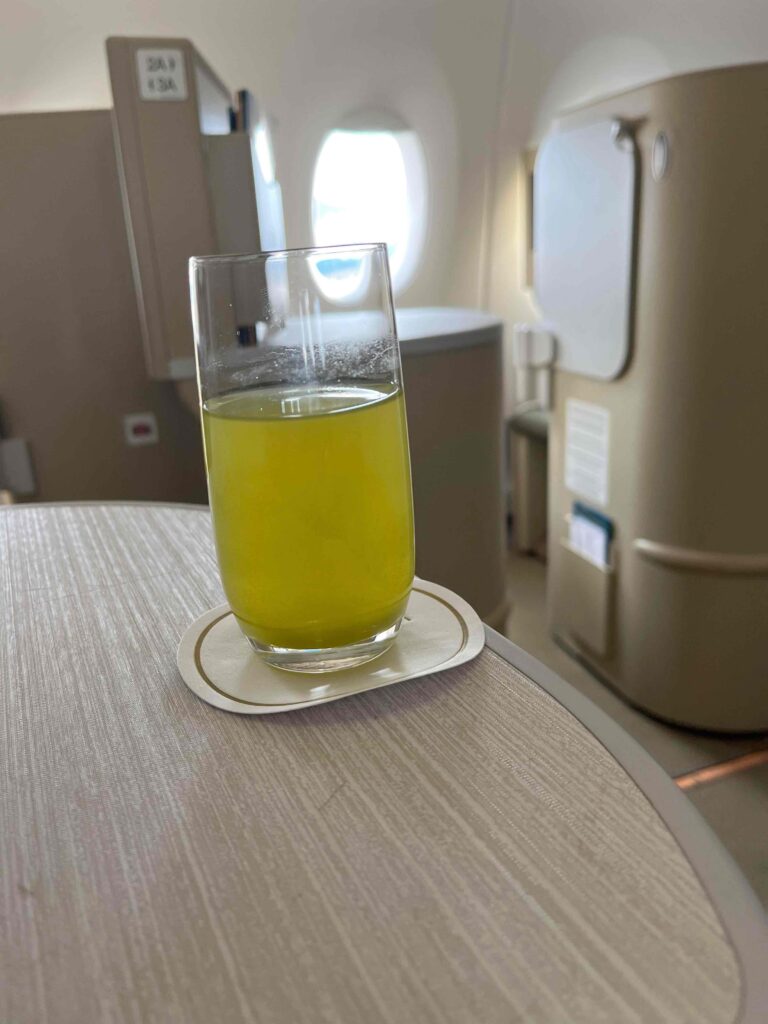 Vietnam Airlines A350 entertainment & Wi-Fi
My seat's IFE monitor was a 15.4" touchscreen that was responsive and crisp. Unfortunately, the entertainment selection was pretty poor, comprising a couple dozen movies and random episodes of TV. Given the briefness of the flight it didn't really matter–I spent most of the flight on the moving map–but I could see this being a bigger problem on a 14-hour flight from Ho Chi Minh City to London.
Vietnam Airlines business class lunch service
For lunch on this flight, I was able to choose from the "light meal." Passengers on earlier and later flights get to choose from the larger "lunch/dinner" menu, but due to the timing of this flight, only a light meal is served. The menus were as follows.
I ordered the grilled pork belly, which was really delicious and had a typically Vietnamese freshness about it. I also ordered a beer which–your eyes do not deceive you–came on the rocks. Apparently, serving beer with ice is common in Vietnam, and who was I to reject the local drinking customs?
I finished the meal off with a delicious Vietnamese iced coffee sweetened with condensed milk.
Vietnam Airlines A350 business class lavatories
There are two dedicated business class lavatory, which was kept clean throughout the flight, and, aside from what appeared to be a branch with some leaves, didn't differ from the economy class toilets.
Vietnam Airlines A350 business class service
The service on this flight was a highlight. The flight attendants had a great sense of humor, were always ready to help, and had a real eye for detail. On one occasion, when I was having trouble with my headphones, an attendant noticed and immediately brought me a new set without me even having to ask. The crew frequently walked around and offered drink refills and snacks, and were incredibly proactive throughout the flight.
Conclusion
Thanks to the brevity of this flight, a poor hard product and lackluster entertainment selection didn't detract from an overall great experience, made possible by a phenomenal flight crew and delicious food and drink. Even for double or triple what I paid, this flight would be an extraordinary value, and just about the best way I can think of to travel between Vietnam's capital and its most populous city.