On my way back from Vietnam to the US, I was privileged enough to fly first class on Cathay Pacific's 777-300ER from Hong Kong to Paris. The experience was excellent as always, though due to Covid cuts, service wasn't as polished as it once was.
How I booked my Cathay Pacific first class ticket
I booked this flight using Cathay Pacific's frequent flyer program, Asia Miles. The cost of my entire Hanoi-Hong Kong-Paris itinerary was 97,000 points and $247.34, a phenomenal deal considering the cash cost for this flight alone is typically between $10,000 and $15,000. I transferred 97,000 American Express Membership Reward points to Asia Miles, but you could also use Citi ThankYou points or Brex points. And, since these programs often run transfer bonuses of up to 20%, this ticket could theoretically be purchased for around 80,000 points.
My ticket details were as follows:
Cathay Pacific 261
Hong Kong (HKG) – Paris (CDG)
Departure: 10:55 PM, February 10
Arrival: 6:15 AM, February 11
Flight Time: 14h 20m
First Class, Seat 2K
Cathay Pacific 777 first class boarding
Though the airport felt virtually abandoned, boarding began late, at around 10:30 PM from gate 64. As is to be expected, the airline staff were aggressive in ensuring that passengers were aware of the mask mandate, handing out masks to those who had forgotten to bring one, and politely reminding passengers to keep their masks on throughout the boarding process. Though the plane was probably only around 50% full, boarding still seemed to take a while and wasn't completed until about 11:15 PM.
Cathay Pacific 777 first class cabin & seats
Cathay Pacific's 777 first class cabin is extraordinarily spacious. It has the unique honor of being the only commercial 777 cabin laid out in a 1-1-1 configuration besides Emirates' "Game Changer", affording passengers 36 inches of seat width and making these seats the widest on any commercial airliner currently flying. For contrast, Polaris seats on United's 777-300ERs are 22 inches wide. Put differently, Cathay's first class seat is roughly as wide as two average economy seats side by side, plus two inches.
There are just six seats in first class laid out across two rows. Thanks to the sparse seat layout and lack of overhead compartments, the cabin feels light-filled and airy. The floor is carpeted in burgundy, the seats are upholstered in gray fabric and white leather, and the surfaces are veneered in glossy walnut. Though it's 10 years old, the cabin still feels thoughtful and well-maintained, albeit slightly staid.
The seat doesn't have a door like many first class suites, but still feels exceptionally private. You'll find the most privacy in A seats because there's a wall between the aisle and the center seats.
I was seated in 2K, so on the right side of my seat (nearer the window) was an IFE remote, a small screen with seat controls, a storage compartment, a headphone jack, and a recessed, hefty walnut and chrome tray table. The seat featured two reading lights, one on each side. About two feet in front of the seat on the same side was a universal outlet and a USB charging port.
On the left side of the seat, you'll find a literature compartment, three seat control buttons, and, near the aisle, a large closet and wooden hangers large enough to store a fairly sizeable carry-on and to hang several items of clothing. In front of the seat is an ottoman that serves as a second seat for a dining companion. Underneath the ottoman is more storage space, large enough to accommodate a backpack.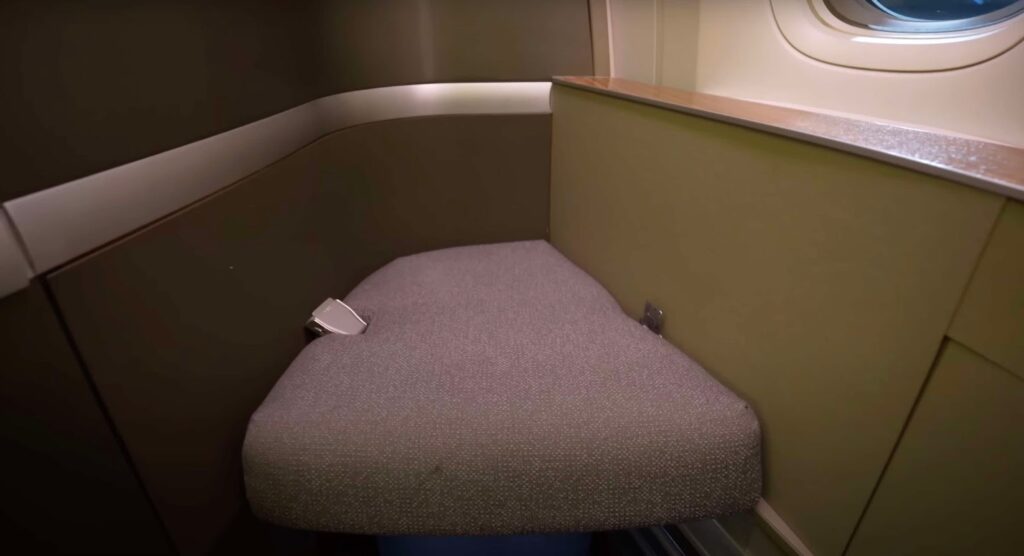 Cathay Pacific 777 first class amenities
Cathay's first class amenity kit is supplied entirely by Bamford, a UK-based luxury beauty brand. Amenities are housed in a grey and maroon leather case with an embossed Bamford logo and, strangely enough, no Cathay Pacific branding. The men's kit includes mouth wash, toothbrush, toothpaste, pillow mist, face mist, moisturizer, lip balm, earplugs, and eye mask.
Cathay's first class pajamas are designed by PYE, a luxury men's clothing brand from Hong Kong. They're navy blue and 100% cotton–virtually the exact same as the old Cathay Pacific pajamas–and the best pair I've ever recieved on a flight.
Cathay Pacific entertainment & wi-fi
Given this cabin is 10 years old, the IFE monitor is, unsurprisingly, not so state-of-the-art. Ultimately, that's not such a big deal because the screen unlatches and can be pulled out towards the seat, making up in part for its diminutive 17-inch size. The entertainment selection was expansive and the provided Bose noise-canceling headphones worked well. If you're flying soon, you can check out what's playing here and plan what you're going to watch.
First Class passengers receive complimentary wi-fi throughout the flight. Almost all of Cathay Pacific's 777-300ER aircraft are wifi-enabled, but you can make sure your flight has wi-fi by inputting your flight number on the flight status page and checking for "Wi-Fi enabled" symbol.
Cathay Pacific 777 first class dinner service
On this flight, I was flying with a friend, and we opted to take our dinner in my seat, 2K, across from each other. The flight attendant was accommodating and set the table in no time.
To begin, we were served a glass of 2004 Krug and a plate of Oscietra caviar with blinis, sour cream, egg, a lemon wedge, and a mother-of-pearl spoon.
After a few refills, we were given the entire bottle of Krug, which accelerated our imbibement considerably.
Next, we selected our food and drink. The menus were as follows: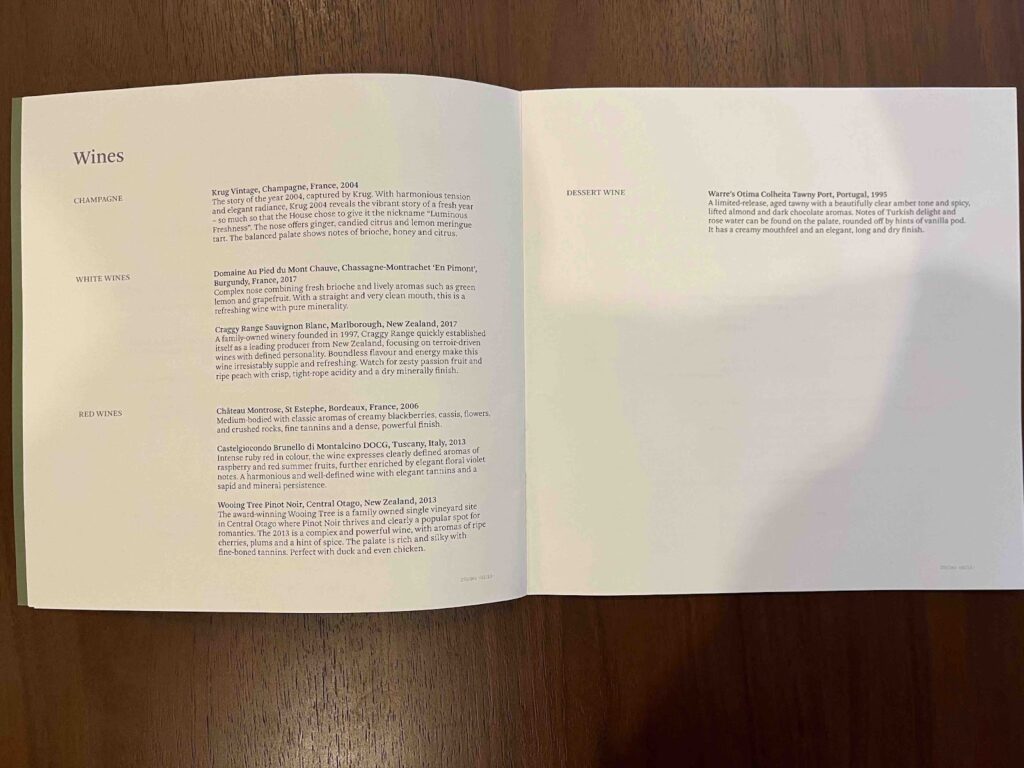 To drink, we shared a punchy bottle of 2006 Château Montrose Saint-Estèphe.
For starters, we both had the cannelini bean soup, which very good.
For the main course, I chose the poached seabass, which was phenomenal, and my dining companion chose the clay pot with Iberico pork, which he said was a little too fatty.
I was too stuffed for a whole desert, so we shared a berry pavlova, which tasted as good as it looked.
All in all, this meal was absolutely exceptional. As my friend put it, the difference in quality between this meal and a somewhat disappointing Emirates' first class meal we had last year is similar to the difference in quality between a Polaris meal and an economy class meal.
Cathay Pacific 777 first class bed
Overfull and pleasantly drowsy, I asked the flight attendant to make up my bed. Cathay's first class bed, like its seat, is extraordinarily wide. That roominess, along with the plush mattress pad, sumptuous cotton sheets, and fluffy down comforter make this the most comfortable bed I've slept on at 38,000 feet. I drifted off to sleep in a matter of minutes and woke up 8 hours later, about 90 minutes from landing.
Cathay Pacific 777 first class lavatories
There are two lavatories for six first class seats so even with a full first class cabin there should never be a wait for the toilet. The lavatories themselves are small but clean and well-designed, appointed with the same walnut and leather finishes as the rest of the cabin. Aesop amenities are provided, including facial cleaners, facial moisturizer, and hand lotion, as well as soap.
A small leather bench folds out over the toilet which looks great and creates more surface area to put clothes while changing in or out of pajamas.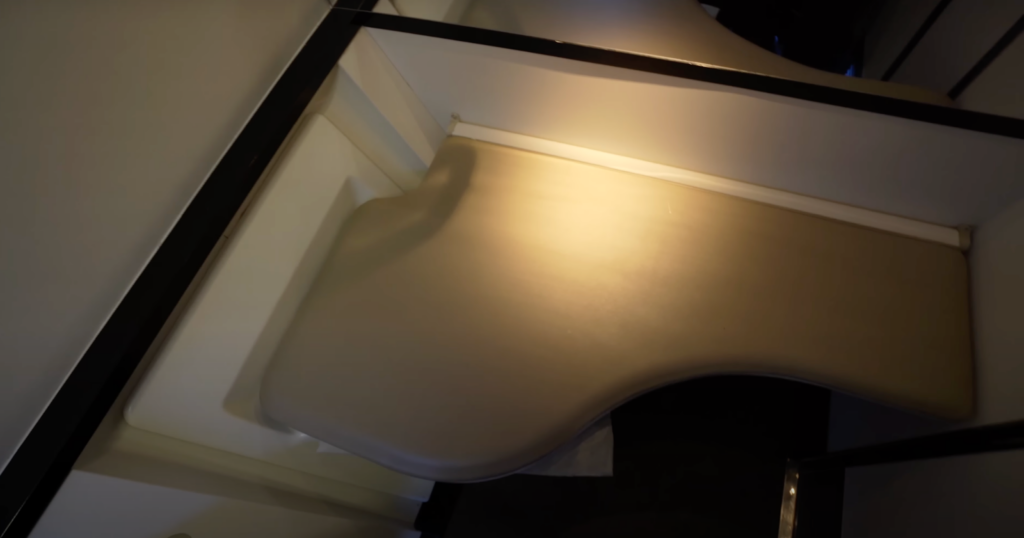 ‍
Cathay Pacific 777 first class breakfast service
After a blissful night of sleep, I woke refreshed and ready for breakfast. I intended to eat light, but was easily persuaded by the stewardess to indulge in a dimsum and congee breakfast, followed by a bowel of yogurt and fruit.
Austen didn't hold back either and ordered scrambled eggs, bacon, sausage, and potato rosti, along with a plate of fresh fruit and, of course, more Krug.
We finished up both breakfasts with pastries and espresso.
Cathay Pacific first class service
The service on this flight was very good but not as good as it once was. Though the flight attendants were highly attentive and friendly, staffing cuts–there are now only two FAs assigned to first class–meant some of our orders were dropped and drinks went a long time without refills. Other cuts, including the fact that Cathay now stocks three bottles of Krug rather than the previous six (our flight actually ran out), made the experience feel pared back and less indulgent than it once felt. Needless to say, I still feel incredibly privileged to have flown this product, and it remains excellent by any standard.
Conclusion
Cathay Pacific's first class remains one of my favorite ways to fly to and from the far east, and while Covid cuts hindered the experience slightly, a world-class hard product and phenomenal food more than made up. I'll be flying Cathay's first class again as soon as I can.