Though this blog is mostly devoted to air travel and hotels, I occasionally like to review other forms of transportation, especially when they're more convenient and more comfortable than the available air travel options. Trains are a great example of that, especially in Europe, where it's oftentimes far more comfortable (and admittedly usually no cheaper) to take a train than a flight. On my recent trip to visit my girlfriend in Frankfurt, I took a trip-within-a-trip to Munich to meet an old friend and decided to try out Germany's Intercity Express trains, most commonly known as "ICE," for the journey. In a separate post, I'll review the Sofitel Munich Bayerpost where I stayed.
Booking
I booked my ICE first class ticket on the Trainline app for €51.90. I booked the "Super Sparpreis" first class ticket, which is the cheapest level and is non-exchangeable and non-refundable. There's not a huge difference between first and second class, but the ticket was only €15 more than second class, so I figured it was worth a try.
I booked my ICE first class ticket on the Trainline app, which I highly recommend for any English speakers traveling by train throughout Europe and the UK: it's speedy and super straightforward to use.
Frankfurt Hauptbahnhof
I arrived at Frankfurt's central train station, which was fairly busy on this Monday morning, about 20 minutes before my 7:53 AM train. Contrary to the stereotypes surrounding German punctuality and efficiency, German trains are notoriously late. This one was no exception and pulled up to the platform two minutes after we were supposed to depart at 7:55 AM.
ICE first class seating
Each ICE first class train car has a total of 53 seats and my train had two first class cars.
Seats in first class are set up in a 2-1 configuration while economy class is set up in 2-2 configuration which means slightly wider seats in first class, though not by much since the aisles are also wider. There is ample leg room, a double armrest so that you don't have to share with your neighbor if you have one, and good padding on these blue-pleather seats, as well as a comfortable pillow attached to the headrest.
There are numerous seating options, including standard single seats and pairs of seats, both forward- and rear-facing. There was ample overhead luggage storage along both sides of the carriage.
There are also three mini-cabins two containing six seats in total, and one containing five seats due to a curved wall. These are pretty comfortable and were hardly ever occupied, so they're a great place to spread out and do work. They almost felt like a private conference room.
ICE dining car
In the middle of the train is a dining car with 2-person and 4-person booth seating. Waiters take orders at your table and, though the food wasn't very good, it was quite a comfortable little place to eat.
ICE food & drink
The food and drink menu is fairly extensive with plenty of vegan and vegetarian options, as well as more classic German fare. You can order food in the dining car, but one of the only benefits of first class besides the additional space is that you can also order food directly to your seat. This wasn't super easy to do, however, because a member of staff only walked through the cabin to take orders once throughout the more than three-hour journey, so I ended up just eating in the dining car.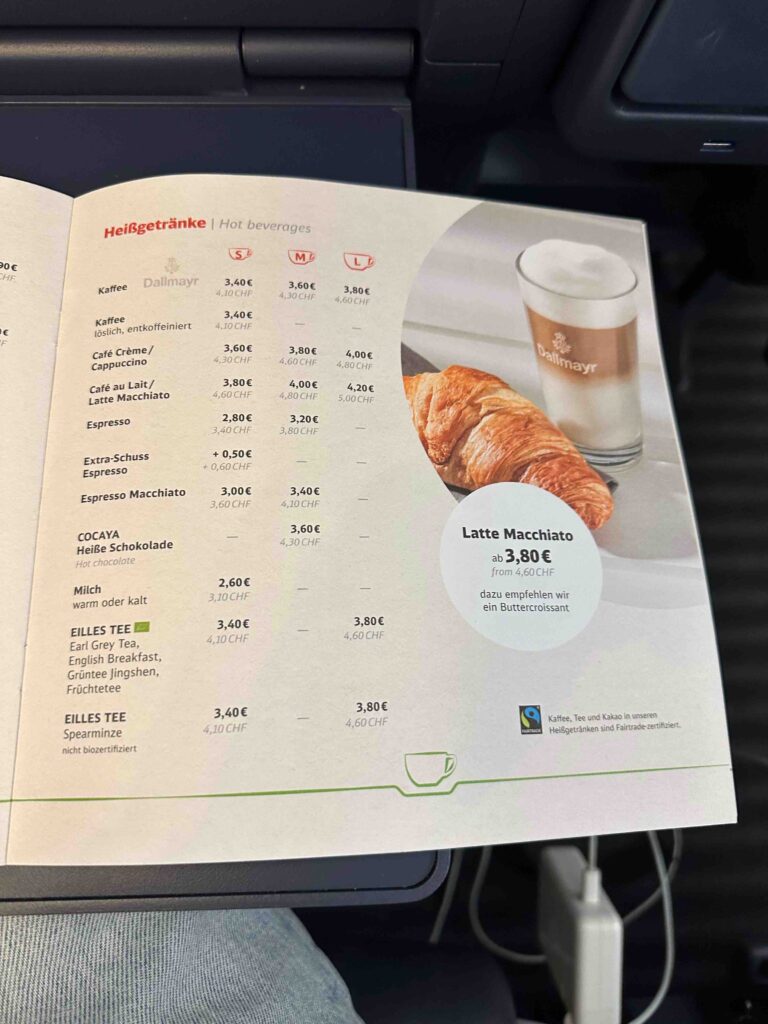 ICE free Wi-Fi
The onboard Wi-Fi was generally excellent. There was some spottiness towards the end of the trip but it seemed to hold up quite well and I consistently got 10 Mbps download and upload speeds, enough to stream videos.
ICE first class lavatories
There were two lavatories between the two first class carriages. They were spacious and, despite being far nicer than many Amtrak toilets, weren't very clean and smelled quite strongly.
ICE first class service
Except for one pass through the cabin taking orders throughout the three-hour and fifteen-minute trip, there was no contact between passengers and staff. I did not staff clustering around the dining car and chatting with each other for large portions of the journey, but given the competitive price, I don't have a particular problem with the lack of service.
Arrival in Munich
Towards the end of the journey between Nuremberg and Munich, the track is rated for the highest speed. Our train hit its peak speed at just above 300 kph or about 190 mph.
Final thoughts
I thought this was a dynamite way to travel and, for short distances between cities, beat the hell out of a car trip or a flight, as it was both quicker and far more comfortable. Is it worth upgrading to first class from second class? I think so. The extra space and quiet afforded is extremely nice and, if you're traveling alone, the ability to sit in a single window seat with aisle access is well worth the money.