As part of a general business class cabin refresh, Air New Zealand will soon offer more premium first-row business class seats on its 787s, dubbed Premiere Luxe. At this year's Airline Interior Expo, I tried them out.
Though these seats are better than the airline's new Premiere business class seats, they're underwhelming compared to what Condor, Virgin Atlantic, Air France, and JetBlue have done with their first row of business class.
Planes, release date, and pricing
According to Kerry Reeves, Head of Aircraft Programmes at Air New Zealand, Premiere Luxe seats will be available on 787s getting Air New Zealand's new business class product, and there will be up to eight seats per plane.
The product will debut in the fall of 2024 and will be available to passengers for an up-charge during seat selection. There will not be a special fare class or any differentiated service for Premiere Luxe seats.
Premiere versus Premiere Luxe
The biggest difference between Premiere Luxe and Premiere is additional space, mostly used by a large ottoman instead of the footwell you'd find normally. This allows passengers to dine with a partner and also means that when the seat is fully flat, the bed will be substantially larger. That said, the seat still wasn't particularly spacious, and I found my knees very close to the ottoman while sitting upright. You'll hopefully get a sense of that in the pictures.
The other difference between Premiere Luxe and Premiere is that Premiere Luxe has a door, while Premiere does not. That increases privacy considerably, important given that these seats are angled towards the aisle and feel relatively exposed.
Beyond these two benefits, I didn't see any major differences, though it's worth mentioning that the Premier Luxe tray table is slightly enlarged. Screens, for example, are the same size in both seats, which is not the case for many other bulkhead business class products.
Photos and videos
Here are a few photos and a video I took of the seat. Let me know what you think!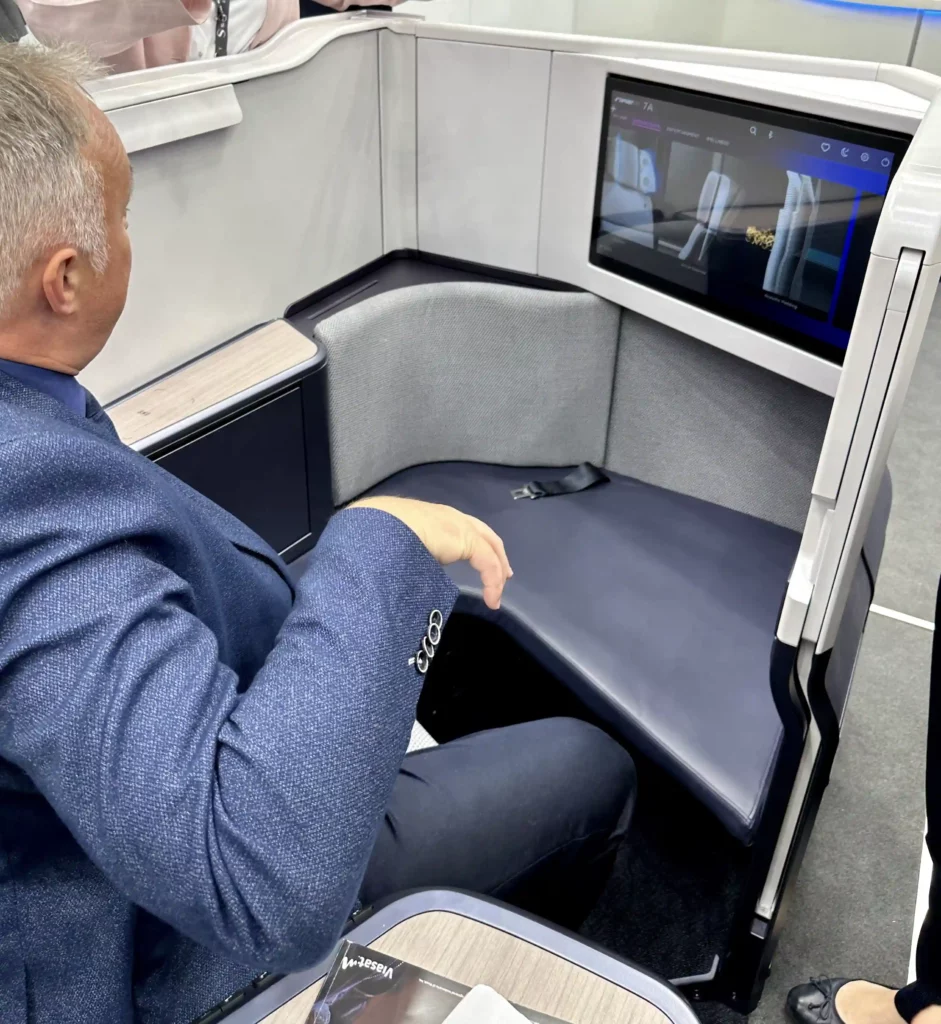 My thoughts
Premiere Luxe's extra space is great. Beyond that, though, the only thing that makes the seat better than Air New Zealand's Premiere seats–which are themselves pretty unimpressive–are doors, and those are fast becoming standard on today's competitive business class seats.
In all likelihood, these seats won't become commonplace on Air New Zealand's long-haul flights until 2025, by which point doors will have become even more standard on business class seats, while herringbone on widebody planes will become increasingly uncommon. In short, it feels like these seats will be outdated the day they enter the market.
Finally, the fact that Air New Zealand worked with Safran to develop this seat when far more comfortable off-the-shelf options are available makes me think that they wanted a product they could call new while still enjoying the space savings of a relatively outdated herringbone configuration.
Conclusion
Though Air New Zealand's forthcoming Premiere Luxe seats are a step up from their Premiere seats, I expected better. It feels less luxe than what you'd find at the bulkhead in business class cabins from Condor, Virgin Atlantic, Air France, or JetBlue–all of which will have been in service for several years by the time Premiere Luxe becomes widely available.